Published 12-01-08
Submitted by 3BL CSRwire
SPRINGFIELD, MA. - December 1, 2008 - This week CSRwire welcomed Bullfrog Power, Forest Stewardship Council(FSC), Jordan Brand, Lexus, The National Football League/NFL, Ringier AG, U.S. Department of State, Educational and Cultural Affairs Bureau, and Union Settlement Association.
CSRwire membership of more than 1000 organizations includes public and privately held companies, socially responsible investment funds, non governmental and non profit organizations, universities, trade associations and think tanks. The following organizations will be using CSRwire to communicate their corporate citizenship, sustainability, and socially responsible activities and initiatives to a passionate and enthusiastic audience in over 200 countries.







Bullfrog Power - Bullfrog Power is a leading Canadian provider of 100% clean, renewable electricity sourced from clean, emission-free generation sources such as wind and low-impact water power. All of Bullfrog's generation sources are certified under the federal government's Environmental ChoiceM Program EcoLogoM standard, which is Canada's most widely recognized and respected multi-attribute environmental certification mark.

Choosing green power is a practical and meaningful way to reduce an organization's environmental impact and enhance their reputation for good corporate citizenship. For individuals it is an easy way to reduce their household's emissions footprint and help bring more renewable power online.

Bullfrog's mission is to provide practical energy choices that enable people to create a sustainable world for future generations.










Forest Stewardship Council (FSC), Canada - The Forest Stewardship Council (FSC) is an international certification and labeling system that allows buyers to choose paper and wood products that come from responsibly managed forests, and verified recycled sources. Under FSC certification, forests are certified against a set of strict environmental and social standards, and fibre from certified forests is tracked all the way to the consumer through the Chain of Custody certification system. The end result is a product in the marketplace carrying the FSC 'check-tree' logo. Visit www.fsccanada.org for more.









Jordan Brand - A division of NIKE, Inc., Jordan Brand is a premium brand of footwear, apparel and accessories inspired by the dynamic legacy, vision and direct involvement of Michael Jordan. The Jordan Brand made its debut in 1997 and has grown into a complete collection of performance and lifestyle products. Jordan Brand remains active in the community by donating a portion of its proceeds to Jordan Fundamentals, an education grants program for teachers.









Lexus - Lexus is the leading luxury automotive brand in the United States, both in sales and in environmental stewardship. Lexus was the first luxury brand to sell hybrids and currently offers three low-emission hybrid vehicles with a fourth hybrid coming next year. When Lexus began selling hybrids in 2005, it helped advance the concept of sustainability without sacrifice. To bring like-minded individuals together, it also developed the Lexus Hybrid Living site (www.lexus.com/hybridliving) that serves as a portal for people seeking a way to incorporate luxury and environmentalism into their lives.

The Lexus Eco Challenge is part of The Lexus Pursuit of Potential, a philanthropic initiative that generates $3 million in donations each year for organizations that help build, shape and improve children's lives.










National Football League/NFL - Our mission: As a brand and leader that believes in the power of sport, the promise of young fans and whose players embody health and fitness; the NFL and its Clubs are committed to:

Engaging youth and families in every community to make the next generation the most active and healthy generation
Helping reverse the childhood obesity trend by 2012

Did you know

The current generation is projected to be the first not to live longer than its parents
1/3 of children in America are obese or at risk for obesity
92 percent of Americans believe childhood obesity is a serious national problem
Only 8 percent of elementary schools provide daily physical education

In October 2007, the National Football League launched NFL PLAY 60, a national youth health and fitness campaign focused on increasing the wellness of young fans by encouraging them to be active for at least 60 minutes a day. Designed to tackle childhood obesity, NFL PLAY 60 brings together the NFL's long-standing commitment to health and fitness with an impressive roster of partner organizations. In addition to national outreach through PSAs and online programs, NFL PLAY 60 is also implemented at the grass roots level through NFL's in-school, after-school and team-based programs. The NFL PLAY 60 initiative is prominent during the NFL's key calendar events, including Super Bowl, Pro Bowl, Draft, Kickoff and Thanksgiving and is supported by many of the NFL's players and coaches year round.









Ringier AG - Ringier AG is a multinational media enterprise with around 7000 employees in the Czech Republic, in Germany, Hungary, Romania, Serbia, Slovakia, Switzerland as well as China and Vietnam. Ringier publishes around 120 newspaper and magazines, produces and markets more than 20 TV programmes, holds considerable shares in television and radio stations, and operates 50 websites as well as 11 printing plants. Ringier is a fifth-generation family enterprise.









U.S. Department of State, Educational and Cultural Affairs Bureau - The mission of the U.S. State Department's Educational and Cultural Affairs Bureau is to create mutual understanding between the American people and people all over the world through a variety of educational, cultural and sports exchanges and activities. These programs align strategically with the CSR goals of the private sector.









Union Settlement Association - Since 1895, Union Settlement Association has been dedicated to working with the predominantly immigrant community of East Harlem. A community mainstay, Union Settlement seeks to foster leadership and self-sufficiency by helping local residents build better lives for themselves and their families. As one of East Harlem's largest social service agencies, Union Settlement responds to issues that affect the entire community, serving more than 13,000 low-income residents annually through effective programs in education, childcare, nutrition, senior services, counseling, the arts, job training, and economic development. Union Settlement is a large local employer with programs operating in 18 different sites, and thereby also serves as an important contributor to the economic vitality of East Harlem.


About CSRwire Members:
CSRwire Members are Companies and NGOs, Agencies and Organizations interested in communicating their corporate citizenship, sustainability, and socially responsible initiatives to a global audience through CSRwire's Syndication Network, News Alerts, Web Site, Blogs, RSS Feeds, News Aggregators, Send to Friend Feature and Search Engines.
To become a member of CSRwire, or for more information, please click here.
About CSRwire
CSRwire is the leading source of corporate social responsibility and"¨sustainability news, reports and information. CSRwire distributes news related to Diversity, Philanthropy, Socially Responsible Investing (SRI), Environment, Human Rights, Workplace Issues, Business Ethics, Community Development and Corporate Governance to Journalists, Analysts, Investors, Activists, Academics, Public Relations, Advertising and Investor Relations Professionals in over 200 Countries.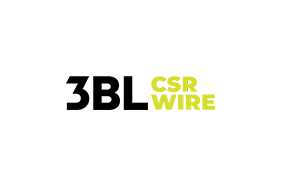 3BL CSRwire
3BL CSRwire
Respected and relied on by journalists, bloggers, business leaders and academics around the world, 3BL CSRwire is a dedicated, real-time source for major news and updates from within the worlds of ESG, corporate social responsibility and sustainability.
3BL CSRwire offers a-la-carte press release distribution to a global network of influential stakeholders and mainstream audiences—perfect for organizations just getting started in CSR or for those looking to get the most out of their corporate communications.
More from 3BL CSRwire