Published 11-17-08
Submitted by 3BL CSRwire
SPRINGFIELD, MA. - November 17, 2008 - This week CSRwire welcomed ecoCentric ltd., First Climate, Imagine Canada, Jantzi Research Inc., Miller-McCune, Rolex SA, and Saul Good Gift Company.
CSRwire membership of more than 1000 organizations includes public and privately held companies, socially responsible investment funds, non governmental and non profit organizations, universities, trade associations and think tanks. The following organizations will be using CSRwire to communicate their corporate citizenship, sustainability, and socially responsible activities and initiatives to a passionate and enthusiastic audience in over 200 countries.







ecoCentric Ltd. - ecoCentric is an integrated sustainability consulting firm dedicated to helping businesses strike a critical balance between corporate responsibility and company growth. Working closely with each client, our industry-leading consultants craft comprehensive, highly customized solutions that are as good for your enterprise as they are for the environment.

ecoCentric has more than 15 years of experience in the textile, apparel, uniform and related consumer products industries. Leveraging our pragmatic experience in eco-efficient manufacturing, supply chain management, energy and resource efficiency, sustainable development and more, ecoCentric will give your company proven practical tools that will dramatically reduce ecological impact and improve business transparency, while increasing profitability and reducing risk. Best of all, we'll help you simplify the entire process-so its easy to understand, easy to implement and easy to integrate into your enterprise.

To learn more about ecoCentric's F.A.S.T. (Fair, Accountable, Sustainable, Transparent) approach to corporate sustainability, please visit the Our Approach page.










First Climate - First Climate is a global leader in carbon asset management. With 13 offices on four continents and more than ten years of experience in international carbon markets, we are one of the few intermediaries to cover the entire carbon credit value chain. First Climate develops, finances, and implements CDM, JI, and VER projects, purchases the resulting carbon credits, and customizes carbon management solutions for companies in the voluntary, pre-compliance and compliance markets. As investment advisor to several institutional investors, First Climate also structures and develops carbon funds and related products. Our portfolio consists of high quality emission reduction credits that are verified by international carbon market standards. This objective third-party quality assurance creates the transparency that safeguards our company's credibility as well as the integrity of our clients' environmental engagement. First Climate is one of the main sponsors of the Gold Standard Version 2.









Imagine Canada - Imagine Canada is a national registered charity with offices in Toronto, Calgary and Ottawa that looks into and out for Canada's charities and nonprofits.

We deliver research that puts the sector on the map and raises its profile in the minds of Canadians. We shape public policy and build support, encourage collaboration and engagement from businesses, government and individuals. And we deliver tools, resources and networking opportunities directly to nonprofits and charities to build and strengthen the sector one organization at a time. Together, they contribute to social progress and vibrant communities.

The Caring Company Program

Imagine Canada counts more than 120 Canadian businesses as members of the Caring Company program.

Caring Companies are good corporate citizens.

Caring Companies drive social innovation.

Caring Companies invest money, ideas and time in communities across Canada.

This is Canada's leading corporate citizenship initiative. Caring Company membership assures customers, employees, shareholders and the public that a business is committed to investing in communities. This commitment is a key element in strengthening the nonprofit and charitable sector.









Jantzi Research Inc. - Jantzi Research Inc. is an independent investment research firm that was formed in 1992. The firm evaluates and monitors the environmental, social, and governance (ESG) performance of global securities. Our clients consist of mutual funds, pension funds, money managers, investment advisors, foundations, religious orders, government, and others who integrate ESG criteria into the investment decision-making process. Whether our clients are focused on customized portfolios, engagement strategies, or are utilizing Jantzi Research as part of their risk/return analysis, Jantzi Research is a proven innovator of socially responsible investment (SRI) products, services and research tools.









Miller-McCune - Miller-McCune is a national consumer-type magazine drawing on research from the world's leading universities and research organizations to provide reasoned policy options and solutions for today's pressing issues. Our mission is to provide the public with non-partisan bi-partisan solutions for healthcare, energy policies, education, environmental concerns, and business practices.









Rolex SA - The Rolex Awards for Enterprise support innovative projects benefiting communities around the world. Founded in 1976, the program supports original projects in the fields of science, technology, exploration, the environment, and cultural heritage. Open to anyone of any age, nationality or background whose innovative project meets the program's criteria "" originality, feasibility and potential impact "" the Rolex Awards support those with an unfailing spirit of enterprise. On November 18, 2008, five Rolex Laureates will each receive $100,000 and five Associate Laureates will each receive $50,000 to fuel projects around the globe. For more than 30 years, the Rolex Awards have helped to: protect endangered species and ecosystems; preserve ancient customs; provide safe, affordable food, water, shelter, and medicine in developing countries; and introduce revolutionary, technological and scientific inventions.

The company's other primary philanthropic program, the Rolex Mentor and Protege Arts Initiative, pairs emerging artists with international masters in the visual arts, dance, film, literature, music, and theater for a year of one-to-one collaboration. Both programs advance the work of individuals who exemplify the vision, innovation, and excellence that define the Rolex brand. For more information on the Rolex Awards, visit: rolexawards.com










Saul Good Gift Company - Saul Good Gift Co. helps companies build relationships with their clients and employees through gifts, recognition and promotional items that tell your story and share your values. Specializing in sustainably sourced products we build relationships with our vendors helping to create value for the communities and businesses we work with.


About CSRwire Members:
CSRwire Members are Companies and NGOs, Agencies and Organizations interested in communicating their corporate citizenship, sustainability, and socially responsible initiatives to a global audience through CSRwire's Syndication Network, News Alerts, Web Site, Blogs, RSS Feeds, News Aggregators, Send to Friend Feature and Search Engines.
To become a member of CSRwire, or for more information, please click here.
About CSRwire
CSRwire is the leading source of corporate social responsibility and"¨sustainability news, reports and information. CSRwire distributes news related to Diversity, Philanthropy, Socially Responsible Investing (SRI), Environment, Human Rights, Workplace Issues, Business Ethics, Community Development and Corporate Governance to Journalists, Analysts, Investors, Activists, Academics, Public Relations, Advertising and Investor Relations Professionals in over 200 Countries.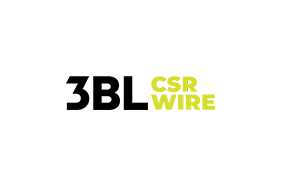 3BL CSRwire
3BL CSRwire
Respected and relied on by journalists, bloggers, business leaders and academics around the world, 3BL CSRwire is a dedicated, real-time source for major news and updates from within the worlds of ESG, corporate social responsibility and sustainability.
3BL CSRwire offers a-la-carte press release distribution to a global network of influential stakeholders and mainstream audiences—perfect for organizations just getting started in CSR or for those looking to get the most out of their corporate communications.
More from 3BL CSRwire