Published 11-03-08
Submitted by 3BL CSRwire
SPRINGFIELD, MA. - November 3, 2008 - This week CSRwire welcomed World Heritage Project, DualCurrency, VIGAStar, Delta Dental Plans Association, KMPG Sustainability - The Netherlands, Entrepreneurs Foundation, Kaleel Jamison Consulting Group, Inc.
CSRwire membership of more than 1000 organizations includes public and privately held companies, socially responsible investment funds, non governmental and non profit organizations, universities, trade associations and think tanks. The following organizations will be using CSRwire to communicate their corporate citizenship, sustainability, and socially responsible activities and initiatives to a passionate and enthusiastic audience in over 200 countries.







World Heritage Project - The World Heritage Project employs a fully integrated approach that combines the power of Media, Social Enterprise, and Philanthropy in order to bring regenerative solutions to the vulnerable communities and places of our world.











DualCurrency Systems - The growing global economic crisis bids us to revamp our outdated financial systems and monetary tools. The solution lies where few individuals and organizations are even looking; in the very nature of money itself. Behind the illusion of scarce material and financial resources, lies a reality of abundant renewable resources and a high-tech global infrastructure to distribute them.

DualCurrency Systems (DCS) pursues sustainable global economic development strategies through Money Innovation and next generation payment systems.

In 1997, the company was awarded two U.S. Patents for its novel DualCurrency Pricing, Accounting and Transaction Settlement system. The system manages transactions in a combination of U.S. dollars and noncash financial instruments, such as loyalty rewards, barter dollars or business scrip.

DCS has designed a DualCurrency payment system and Virtual Community Warehouse to manage innovative incentive programs, including HealthBucks, wellness incentives to lower employer and employee health care costs; EcoBucks, sustainable living incentives, to reward behaviors such as recycling, carpooling and alternative energy use; and Community Service Dollars, volunteer incentives to promote healthy communities.

Because of challenges in raising money and getting its system into the market, the company has put its two business methods patents for restructuring the financial services industry into an auction to be held on October 30, 2008 in Chicago.










VIGAStar - VIGASTAR Company Limited is an Oil and Gas supply company based in Accra Ghana West-Africa. Since its establishment, Vigastar has penetrated the Energy sector of the Ghanaian economy and now regarded as one of the Propering energy supply companies in Ghana. Vigastar also has other businesses such as Hotels, FARMS, Shipping Agency and Airline.









Delta Dental Plans Association - Delta Dental is proud to be America's largest, most experienced dental benefits company. Made up of independent, affiliated member companies, Delta Dental is a not-for-profit organization. Delta Dental's mission is to help improve the overall oral health of the nation by making dental care more available and affordable to the public through the expansion of dental benefits programs. This mission is accomplished through the members' partnerships with their dentists and customers, resulting in real solutions to oral health care, with a focus on prevention.









KMPG Sustainability - The Netherlands - KPMG LLP, the audit, tax and advisory firm, is the U.S. member firm of KPMG International. KPMG International's member firms have 113,000 professionals, including 6,800 partners, in 148 countries.









Entrepreneurs Foundation - Entrepreneurs Foundation is a non-profit organization dedicated to engaging high growth companies in corporate citizenship and philanthropic efforts so that new and leveraged resources are generated for community benefit. Since inception, Entrepreneurs Foundation's 700 participating companies have created corporate philanthropic foundations and community programs that are making a positive impact in the social sector. To date, EF and its participating companies have engaged 18,000 employees who have contributed more than $15 million to support 350+ non profit and social benefit organizations, worldwide. For more information about Entrepreneurs Foundation, visit www.efbayarea.org.









Kaleel Jamison Consulting Group, Inc. - The work of The Kaleel Jamison Consulting Group, Inc. is to partner with organizations for higher operational performance by creating an organization worthy of the commitment, energy, talent, and imagination of their people.

We assist organizations to develop work cultures that tap the knowledge, experience, and skills of all people to:

Achieve greater innovation,

See beyond the horizon of current understanding,

Develop new approaches to sustaining organizational success, and

Establish mindsets to drive behaviors for sustainable operational performance.

We partner to create organizational communities that foster connection between people and their leaders, their colleagues, their customers, and their organization's goals.


About CSRwire Members:
CSRwire Members are Companies and NGOs, Agencies and Organizations interested in communicating their corporate citizenship, sustainability, and socially responsible initiatives to a global audience through CSRwire's Syndication Network, News Alerts, Web Site, Blogs, RSS Feeds, News Aggregators, Send to Friend Feature and Search Engines.
To become a member of CSRwire, or for more information, please click here.
About CSRwire
CSRwire is the leading source of corporate social responsibility and"¨sustainability news, reports and information. CSRwire distributes news related to Diversity, Philanthropy, Socially Responsible Investing (SRI), Environment, Human Rights, Workplace Issues, Business Ethics, Community Development and Corporate Governance to Journalists, Analysts, Investors, Activists, Academics, Public Relations, Advertising and Investor Relations Professionals in over 200 Countries.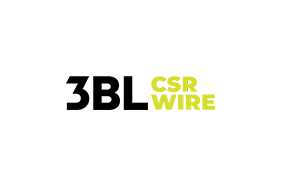 3BL CSRwire
3BL CSRwire
Respected and relied on by journalists, bloggers, business leaders and academics around the world, 3BL CSRwire is a dedicated, real-time source for major news and updates from within the worlds of ESG, corporate social responsibility and sustainability.
3BL CSRwire offers a-la-carte press release distribution to a global network of influential stakeholders and mainstream audiences—perfect for organizations just getting started in CSR or for those looking to get the most out of their corporate communications.
More from 3BL CSRwire