Published 10-21-08
Submitted by 3BL CSRwire
SPRINGFIELD, MA. - Ocotber 21, 2008 - This week CSRwire welcomed Article 13 Group Ltd., Business Fights Poverty, Cadbury, ECLOF International, Gaiafield Center for Subtle Activism, Glasshouse Partnership, Meeting Strategies Worldwide,Rogers&Price enterprises, LLC /ShopGreenGoods.com, Western New England College Law and Business Center for Advancing Entrepreneurship, Zero Technologies, LLC.
CSRwire membership of more than 1000 organizations includes public and privately held companies, socially responsible investment funds, non governmental and non profit organizations, universities, trade associations and think tanks. The following organizations will be using CSRwire to communicate their corporate citizenship, sustainability, and socially responsible activities and initiatives to a passionate and enthusiastic audience in over 200 countries.



Article13 Group Ltd - Corporate Social Responsibility (CSR) Experts: We are experts in business responsibility, typically in the areas of corporate social responsibility (CSR), sustainability and governance. Our services include:
Consultancy for business responsibility
CSR policy & strategy

CSR / sustainability audits & benchmarking

Stakeholder engagement

CSR & sustainability reporting

Non-financial risks & futures

Governance
Training for CSR & sustainability
Responsible business masterclass

Transformative leadership for responsible business

Building business success and values masterclass

Green learning (in association with REED)
Executive coaching
Coaching & mentoring for responsible business
Research on business responsibility
CSR case studies

Quarterly responsible business features

Biannual research reports
Business Fights Poverty - Business Fights Poverty is the free-to-join, fast-growing, international network for professionals passionate about fighting world poverty through good business.
CONNECT with hundreds of your peers. SHARE your ideas and insights. LEARN about the latest research and trends. FIND new partners. MAKE A DIFFERENCE by adding your voice to an active and influential network.



Cadbury - Cadbury is a leading global confectionery company with an outstanding portfolio of chocolate, gum and candy brands. We create brands people love - brands like Cadbury, Trident and Halls.
Our heritage starts back in 1824 when John Cadbury opened a shop in Birmingham selling cocoa and chocolate. Since then we have expanded our business throughout the world by a programme of organic and acquisition led growth. On 7 May 2008, the separation of our confectionery and Americas Beverages businesses was completed creating Cadbury plc with a vision to be the world's BIGGEST and BEST confectionery company.

A few facts and figures
We make and sell three kinds of confectionery: chocolate, gum and candy.
We operate in over 60 countries
John Cadbury opened for business in 1824 - making us nearly 200 years young
We work with around 35,000 direct and indirect suppliers
We employ around 50,000 people
Every day millions of people around the world enjoy our brands



ECLOF International - MISSION: Fair credit for human development and sustainable communities.
ECLOF's mission is to provide fair credit for human development and sustainable communities, in witness to the Christian faith.
To fulfil this mission, ECLOF shall mobilise resources within the ecumenical movement and beyond and responsibly manage national credit programs so that it can:
Make fair credit widely available for poor and excluded groups, who are committed to building sustainable livelihoods and communities,
Make loans to needy churches and Christian-related groups who do not otherwise have access to credit but who are committed to promoting the life of the church and providing services or opportunities for poor and excluded groups,
Facilitate the sharing of resources in ways that strengthen understanding, solidarity and self-reliance, and avoid dependency and external indebtedness
.



Gaiafield Center for Subtle Activism - The Gaiafield Project links "subtle activists" for collective healing and social change.
Glasshouse Partnership - Glasshouse Partnership helps private, public and charitable organizations adapt to a transparent world by creating CSR & social communications strategies based on authentic conversations, powerful collaborations and real change.
Meeting Strategies Worldwide - Based in Portland, Oregon in the United States, Meeting Strategies Worldwide Meeting Strategies Worldwide is an award-winning, environmental firm that specializes in the meetings industry. They provide leading edge organizations with event management, consulting and training services to produce sustainable meetings, conferences and events. The company was founded in 1994 and embraced environmental responsibility as a core value and defining specialty. Since then Meeting Strategies Worldwide has positioned itself as the leading firm for developing and implementing sustainable meeting practices.
Our mission is to provide world-class conference experiences by creating lasting relationships with our clients, embracing innovative ways of doing business and using the Earth's resources wisely. It is also our mission is to expand environmental practices into the meetings and hospitality industry so that sustainability becomes a standard business policy.
Making a difference. One meeting at a time.
ShopGreenGoods.com - ShopGreenGoodscom strongly believes that future generations will be directly impacted by the goods we consume today. Our company is both socially and environmentally responsible with a commitment for a better planet.We are based in the beautiful Pacific Northwest where we enjoy the lush green of our forests, the vibrant blue of our waters topped by the crystal white of our snow capped mountains.
Western New England College Law and Business Center for Advancing Entrepreneurship - The Law and Business Center for Advancing Entrepreneurship supports the establishment and development of small businesses in western Massachusetts. The Center is a joint effort of the Schools of Law and Business at Western New England College and is driven by the School of Law's desire to advance its programs in transactional law and by the School of Business' desire to offer practical educational opportunities in entrepreneurship. The Center provides an innovative educational program beyond the classroom while employing collaborative cross-disciplinary teaching and outreach to form community partnerships and alliances.
Zero Technologies, LLC - Zero Technologies, LLC, creators and distributors of the breakthrough water filtration technology known as ZeroWater(R), is headquartered in Bensalem, PA. Founded in 2002, the company's mission is to provide the public with an easy, comprehensive, do-it-yourself water treatment system that allows them personal control of the quality of their drinking water.ZeroWater(R) introduces a recycling program for the ZeroWater(R) filter, a first of its kind program available in the US from any top producers as well as the first recycling program "broadly available" for a gravity-fed pitcher filtration system. Now, no bottles OR filters in landfills.
About CSRwire Members:
CSRwire Members are Companies and NGOs, Agencies and Organizations interested in communicating their corporate citizenship, sustainability, and socially responsible initiatives to a global audience through CSRwire's Syndication Network, News Alerts, Web Site, Blogs, RSS Feeds, News Aggregators, Send to Friend Feature and Search Engines.
To become a member of CSRwire, or for more information, please click here.
About CSRwire
CSRwire is the leading source of corporate social responsibility and"¨sustainability news, reports and information. CSRwire distributes news related to Diversity, Philanthropy, Socially Responsible Investing (SRI), Environment, Human Rights, Workplace Issues, Business Ethics, Community Development and Corporate Governance to Journalists, Analysts, Investors, Activists, Academics, Public Relations, Advertising and Investor Relations Professionals in over 200 Countries.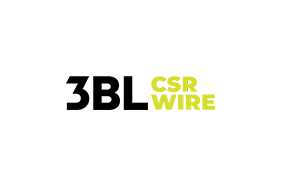 3BL CSRwire
3BL CSRwire
Respected and relied on by journalists, bloggers, business leaders and academics around the world, 3BL CSRwire is a dedicated, real-time source for major news and updates from within the worlds of ESG, corporate social responsibility and sustainability.
3BL CSRwire offers a-la-carte press release distribution to a global network of influential stakeholders and mainstream audiences—perfect for organizations just getting started in CSR or for those looking to get the most out of their corporate communications.
More from 3BL CSRwire