Published 09-04-08
Submitted by 3BL CSRwire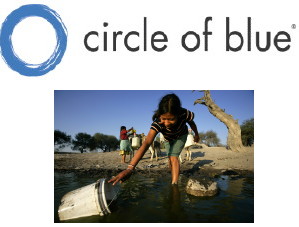 SPRINGFIELD, MA - September 4, 2008 - It is easy to remember the surprise one felt upon discovering that the human body-your body-is 70 percent water. It was equally as surprising to learn that only 3 percent of the Earth's water is fresh water and of that, only a fraction is accessible and potable. People all over the world die every day for lack of safe drinking water. And that's only the beginning of the global water crisis.
Why isn't this crisis-a crisis that affects our economy, culture, politics and geography-at the forefront of our communication and thoughts?
One powerful and innovative organization is working tirelessly to put it there: Circle of Blue. It's a global network of award-winning journalists, scientists and communications designers that reports and presents the information necessary to respond to water issues.
If the first steps to action are awareness and information, the nonprofit Circle of Blue, has positioned itself at the front lines. The organization generates creative and original stories on emerging water, environmental, and health problems, the challenges that humanity must address and the available solutions. Motivated by a belief that great journalism is at "the heart of epiphany and change" Circle of Blue's pieces have been referenced by National Geographic, Vanity Fair and the Christian Science Monitor. The Council on Foreign Relations calls their coverage "a must read."
Their stories are accessible, relevant and personal, not always an easy feat when tackling a global crisis. With a mainstream media that often lacks the resources and time for in-depth reporting, their value is immeasurable. Watching Circle of Blue run is like watching a race against time: The team is made up of scholars, journalists, data experts, artists and thinkers with a sense of urgency and passionate dedication to providing the knowledge people need to make informed decisions about the world water crisis.
"Timing is crucial because we still have options that are economical, ecological and equitable, and that can save lives today," says Circle of Blue founder and award-winning journalist. J. Carl Ganter. "Our job is to translate water issues and information into forms that are meaningful-- using stories that make the issues personal, data and science that are accessible and visual, and communications design that create interesting and insightful ways to think about water."
CSRwire's senior writer Emily Polk talked by phone with Circle of Blue founder and award-winning journalist J. Carl Ganter about the organization and its newest initiative, "The Aspen Design Challenge," an effort to engage the creativity and imagination of students around the world in a re-examination of how we look at water.
EP: You have said that we need to marry data/science with frontline narratives and then come up with a way to essentially communicate it to a wider audience. What does this process look like for Circle of Blue? How do you do this?
JCG.: Circle of Blue involves a lot of very talented and dedicated people from a wide range of disciplines.
We hear about "silo'd" information, data that doesn't talk to related data. We see the same in approaches to other major global challenges, where front-line reporting is separated from the data and science, and they are rarely woven together in cohesive, exciting forms that reach people. Our teams, drawn from talents around the world are those who regularly win World Press awards, are acclaimed researchers and, in the case of "Designing Water's Future," the next generation of communications thinkers.
This reportage -- on the highest professional levels -- inspires others to share their stories, from students in Thailand to researchers in rural Mexico.
We tend to specialize and compartmentalize in our ever-segmented society, which means we miss the cross-polinization of ideas. More than that, we miss opportunities to connect people with problems to people who have solutions.
EP: How has Circle of Blue been able to measure or quantify its impact?
JCG: In the journalism and information world, we have more anecdotal than empirical assessments of our impact. We know, for example, that our coverage in Mexico: a) led to additional reportage by major newspapers and broadcast media; b) provided valuable information for those affected so they can respond; and c) has a lasting impact online that can be measured.
As our director of visuals, Karen Mullarkey, rightly says, "You name the time and I'll name you the image that changed the policy."
It's ironic that we're truly in an information age, yet there's a drought of original, unbiased, front-line information. To help us get closer to the metrics, we have on the drawing board a major global survey on water issues that we've put together with SustainAbility and Globescan, two of the most respected trend-spotting organizations. Not only will this help us with a baseline for our work, it will identify the greatest gaps in information.
EP: Circle of Blue is launching the Aspen Design Challenge. Can you tell me more about it? Why "Design"?
Design is truly about action. Everything we do, see, respond to is design. And, as our partner Brian Collins says, "Design is hope made visible." Imagine the greatest photojournalism or most important science poorly presented. We would never see it, we would never respond. Design is communications -- and it's often the missing link. In a world of ever-fragmenting audiences, shorter attention spans and complex issues, design is crucial to "making visible" the new ideas that are going to change how we see the world. That's a powerful thing, it's how we can inspire action, creativity, energy and optimism. "Designing Water's Future" is an unprecedented piece of this puzzle; it engages students around the world in a 360-degree re-examination of how we look at water.
EP: Now that "going green" is the catch phrase for people/companies focusing on how to be more sustainable, how does Circle of Blue make water issues relevant and timely? How does water fit into the "green" narrative on everybody's mind?
JCG: It's taken awhile for "climate change" to get traction in the social dialogue. Yet water as an issue lags behind. This amazes me because not only is water essential for life, it's how climate change is most visibly manifested. Drought, floods, population migration, habitat. Think about it, how do we feel the impact of climate? It's through the hydrological cycle. Water also plays huge, largely underreported roles in energy and food production, and manufacturing. In the truest sense, in order to be green, you have to start with blue.
EP: As a founder of Circle of Blue, you have played a key role in bringing water issues to the forefront. What was your emotional connection to water? How did you personally come to understand its profound relevance?
I grew up on the shores of Lake Michigan, one of the largest bodies of freshwater in the world. It's a part of who I am. I've also traveled as a journalist reporting for major news outlets issues of health, environment and social justice in places where safe water is not a lifestyle, it's a luxury. Places where children die each day because of a water-related preventable disease, or places where a lack of information has led to poor water management decisions.
Then I became a father. Suddenly I felt a stronger bond to the children I had photographed or families I had interviewed. The desperate children in faraway places -- places I could leave by plane or train -- could be my own. The numbers are mind numbing -- thousands of children, enough to fill 20 jumbo jets, die unnecessarily every day because they lack safe drinking water. These children have little voice, and it's impossible for a journalist to not be moved.
Closer to home, the U.S. Great Lakes are in trouble. At last count, more than $25 billion is needed to clean and protect them. Even here, raw sewage fouls the nation's most visible water supply. And the United States faces an era of water scarcity. So the issue hits home, it's personal.
Editor's Note: This is the first in a continuing series of CSRwire Member Spotlights. Stay tuned for a spotlight on Equal Exchange, next month!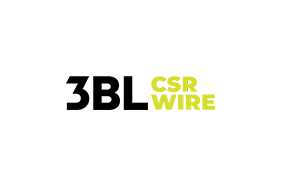 3BL CSRwire
3BL CSRwire
Respected and relied on by journalists, bloggers, business leaders and academics around the world, 3BL CSRwire is a dedicated, real-time source for major news and updates from within the worlds of ESG, corporate social responsibility and sustainability.
3BL CSRwire offers a-la-carte press release distribution to a global network of influential stakeholders and mainstream audiences—perfect for organizations just getting started in CSR or for those looking to get the most out of their corporate communications.
More from 3BL CSRwire