Published 09-02-05
Submitted by 3BL CSRwire
SPRINGFIELD, Mass - CSRwire, the Corporate Social Responsibility newswire service announced today that collectively their members have contributed more than $100 million to Hurricane Katrina relief, to date. Contributions have been mostly in the form of cash donations, but have also included relief supplies and support services.
CSRwire is proud to recognize all of its contributing members for their generosity and kindness. Among the CSRwire members who have contributed are Abbott, Alcoa, Bayer, BP, Chevron, Dell, Disney, GE, Home Depot, Intel, Motorola, Office Depot, UPS, Walgreens and Washington Trust, among
many others too numerous to mention. Corporate giving has been widely recognized as a key component of good corporate citizenship.
"We applaud our members' contributions to the relief effort and recognize that the heightened awareness for corporate giving illuminates the other social and environmental initiatives of good corporate citizenship," according to Greg Schneider, Director of CSRwire.
About CSRwire
CSRwire is the leading source of corporate social responsibility and sustainability, press releases, reports and news. CSRwire members are companies and NGOs, agencies and organizations interested in communicating their corporate citizenship, sustainability, and socially responsible initiatives to a global audience through CSRwire's syndication network and weekly News Alerts.
Meadowbrook Lane Capital (www.meadowbrooklane.com) CSRwire's parent company, has been described as a 'socially responsible investment bank'. The company specializes in turning values into valuation while concentrating on succession issues for mission driven companies.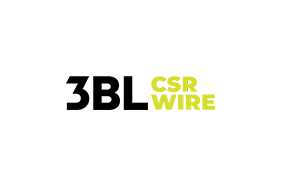 3BL CSRwire
3BL CSRwire
Respected and relied on by journalists, bloggers, business leaders and academics around the world, 3BL CSRwire is a dedicated, real-time source for major news and updates from within the worlds of ESG, corporate social responsibility and sustainability.
3BL CSRwire offers a-la-carte press release distribution to a global network of influential stakeholders and mainstream audiences—perfect for organizations just getting started in CSR or for those looking to get the most out of their corporate communications.
More from 3BL CSRwire