Published 04-12-02
Submitted by 3BL CSRwire
Brattleboro, VT - CSRwire, the corporate social responsibility newswire service, today introduced a non-financial report service to further aid companies in communicating their environmental and social performance.
This new web-based service features more than 100 sustainability, environmental, and corporate responsibility reports and is available at no cost to the public. Not available anywhere else on the Internet, CSRwire can add value to companies' reporting efforts by ensuring the information is distributed as widely as possible. Users can access html or PDF versions of the corporate reports and order hardcopy versions online at www.CSRwire.com.
CSRwire operates the only newswire service devoted specifically to corporate social responsibility issues. Its archive of press releases includes information from hundreds of companies and nonprofit groups, which are distributed globally through syndicated websites and email alerts. CSRwire clients include: Nokia, Procter and Gamble, McDonald's, SC Johnson & Sons, Agilent Technologies, and Chiquita Brands International.
According to the 2001 Benchmark Survey of The State of Global Environmental and Social Reporting conducted by CSR Network, 50 of the world's largest 100 companies produce environmental and social reports, an increase of nearly 15 percent from 1999. Environmental and social reporting by companies is a trend likely to continue in the future, as hundreds of large companies produce annual non-financial reports.
"Our annual report outlines our workplace, philanthropic and environmental goals and accomplishments. This information is critical to communicate to our stakeholders in order to help ensure our reputation as a good corporate citizen. CSRwire is the ideal outlet to help us do that," said Therese Van Ryne of SC Johnson, the first company to subscribe to the CSRwire report service.
A BusinessWeek/Harris Poll Survey shows that the public demands corporate transparency and accountability. Ninety-five percent of respondents interviewed stated that, "US corporations should have more than one purpose. They also owe something to their workers and the communities in which they operate, and they should sometimes sacrifice some profit for the sake of making things better for their workers and communities."
"Every sector of the marketplace is demanding greater transparency from companies," said Meghan Connolly, Director of CSRwire. "By utilizing this report service, companies can meet the information needs of their stakeholders and enhance their reputation."
Other services offered by CSRwire include a comprehensive event calendar detailing corporate responsibility related events throughout 2002 and an extensive resource center with articles, links, and research.
CSRwire is a service of SRI World Group, Inc., a leading provider of information on social investing and corporate responsibility. SRI World Group also operates SocialFunds.com for individual investors and InstitutionalShareowner.com for institutional investors.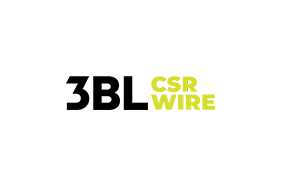 3BL CSRwire
3BL CSRwire
Respected and relied on by journalists, bloggers, business leaders and academics around the world, 3BL CSRwire is a dedicated, real-time source for major news and updates from within the worlds of ESG, corporate social responsibility and sustainability.
3BL CSRwire offers a-la-carte press release distribution to a global network of influential stakeholders and mainstream audiences—perfect for organizations just getting started in CSR or for those looking to get the most out of their corporate communications.
More from 3BL CSRwire