Published 07-10-02
Submitted by Canadian Business for Social Responsibility
VANCOUVER, British Columbia - On the heels of recent corporate scandals and public mistrust, Canadian Business for Social Responsibility releases the GoodCompany Guidelines. These guidelines enable companies to assess, improve and report on their social, environmental and financial performance. "Business is the most powerful institution in our society," says Adine Mees, President of Canadian Business for Social Responsibility (CBSR). "Corporations influence not only our economy but also our planet's ecosystems and social networks. With the new GoodCompany Guidelines we are providing Canada's first step-by-step process and evaluation system to help businesses operate more sustainably."
The Guidelines provide a solution for organizations interested in improving their way of doing business, and improving their public reputation. "Consumers today want proof that a company deserves their trust - and their investment," says Mees. "The GoodCompany Guidelines are a practical tool that enable companies to pinpoint their performance gaps, develop policies to address them and report back to their stakeholders. The result is clearer accountability and enhanced brand."
CBSR members such as BC Hydro, Suncor Energy Inc. and Coast Capital Savings Credit Union have already seen value in the GoodCompany Guidelines and put them to work.
"As we move towards becoming a sustainable energy company, we understand the challenges companies face in working to implement corporate social responsibility programs and initiatives," said BC Hydro Senior Vice-president of Strategic Planning and Sustainability, Bruce Sampson. "This tool has helped us and will help many Canadian businesses as they seek guidance in this area."
"These guidelines have proven to be a valuable addition to our toolkit as we work to improve corporate social responsibility through our supplier relationships," says Darlene Crowell, Suncor Media Relations Manager. "The GoodCompany Guidelines are user friendly and provide an easy checklist to get you started. We recommend them."
"This is a clear, concise, credible tool that makes corporate social responsibility both understandable, and doable," says Lorne DeLarge, Vice President of Marketing and Community at Coast Capital Savings Credit Union. "We're using the Guidelines to inform both our short and long term planning. We recommend them to any company that wants to make a measurable difference."
Companies can implement the CBSR GoodCompany Guidelines independently or use them in conjunction with CBSR's Advisory Services. CBSR experts offer practical and tactical approaches to implementing corporate social responsibility including assessments, gap analyses, best practice research, recommendations for improvement and sustainability reporting. More information on CBSR can be found at www.cbsr.ca.
CBSR is a network of innovative companies working to improve their social, environmental and financial performance. Publication of the GoodCompany Guidelines is sponsored by BC Hydro.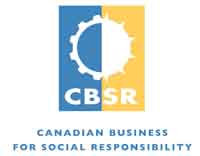 Canadian Business for Social Responsibility
Canadian Business for Social Responsibility
Founded in 1995, CBSR is a business-led, non-profit corporate social responsibility (CSR) consultancy and peer-to-peer learning organization that provides its members with candid counsel and customized advisory services as they formulate powerful business decisions that contribute to a better world.