Published 05-30-08
Submitted by Tom's of Maine
KENNEBUNK, Maine, May 30 /PRNewswire/ -- Inspire others to make a difference by entering the Tom's of Maine River Stories Video Contest. As environmental concerns continue to rise, it becomes increasingly important to maintain the cleanliness of our nation's rivers. In 2007, Tom's of Maine pledged $1 million over five years to help support American Rivers and River Network, the two leading river groups in the U.S. With the launch of the River Stories Video Contest, Tom's of Maine continues to highlight this important issue, promote volunteerism and help clean up rivers big and small.
To view the Multimedia News Release, go to:http://www.prnewswire.com/mnr/tomsofmaine/33461/
Last year, over 100,000 volunteers participated in events across the U.S. and removed over 700 tons of trash from our nation's rivers. These 'River Heroes' positively impacted the health, business growth, and recreation opportunities within these communities, and powerfully motivated others to get involved. Inspire us with your story by entering the Tom's of Maine's River Stories Video Contest, and illustrate your commitment to protecting, preserving and restoring our nation's rivers.
From now through October 31, 2008, applicants nationwide can showcase their role in promoting the safety and cleanliness of our rivers by uploading their online-video submissions at www.tomsofmaine.com/savingrivers. Eligible contestants must comply with all the contest rules stated on the competition website. Online entries will be internally evaluated and the winner will be announced on our website by January 31, 2009. This year's winner will be profiled on the Tom's of Maine official website and will be awarded a 2008 Toyota Prius Hybrid!
Why get involved? Rivers are vitally important to our health and quality of life:
-- About 50% of the drinking water in the United States comes from rivers.
-- 40% of America's rivers, lakes, and estuaries are unsuitable for such basic uses as fishing and swimming.
-- One out of every ten Americans is served by a community water system reporting a health standard violation.
-- An overwhelming majority of Americans -- 218 million -- live within 10 miles of a polluted lake, river, stream, or coastal area.
-- Our states have identified almost 300,000 miles of rivers and streams that do not meet water quality standards.
About Tom's of Maine
Founded in Kennebunk, Maine, by Tom and Kate Chappell in 1970, Tom's of Maine creates effective personal care products using simple, natural ingredients derived from plants and minerals. Tom's of Maine products --toothpaste, mouthwash, floss, deodorant, and soap -- do not contain artificial sweeteners, preservatives, colors, flavors, or animal ingredients; are tested for safety and efficacy without the use of animals; are biodegradable; and are packaged in earth-friendly ways. Our philosophy of "Natural Care" guides us in doing what is right for our customers, employees, communities, and environment. We fulfill our Natural Care mission by donating 10% of our profits to charitable organizations; by encouraging our employees to use 5% of their paid time in volunteer work; by adhering to our standards of natural, sustainable, and responsible; and by not testing on animals.
Tom's of Maine products and packaging are designed to be sustainable and recyclable. Each year, Tom's uses packaging made of 100% recycled paper board. As a result, we save or prevent:
-- 0.5 million pounds of solid waste
-- 2.8 million gallons of waste water
-- 7 billion BTUs of electricity -- that's 70 years of electricity as required by the average U.S. home.
-- 1 million pounds of greenhouse gases -- that's 1 million miles traveled in the average U.S. car
-- 6,000 pounds of air pollution (HAPs, VOCs, TRSs combined)
Tom's of Maine also:
-- Uses vegetable-based inks on all of our professionally printed materials and packaging
-- Wraps bar soaps in biodegradable cellulose made from wood fibers
-- Created a deodorant stick made of just a single plastic(#5 polypropylene) so that it can be recycled-the first of its kind in the industry
For more information and to buy our products please visit www.tomsofmaine.com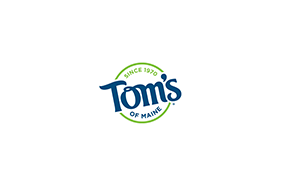 Tom's of Maine
Tom's of Maine
Tom's of Maine has been making safe, effective natural personal care products for 49 years. It all began when Tom and Kate Chappell moved to Maine in 1968 looking for a healthier, simpler life for their growing family. And when they couldn't find personal care products that were free from artificial flavors, fragrances, sweeteners, colors and preservatives, they decided to make their own. Tom's of Maine products - including toothpaste, deodorant, mouthwash, antiperspirant, bar soap, body wash, dental floss, and toothbrushes - are made from naturally sourced and naturally derived ingredients and never tested on animals. A Certified B Corporation, Tom's of Maine is committed to upholding a purpose-driven business and has a long-standing commitment to supporting nature and healthy families. Tom's of Maine has supported hundreds of nonprofits by giving back 10% of its profits, and employees are encouraged to use 5% of their paid time (12 days) volunteering for causes they are passionate about. Most Tom's of Maine products are vegan, kosher, halal-certified and gluten-free. All packaging is recyclable through a partnership with upcycling leader TerraCycle or participating municipalities.
Visit us online at http://www.tomsofmaine.com/ or at http://www.facebook.com/TomsofMaine.
More from Tom's of Maine