Published 10-10-07
Submitted by Tom's of Maine

KENNEBUNK, Maine, Oct. 10 /PRNewswire-USNewswire/ -- Tom's of Maine cofounders Tom and Kate Chappell spent the first week of October kicking off the company's five-year, $1 million Rivers Awareness Partnership(TM) at twelve public, retail, and community events in San Francisco and Portland, Oregon.
(Photo: http://www.newscom.com/cgi-bin/prnh/20071010/NEW036 )
(Logo: http://www.newscom.com/cgi-bin/prnh/20071010/NEW036LOGO )
(Logo: http://www.newscom.com/cgi-bin/prnh/20050713/NEW010LOGO )

Tom's of Maine is pledging $1 million over five years to help American Rivers and River Network, the two leading grassroots river groups in the U.S., representing well over 100,000 members across the country.
This five-year commitment (2007-2012) follows the first phase of the company's rivers program (2001-2006) and continues a deep connection with protecting clean water that goes back to the founding of the company in 1970. Tom and Kate created their first product, a phosphate-free laundry detergent called "Clearlake," because of the damage done by phosphates to our rivers and waterways.
"We are very excited to see our Rivers Awareness Partnership(TM) taken to the next level and to be working with the two groups that support people who are making a difference for rivers in communities across the country," said Kate Chappell.
"We've worked hard with our partners to identify real, measurable goals that will make a positive difference for rivers," said Tom Chappell, Tom's of Maine's CEO. "Our retail partners are also very motivated to connect with local river groups in their communities and get their shoppers involved," he added.
The president of River Network, Don Elder, said, "River Network believes that strong community-based groups are our best opportunity to protect and restore our rivers, lakes, streams, estuaries and watersheds. We are very pleased to continue our relationship with Tom's of Maine's Rivers Awareness Partnership(TM), and strongly believe that this renewed financial investment will pay great long-term dividends for the preservation of our precious waters for all people, wildlife and future generations."
Rebecca Wodder, president of American Rivers, stated, "The support of Tom's of Maine will make a real difference to rivers and communities across the country. We're going to raise awareness about the importance of healthy rivers and we're going to encourage individuals to take action on their own rivers. One very tangible result of this partnership will be hundreds more river cleanups taking place on rivers big and small across the country."
Specific goals of the five-year Rivers Awareness Partnership(TM) include:
-- $1,000,000 donated from Tom's of Maine to American Rivers and River Network
-- 30,000 consumers engaged in an ongoing relationship with Tom's to
reconnect to the rivers in their own communities

-- 10,000 new members to American Rivers and River Network

-- $100,000 in rivers support generated from retailers and consumers

-- 20 self-sustaining partnerships forged between retailers and their
local river groups

-- Significantly increase the number of local watersheds annually assessed and monitored in five multi-state regions.

-- 40 additional rivers designated under the Wild and Scenic Rivers Act
About Tom's of Maine

Founded in Kennebunk, Maine, by Tom and Kate Chappell in 1970, Tom's of Maine creates effective personal care products using natural ingredients derived from plants and minerals. Tom's of Maine products-toothpaste, mouthwash, floss, deodorant, shave cream, and soap-do not contain artificial sweeteners, preservatives, colors, flavors, or animal ingredients; are tested for safety and efficacy without the use of animals; are biodegradable; and are packaged in earth-friendly ways. Our philosophy of "Natural Care" guides us in doing what is right for our customers, employees, communities, and environment. We fulfill our Natural Care mission by donating 10% of our profits to charitable organizations; by encouraging our employees to use 5% of their paid time in volunteer work; by adhering to our standards of natural, sustainable, and responsible; and by not testing on animals. Tom's of Maine products and packaging are designed to be sustainable and recyclable. Each year, Tom's uses cartons made of 100% recycled paper board. As a result, we save:
-- 376,396 pounds of solid waste

-- 97,286 gallons of water

-- 5,373,000,000 BTUs of electricity- that's 52 years of electricity as required by the average U.S. home.

-- 567,557 pounds of greenhouse gases-that's 572,000 miles traveled in the average U.S. car

-- 1,769 pounds of air emissions (HAPs, VOCs, TRSs combined)

-- 26,732 pounds of hazardous effluent (BODs, TSSs, CODs, AOXs)
Tom's of Maine also:
-- Uses soy-based inks on all of our professionally printed materials and packaging

-- Wraps bar soaps in biodegradable cellulose made from wood fibers

-- Created a #5 recyclable plastic deodorant stick-the first of its kind in the industry and a container that is even stronger and more reliable than the old nonrecyclable version.
To learn more visit www.tomsofmaine.com
About American Rivers

American Rivers is a national organization standing up for healthy rivers so communities can thrive. Through national advocacy, innovative solutions and their growing network of strategic partners, they protect and promote our rivers as valuable community assets that are vital to our health, safety and quality of life. Founded in 1973, American Rivers has more than 75,000 members and online supporters nationwide, with offices in Washington, DC and the Mid-Atlantic, Northeast, Midwest, Southeast, California and Northwest regions. To learn more visit www.AmericanRivers.org
About River Network

Since 1988, River Network has provided organizational, technical and networking assistance to people working to protect their local watersheds.
They help people to build strong organizations, monitor and assess water conditions, use best practices to protect and restore freshwater ecosystems and find solutions to water-related human health problems. With more than 700 partner groups in all fifty states and beyond, River Network is helping build a powerful new watershed protection movement nationwide. To learn more visit www.rivernetwork.org.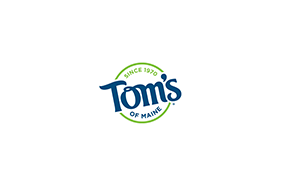 Tom's of Maine
Tom's of Maine
Tom's of Maine has been making safe, effective natural personal care products for 49 years. It all began when Tom and Kate Chappell moved to Maine in 1968 looking for a healthier, simpler life for their growing family. And when they couldn't find personal care products that were free from artificial flavors, fragrances, sweeteners, colors and preservatives, they decided to make their own. Tom's of Maine products - including toothpaste, deodorant, mouthwash, antiperspirant, bar soap, body wash, dental floss, and toothbrushes - are made from naturally sourced and naturally derived ingredients and never tested on animals. A Certified B Corporation, Tom's of Maine is committed to upholding a purpose-driven business and has a long-standing commitment to supporting nature and healthy families. Tom's of Maine has supported hundreds of nonprofits by giving back 10% of its profits, and employees are encouraged to use 5% of their paid time (12 days) volunteering for causes they are passionate about. Most Tom's of Maine products are vegan, kosher, halal-certified and gluten-free. All packaging is recyclable through a partnership with upcycling leader TerraCycle or participating municipalities.
Visit us online at http://www.tomsofmaine.com/ or at http://www.facebook.com/TomsofMaine.
More from Tom's of Maine