Published 05-13-03
Submitted by Tom's of Maine
Kennebunk, ME - The National Healthy Mothers, Healthy Babies Coalition (HMHB), a leader and resource in maternal and child health, has named Tom's of Maine a Workplace Model of Excellence. The 2003 award recognizes Tom's creative and holistic approach to promote the health and well-being of families. Each year, HMHB acknowledges employers that distinguish themselves with exemplary family-friendly programs. This year's event will be held May 15 at a luncheon in Washington, D.C., hosted by Cokie and Steve Roberts.
Rebecca Adamson, a Cherokee and founder of First Nations Development Institute, as well as a member of Tom's of Maine's Board of Directors, will accept the award on Tom's behalf. "Tom's of Maine has been a values-based family business for over 30 years. Its unique, responsible workplace programs support women and children and reflect its longstanding respect for people and our communities," she says. Adamson has worked for years with grassroots tribal communities and as an advocate on indigenous issues.
"We believe in cultivating the best possible relationships with our co-workers," adds Tom Chappell, president and co-founder of Tom's of Maine. "Kate and I raised five children while building our business, so we know how important work and family issues are. Establishing an environment that respects and values our employees and their families is the most meaningful way to show we care." Tom's notable programs include flexible work schedules, generous parental leave for mothers and fathers, long-term care insurance and employee wellness programs. Tom's employees are also encouraged to spend up to 5% of paid work time volunteering in their communities.
HMHB's mission is to improve the health and safety of mothers, babies and families through education and collaborative partnerships of public and private organizations, employers, policymakers and consumers.
Founded in Kennebunk, Maine by Tom and Kate Chappell in 1970, Tom's of Maine is the leading creator of safe, effective Natural Care products that work – for consumers, the environment, and communities. Tom's products – such as toothpaste, mouthwash, soap and deodorant – contain no artificial flavors, dyes or sweeteners, are biodegradable, are packaged in earth-friendly ways, and are tested for safety and efficacy without the use of animals. For more information about Tom's of Maine, its products, or work-life programs, contact Kathleen Taggersell at 800-367-8667.
A Sampling of Tom's of Maine Work-Life Programs
Flexible work schedules,
teleconferencing. Many employees have laptops to support flexible work options.

Generous medical and dental benefits
(72% premium for singles or families paid by Tom's, 28% by the employee); domestic partners are also covered.

Four weeks parenting leave
– Tom's provides one month full salary for new mothers and fathers, a benefit coordinated with maternity leave, adoption, or foster child leave.

Long-Term Care Insurance
– Tom's of Maine pays for a base benefit of $2,000 per month for each employee. Employees may also enroll their spouse, child, parent or grandparent at discounted rates.

Child care reimbursement
for employees meeting eligibility requirements.

Employee Assistance Program
for child/elder care, life improvement, or work/family issues.

Dependent and medical care
spending accounts.

Onsite Wellness Center
– Wellness programs and individualized fitness instruction are offered free of charge, and staffed by a full-time Wellness Leader. Tom's also subsidizes on-site massages.

Health & wellness benefit
of $100 ($200 for non-Maine-based employees) to use for anything that contributes to an employee's overall well-being.

401K Retirement Savings
– Tom's provides a non-participating match on the first 3% of employees' pay, followed by a 100% company match on the next 3% of employees' contributions. The contribution cap is 15% and the employee is fully vested in five years.

Volunteer time
– Employees are encouraged to volunteer 5% of their paid work time in organizations that support education, the environment, human need, or the arts.

Fresh, free fruit baskets
are replenished weekly at all Tom's factory, administrative, and warehouse locations.

Free Tom's of Maine Natural Care products
for employees, and a 25% discount in the company's Natural Living Store.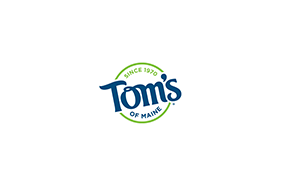 Tom's of Maine
Tom's of Maine
Tom's of Maine has been making safe, effective natural personal care products for 49 years. It all began when Tom and Kate Chappell moved to Maine in 1968 looking for a healthier, simpler life for their growing family. And when they couldn't find personal care products that were free from artificial flavors, fragrances, sweeteners, colors and preservatives, they decided to make their own. Tom's of Maine products - including toothpaste, deodorant, mouthwash, antiperspirant, bar soap, body wash, dental floss, and toothbrushes - are made from naturally sourced and naturally derived ingredients and never tested on animals. A Certified B Corporation, Tom's of Maine is committed to upholding a purpose-driven business and has a long-standing commitment to supporting nature and healthy families. Tom's of Maine has supported hundreds of nonprofits by giving back 10% of its profits, and employees are encouraged to use 5% of their paid time (12 days) volunteering for causes they are passionate about. Most Tom's of Maine products are vegan, kosher, halal-certified and gluten-free. All packaging is recyclable through a partnership with upcycling leader TerraCycle or participating municipalities.
Visit us online at http://www.tomsofmaine.com/ or at http://www.facebook.com/TomsofMaine.
More from Tom's of Maine