Published 10-21-02
Submitted by Tom's of Maine
KENNEBUNK, Maine - Tom's of Maine has received one of the natural products industry's highest honors – the Socially Responsible Business Award at Expo East. The award recognizes businesses that have demonstrated exemplary efforts in promoting and practicing socially responsible business. The 2002 award was sponsored by Golden Temple Bakery, Peace Cereal, Sunshine Spa and Yogi Tea.
"The integration of our core values of social and environmental responsibility with our business practices has always been at the heart of our Natural Care philosophy," stated Tom Chappell, CEO and President of Tom's of Maine. "We believe a company can care for people, communities and the environment while producing efficacious products – and still make a profit – and we are honored and grateful to be recognized for doing so."
Tom's of Maine's, a leader in the natural products industry for over 30 years, has distinguished itself with products and policies that honor and sustain the natural world. The company's wide range of natural care offerings, such as toothpastes, soaps, deodorants, and cough & cold products, are made without artificial flavors or sweeteners, dyes, or preservatives. Tom's has a long-standing commitment not to test on animals, and worked with the American Dental Association and the Food & Drug Administration to demonstrate efficacy of its fluoride toothpastes without conducting rat studies. The company makes the only natural toothpaste with fluoride to carry the ADA Seal.
The 2002 Socially Responsible Business Award cited several areas of Tom's leadership, including community involvement, employment practices, and environmental protection. Tom's donates 10% of its pretax profits to charitable organizations supporting the environment, arts, education, and human need. The company also encourages employees to donate 5% of their paid work time to volunteer in the community. Policies that promote innovation and empowerment are utilized throughout the company, and have resulted in dozens of successful new product launches over the last three years.
Through its Common Good Partnerships, Tom's works together toward shared goals with like-minded companies and organizations while affirming respect for people, nature and the community. Tom's Rivers Awareness Program, for example, is a partnership with River Network, The Nature Conservancy and the National Park Foundation to raise awareness of the need to protect and restore our nation's rivers and watersheds.
Tom's continually evaluates its business practices to ensure they are environmentally sound. Last year, for example, Tom's introduced a recyclable plastic deodorant stick, believed to be the first in the industry. The company is actively researching the use of tree-free paper for its written materials, and supports organic farmers in the sourcing of its ingredients. The company's recently opened Community Center, a multifunction facility in Kennebunk for meetings, videoconferences, and wellness programs, was designed using environmentally sound materials, from recycled carpeting to wall coverings salvaged from an old Maine inn.

Tom's of Maine is a member of Businesses for Social Responsibility, Co-Op America Business Network, Maine Businesses for Social Responsibility, Social Venture Network, and the Council on Economic Priorities. Tom's products are available in health food stores, drug stores, and supermarkets nationwide, and on the company's website, www.tomsofmaine.com. For more information about Tom's of Maine, its products, and its Natural Care philosophy, contact Kathleen Taggersell at 800-367-8667.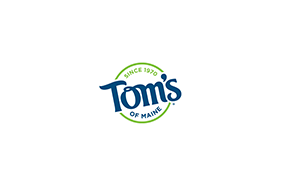 Tom's of Maine
Tom's of Maine
Tom's of Maine has been making safe, effective natural personal care products for 49 years. It all began when Tom and Kate Chappell moved to Maine in 1968 looking for a healthier, simpler life for their growing family. And when they couldn't find personal care products that were free from artificial flavors, fragrances, sweeteners, colors and preservatives, they decided to make their own. Tom's of Maine products - including toothpaste, deodorant, mouthwash, antiperspirant, bar soap, body wash, dental floss, and toothbrushes - are made from naturally sourced and naturally derived ingredients and never tested on animals. A Certified B Corporation, Tom's of Maine is committed to upholding a purpose-driven business and has a long-standing commitment to supporting nature and healthy families. Tom's of Maine has supported hundreds of nonprofits by giving back 10% of its profits, and employees are encouraged to use 5% of their paid time (12 days) volunteering for causes they are passionate about. Most Tom's of Maine products are vegan, kosher, halal-certified and gluten-free. All packaging is recyclable through a partnership with upcycling leader TerraCycle or participating municipalities.
Visit us online at http://www.tomsofmaine.com/ or at http://www.facebook.com/TomsofMaine.
More from Tom's of Maine