Published 10-19-06
Submitted by VolunteerMatch
(SAN FRANCISCO) - "Make A Difference Day" is Saturday, October 28, an opportunity for millions of Americans to volunteer. This year, many are expected to get involved, and many are expected to visit VolunteerMatch to find a personally fulfilling way to do so. VolunteerMatch is the free, nonprofit service that connects volunteers with nonprofit organizations nationwide.
"VolunteerMatch showed me all of the volunteer jobs in my area," said Spike Taylor, an active volunteer in Arizona. "It was the only way that I could find what was available to me."
Interested volunteers simply enter their ZIP code on the VolunteerMatch home page at www.VolunteerMatch.org to receive an up-to-date listing of local volunteer activities. Volunteers may also choose nearly 30 categories of interest (some of the most popular categories are "Children & Youth," "Animals," "Education & Literacy," and "Virtual"), match themselves and begin helping out. With VolunteerMatch, it is also easy to find volunteer opportunities for kids, teens, seniors and groups.
Any volunteer can use the service to find a local volunteer opportunity, and any nonprofit in need of volunteers can use the service to more efficiently and effectively recruit volunteers. In fact, with a network of over 43,000 nonprofits, finding a rewarding way to make a difference is never more than a few clicks away, which is why volunteers have already made more than 2.7 million volunteer matches on VolunteerMatch.
"Thank you VolunteerMatch, and keep up your great work," said Cheryl Honey, founder and president of Family Support Network International. "Your work is changing lives and rekindling a spirit of community."
On October 28, 2006, anyone can find a rewarding way to contribute to community in recognition of Make A Difference Day at www.VolunteerMatch.org.
About VolunteerMatch
VolunteerMatch is where volunteering begins, enabling anyone to find local nonprofits by ZIP code, get involved based on skills and interests, and support a community network of individuals, charitable organizations, and socially responsible businesses committed to civic engagement. Since 1998, VolunteerMatch has helped volunteers make nearly 3 million matches to 43,000 nonprofits throughout the United States, earning the national nonprofit worldwide acclaim, two Webby Awards, and recognition from The White House. Make a difference today at www.VolunteerMatch.org.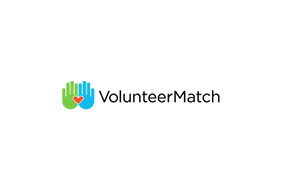 VolunteerMatch
VolunteerMatch
VolunteerMatch is the Web's largest volunteer engagement network, strengthening communities by making it easier for good people and good causes to connect. Founded in 1998, the organization annually supports more than 11 million visitors, 96,000 participating nonprofits and 160 network partners who have built their programs on VolunteerMatch's community involvement platform. As a nonprofit social enterprise, VolunteerMatch works toward financial self-sufficiency through a diversified portfolio of fee-based services including premium volunteer recruitment tools and solutions for nonprofit organizations, enterprise volunteer engagement services for companies and campuses, and marketing and sponsorship programs for brands. For more information on our CSR solutions, visit solutions.volunteermatch.org.
More from VolunteerMatch