Published 05-19-06
Submitted by VolunteerMatch
SAN FRANCISCO- In an effort to extend Ford Motor Company's strong commitment to community involvement, the company has teamed with VolunteerMatch to help Ford employees, retirees and friends & family to make a difference through volunteer service. With VolunteerMatch's corporate service and the new Ford Volunteer Corps program, Ford's workforce can now access the VolunteerMatch network of over 40,000 nonprofit volunteer organizations, and employees and retirees can use VolunteerMatch to receive a list of volunteer opportunities based on individual interests and ZIP code.
"I am extremely proud of the way in which Ford Motor Company and its people - both hourly and salaried - commit the time and energy necessary to help our communities in countless ways," said Ford Chairman and Chief Executive Officer Bill Ford. "The Ford Volunteer Corps will help us to channel and institutionalize that spirit."
The Ford Volunteer Corps program includes two new community engagement initiatives. The first enables Ford employees, retirees and family & friends to volunteer with local nonprofit agencies. The second, launched during National Volunteer Week, promotes Ford's "16 Hours Community Service Program," which provides salaried employees with two paid days to volunteer each year. The reach of both are extended through the partnership with VolunteerMatch.
VolunteerMatch's corporate service engages corporate America in volunteer activity while helping VolunteerMatch, a national nonprofit, realize financial sustainability for its no-cost social services. VolunteerMatch partners with a number of socially responsible companies to make it easier for corporate workforces to volunteer, and also collaborates with national nonprofit organizations like The American Red Cross and the National Multiple Sclerosis Society to help local nonprofit chapters recruit volunteers nationwide.
About Ford

Ford Motor Company, a global automotive industry leader based in Dearborn, Mich., manufactures and distributes automobiles in 200 markets across six continents. With more than 327,000 employees worldwide, the company's core and affiliated automotive brands include Aston Martin, Ford, Jaguar, Land Rover, Lincoln, Mazda, Mercury and Volvo. Its automotive-related services include Ford Credit, Quality Care and Hertz. Ford Motor Company celebrated its 100th anniversary on June 16, 2003.
About VolunteerMatch
VolunteerMatch is where volunteering begins, supporting a community network committed to civic engagement by enabling volunteers and businesses to connect with local nonprofits by ZIP code. Since 1998, VolunteerMatch has helped volunteers make more than 2.5 million matches to 40,000 nonprofits throughout the United States, earning the national nonprofit worldwide acclaim, two Webby Awards, and recognition from M.I.T., the Smithsonian Institution and The White House. Make a difference today at www.VolunteerMatch.org.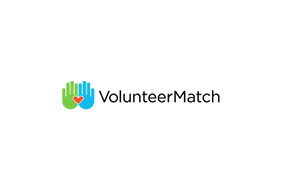 VolunteerMatch
VolunteerMatch
VolunteerMatch is the Web's largest volunteer engagement network, strengthening communities by making it easier for good people and good causes to connect. Founded in 1998, the organization annually supports more than 11 million visitors, 96,000 participating nonprofits and 160 network partners who have built their programs on VolunteerMatch's community involvement platform. As a nonprofit social enterprise, VolunteerMatch works toward financial self-sufficiency through a diversified portfolio of fee-based services including premium volunteer recruitment tools and solutions for nonprofit organizations, enterprise volunteer engagement services for companies and campuses, and marketing and sponsorship programs for brands. For more information on our CSR solutions, visit solutions.volunteermatch.org.
More from VolunteerMatch