Published 01-09-03
Submitted by PricewaterhouseCoopers
CHICAGO, IL - It is no coincidence that manna means "something of value received unexpectedly." For those who thought angel investing was a myth in the Midwest, local investors and a host of organizations that support entrepreneurs are launching MANA in an effort to make seed-stage investment a greater reality. The three regional angel networks committed to the association are Prairie Angels, Northern Illinois Angels and Ceres Group. The Illinois Coalition, along with founding partners
PricewaterhouseCoopers, the Chicagoland Chamber of Commerce, and Mayer, Brown, Rowe & Maw sponsored this effort to organize and expand the local angel investment community.
"Our community needs a strong base of angel investors, because they are the unique individuals who jump in early to help new companies take root and grow," said Tom Thornton, Executive Vice President of the Illinois Coalition. "An organized, qualified angel investment community is key to fostering innovation in this region."
MANA will be dedicated to strengthening the existing angel community and providing assistance and education to potential investors looking to join or form an angel fund or network. Although MANA does not provide angel funding directly, entrepreneurs can also look to MANA's website for direction in how to access angel funding and advisors, as well as service providers who want to
help start-ups.
"MANA is an association for angel investors aimed at pulling together existing networks and attracting new investors to create an educated, high-caliber angel community," said Barry Moltz, co-founder of Prairie Angels. "The result will be a larger investment community, making higher quality investments, and in turn, entrepreneurs will be able to identify a more organized group of angel investors capable of doing more deals."
The Mayor's Council of Technology Advisors (MCTA) identified the need for more investment at the early stages of a company's development in order for Chicago to take advantage of its wealth of innovation. MANA responds to the MCTA's recommendation for a more connected and focused early-stage investment community to leverage capital and support technology growth.
"MANA will coordinate the group of investors that can help local companies get their feet off the ground," said Chicago Mayor Richard M. Daley. "Through this association, we can focus our efforts in an area of funding we need to strengthen and provide entrepreneurs with better access to capital at the
earliest stages."
Overseeing MANA is an impressive Board of Directors including Barry Moltz of Prairie Angels as Chairman and the founding partners: Tom Thornton of the Illinois Coalition, Seth Weinberger of Mayer, Brown, Rowe & Maw, Bruce Hanson of PricewaterhouseCoopers. The board also includes Gordon Reichard of Northern Illinois Angels, Linda Darragh of the Women's Business Development Center (Ceres Group), and Tom Churchwell of ARCH Development Partners.
"Seed stage investing is a lonely place in this region," said Tom Churchwell, Managing Partner of ARCH Development Partners. "My hope is this association will spur qualified investors to extend the much-needed capital to fill the void of seed funding in the Midwest."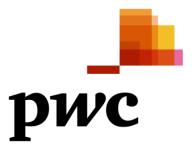 PricewaterhouseCoopers
PricewaterhouseCoopers
PwC firms provide industry-focused assurance, tax and advisory services to enhance value for their clients. More than 161,000 people in 154 countries in firms across the PwC network share their thinking, experience and solutions to develop fresh perspectives and practical advice. See pwc.com for more information.
© 2011 PwC. All rights reserved. "PwC" and "PwC US" refer to PricewaterhouseCoopers LLP, a Delaware limited liability partnership, which is a member firm of PricewaterhouseCoopers International Limited, each member firm of which is a separate and independent legal entity.
More from PricewaterhouseCoopers