Published 09-13-05
Submitted by University of St. Michael's College
Designed for professionals with key accountabilities in governance, public affairs, community investment, environmental sustainability, human resources, strategic planning and change management. Unique in Canada, the program's small classes promote a blending of theory and practice in a relaxed atmosphere. Delivers professional networking, thought leaders' perspectives, simulations, case studies and relevant strategic planning.
Full description at http://www.utoronto.ca/stmikes/csr.
Graduates praise the program and its award winning web based simulation ExperienceCSR. Named one of the top three Online Learning Products of 2003, ExperienceCSR invites participants to strategize, select tactics and get feedback on complex CSR problems confronting a fictitious GPS company. Preview the learning tool at http://www.experiencepoint.com/experiencecsr.cfm.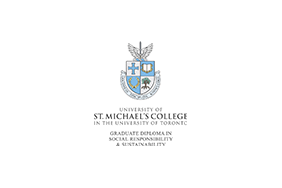 University of St. Michael's College
University of St. Michael's College
St. Michael's is a recognized leader in undergraduate, graduate and lifelong education. Its highly acclaimed Certificate in Corporate Social Responsibility is a unique executive education program developed in collaboration with the Conference Board of Canada. Founded over 150 years ago, the University of St. Michael's College is federated with the University of Toronto. Its faculty bring to current CSR issues the understandings that they have gained not only from the perspective of business but also from a tradition that includes the study of literature, philosophy and ethics. The goal of the program is to engage participants in a process of weaving together the major strands of CSR in a way that provides a time out from customary corporate activity. Alumni have called the result "transformational". Since 2003 St. Michael's has collaborated with an innovative technology company, ExperiencePoint to produce and distribute ExperienceCSR, a web based business simulation . In the simulation, which is offered as part of the Certificate program, participants advise a multinational technology firm on revising its corporate strategy to meet a myriad of critical environmental, community, employee relations, human rights and financial objectives. Through the application of sound CSR principles, participants help the corporation align its operations to its articulated values and, consequently, satisfy stakeholder interests and ensure long-term profitability. (www.experiencepoint.com)
More from University of St. Michael's College