Published 01-23-03
Submitted by University of St. Michael's College
The Certificate in CSR at the Univeresity of St. Michael's College has been developed in collaboration with the Conference Board of Canada. Conference Board members have been well represented in the inaugural class which has included CSR officers from Nexen, Shell, Hydro One, IBM, Suncor, CIBC, and Refreshments Canada.
The Certificate offers opportunities for further reading, reflection and action on CSR issues. St. Michael's faculty bring to these issues understandings gleaned not only from the perspective of business but also from a tradition that includes the study of literature, philosophy and ethics. The goal of the program is to engage participants in a process of weaving together the major components of CSR and to do so in a way that provides respite from customary corporate activity. The result, for some students, has already been transformational.
A new cycle of the program will begin in June of this year. The introductory three day session, June 9-11, 2003 will introduce our newest learning tool, a business simulation entitled "ExperienceCSR" designed specifically for this program.
A full description of the Certificate, which consists of three required modules and one elective, is available on our website, www.utoronto.ca/stmikes . To go directly to the certificate description, click on www.utoronto.ca/stmikes/cont_ed/certificate/csr/index.html
For more information, contact:
M.J. (Mimi) Marrocco, Ph.D. 416-926-1300 x 3324, fax: 416-926-7287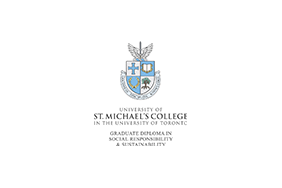 University of St. Michael's College
University of St. Michael's College
St. Michael's is a recognized leader in undergraduate, graduate and lifelong education. Its highly acclaimed Certificate in Corporate Social Responsibility is a unique executive education program developed in collaboration with the Conference Board of Canada. Founded over 150 years ago, the University of St. Michael's College is federated with the University of Toronto. Its faculty bring to current CSR issues the understandings that they have gained not only from the perspective of business but also from a tradition that includes the study of literature, philosophy and ethics. The goal of the program is to engage participants in a process of weaving together the major strands of CSR in a way that provides a time out from customary corporate activity. Alumni have called the result "transformational". Since 2003 St. Michael's has collaborated with an innovative technology company, ExperiencePoint to produce and distribute ExperienceCSR, a web based business simulation . In the simulation, which is offered as part of the Certificate program, participants advise a multinational technology firm on revising its corporate strategy to meet a myriad of critical environmental, community, employee relations, human rights and financial objectives. Through the application of sound CSR principles, participants help the corporation align its operations to its articulated values and, consequently, satisfy stakeholder interests and ensure long-term profitability. (www.experiencepoint.com)
More from University of St. Michael's College