Published 12-08-08
Submitted by United Nations Global Compact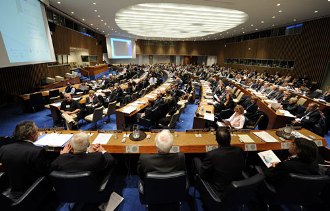 Photo Credit: Stephen Chernin
NEW YORK, NY. - December 8, 2008 - Calling for a stronger focus on the long-term sustainability of business, educators and administrators representing 170 business schools and other academic institutions from 43 countries have reaffirmed their commitment to the Principles for Responsible Management Education, a UN-backed initiative launched in 2007 to mainstream corporate responsibility in curriculum development, research and advocacy.
The more than 260 academic leaders, as well as representatives of business, civil society and the United Nations, gathered at UN Headquarters in New York on 4-5 December for the First Global Forum for Responsible Management Education, which was hosted by the United Nations Global Compact in collaboration with the Research Center on the Global Compact at the Neil D. Levin Graduate Institute of International Relations and Commerce.
In a series of plenary presentations and breakout sessions, the two-day Forum discussed the role of corporate responsibility in management education, presenting both practice cases and new research from leading institutions.
In an outcome statement adopted at the Forum, PRME signatories stressed the critical role of business schools as "agents of change" and pledged to place environmental, social and governance issues at the core of curriculum development for management education. "The current crisis has reinforced our view that the long-term viability and success of business will depend on its capacity to manage environmental, social and governance concerns and to create sustainable value through innovation and new business models adapted to a changing global environment," the statement read. Participants further committed to intensify research, advocacy and awareness-raising efforts.
UN Secretary-General Ban Ki-moon, addressed the closing plenary of the Forum, encouraging management educators to work together to "ensure that management science is rooted in the concepts of sustainability and corporate citizenship."
"As teachers, you can ensure that tomorrow's leaders understand that the long-term growth of a business is tied to its environmental and social impact. As scholars, you can produce research that drives innovation and helps management to recognize the benefits of being a responsible business. And as thought leaders and advocates in your communities, you help advance awareness of broader challenges, opportunities and responsibilities," the Secretary-General said.
About the Principles for Responsible Management Education
Launched in 2007, the Principles for Responsible Management Education (PRME) provide framework for academic institutions to advance corporate social responsibility through the incorporation of universal values into curricula and research. The PRME is coordinated by a Steering Committee constituted of the Association to Advance Collegiate Schools of Business (AACSB International), the European Foundation for Management Development (EFMD), the Aspen Institute's Business and Society Program, the European Academy for Business in Society (EABIS), the Graduate Management Admission Council (GMAC), the Globally Responsible Leadership Initiative (GRLI), Net Impact and the United Nations Global Compact.
More information: www.unprme.org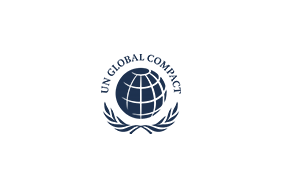 United Nations Global Compact
United Nations Global Compact
Launched in 2000, the UN Global Compact brings business together with UN agencies, labor, civil society and governments to advance ten universal principles in the areas of human rights, labor, environment and anti-corruption. Through the power of collective action, the Global Compact seeks to mainstream these ten principles in business activities around the world and to catalyze actions in support of broader UN goals. With over 4,100 participating companies from more than 100 countries, it is the world's largest voluntary corporate citizenship initiative. For more information, please visit www.unglobalcompact.org.
More from United Nations Global Compact