Published 04-29-07
Submitted by United Nations Global Compact
The Principles for Responsible Investment (PRI) initiative, convened by the United Nations Environment Program Finance Initiative and the UN Global Compact, announces this week on its first anniversary that it has achieved over 180 leading institutional signatories from all round the globe, representing in excess of US$ 8 trillion in assets under management.
Former UN Secretary-General Kofi Annan presided over the North American launch on the 27th April 2006 at the New York Stock Exchange. 20 mainstream institutional asset owners representing USD 2 trillion signed up. The European launch by James Plaskitt, Under-Secretary for the UK Department for Work and Pensions took place a week later in Paris. Since then, it has grown to 183 signatories.
"In the first year, we have focused on spreading the word, signing up investors and putting in place the nuts and bolts to support signatories in implementing the Principles, including development of a robust process to monitor progress," said Donald MacDonald, Chair of the PRI and a Trustee of the British Telecom Pension Scheme.
"We have great buy-in from the investment community, and we now have in place the support structures to assist in implementation. So year two is about action."
Antoine de Salins, CEO of the French Fonds de Reserve said, "PRI has been a tremendous success not only because the number of signatories and assets under management have been growing, but also because of the expansion of ESG resources at pension funds as well as leading asset manager firms. This is a tangible example of the credibility of PRI."
One of the most exciting initiatives is the PRI Engagement Clearinghouse, which is the first global collaborative forum for investors to work together and share knowledge and resources to take action on ESG issues. This has already proved an effective method of raising awareness and gaining support from other signatories for investor activities, particularly internationally, focusing on issues such as climate change, executive remuneration, transparency, investment in sensitive regions, and other key challenges.
The first PRI Reporting and Assessment questionnaire has just been completed by signatories and the results will be released in July. MacDonald: "This framework will provide us with a baseline so we can see where we are, and where we need to focus our attention. It will also ensure that signatories are taking their commitments seriously". The PRI is also stimulating greater transparency among investors on how they address ESG issues. Insight Investment is the first signatory to release a dedicated PRI report, outlining the fund's approach to implementation. Insight CEO, Dougie Ferrans: "Insight was proud to become one of the first signatories of the UN PRI when they were launched last year. We believe the PRI has an extremely important role to play in encouraging major asset owners and mainstream asset managers to fully integrate ESG issues into their investments. We are proud to announce the publication of our first annual report on responsible investment, entitled 'Putting Principles Into Practice', which delivers on Principle Six and demonstrates our full compliance with the PRI".
During the first four months of 2007 more than 40 investors have signed up including AP1, AGF Asset Management, JPMorgan Asset Management, HSBC Investments and Scottish Widows Investment Management.
The PRI is also gaining strong momentum in emerging markets. In Brazil, PRI founding signatory PREVI has taken the lead in promoting the PRI, resulting in 16 Brazilian pension funds joining in recent months. The Government Pension Fund of Thailand and the Government Employees Pension Fund of South Africa are also signatories.
Three of the four largest fund managers in Australia have also signed up in recent months. These include BT Financial Group, AMP Capital Investors and Colonial First State Global Asset Management.
MacDonald continues, "One of the most powerful aspects of the PRI is its global nature. Environmental, social and governance issues are all becoming more globalised, and investors need to come together to address them. While there is some great work in the governance area, the PRI is at the forefront of connecting investors internationally on the broader ESG agenda."

Background notes for editors
The PRI initiative was established as a framework to help investors achieve better long-term investment returns and sustainable markets through better analysis of ESG issues in investment process and the exercise of responsible ownership practices.
A full list of signatories to the Principles for Responsible Investment is available from http://www.unpri.org/signatories/
The Principles themselves can be found here:
http://www.unpri.org/principles/
Additional quotes from other signatories
Daniel Simard, CEO of the Quebec-based Bâtirente, stated "It is likely that over the next decades we will have some ownership in most of the listed companies in our market. We are therefore interested in the long-term performance of companies. We have an interest to ensure that anything that could potentially derail our long term investment, such as climate change or reputation risk, is factored into management's decision making."
Else Bos, CEO of PGGM states, "At PGGM we view responsible investment as a necessity and a mechanism to assess and manage all foreseeable risk factors and investment opportunities along all our asset classes as effectively as possible. In all cases where ESG factors have a demonstrable impact on the financial performance of our investments, they have to be analysed and taken into account in our investment decisions. This is consistent with our fiduciary responsibility to achieve a high and table return for our beneficiaries."
Rob Feckner, CalPERS Board President said "The United Nations Principles for Responsible Investment reinforce and augment investors' common mission to act responsibly in the world marketplace and our own communities at home. We all share a critical stewardship mandate to leave the world a better place than we found it, to protect an environment that will sustain global economic growth for the generations that follow us, and to improve our collaborative work under the PRI umbrella. These principles reflect our common need to assess our investment decisions in the light of environmental, social, and corporate governance risks and factors."
Key initiatives of the PRI Secretariat
Engagement Clearinghouse: The first ever global clearinghouse for shareholder engagement activities provides signatories with the ability to collaborate efficiently and effectively on a range of company-specific and policy issues. Signatories have posted dozens of requests for support relating to a variety of activities, including seeking co-sponsors for shareholder resolutions and instigating company dialogue on issues of concern.
Reporting and Assessment Framework: This questionnaire has been developed in conjunction with Mercer Investment Consulting to assist signatories and the initiative as a whole monitor implementation progress, identify and showcase best practice, and focus support activities where they are most needed. It is perhaps the most comprehensive reporting tool of its type. Aggregate results from the first year will be released in July 2007.
'PRI in practice' implementation blog: This Signatory Intranet is the central hub for implementation resources, and provides interviews with leading signatories on best practices and other key implementation advice and tools.
What does implementation of the PRI actually mean?
Last Tuesday, UNEP FI and UKSIF launched a report, "Responsible investment in focus: How leading public pension funds are meeting the challenge". The report includes fifteen pension fund case studies, most of which focus on PRI signatories, on the responsible investment rationales and strategies of leading public pension funds. These case studies highlight many of the ways in which signatories are implementing the types of activities outlined in the PRI. The report may be found here:
http://www.unepfi.org/fileadmin/documents/infocus.pdf
Also, the first dedicated PRI Report was released by a signatory, Insight Investment, outlining the specific steps they are taking towards fulfilment of their commitments under the PRI. This report is available here:
http://www.insightinvestment.com/Responsibility/investor_responsibility_home.asp
Partner UN agencies
United Nations Environment Program Finance Initiative
www.unepfi.org
UN Global Compact
www.unglobalcompact.org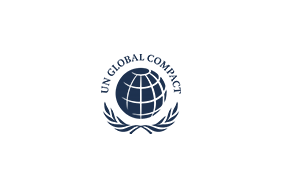 United Nations Global Compact
United Nations Global Compact
Launched in 2000, the UN Global Compact brings business together with UN agencies, labor, civil society and governments to advance ten universal principles in the areas of human rights, labor, environment and anti-corruption. Through the power of collective action, the Global Compact seeks to mainstream these ten principles in business activities around the world and to catalyze actions in support of broader UN goals. With over 4,100 participating companies from more than 100 countries, it is the world's largest voluntary corporate citizenship initiative. For more information, please visit www.unglobalcompact.org.
More from United Nations Global Compact