Published 04-04-07
Submitted by United Nations Global Compact
NEW YORK, NY - April 3, 2007 - The Global Compact presents Issue 1, 2007 of the Compact Quarterly, a publication featuring articles, interviews and news on corporate responsibility.
This Compact Quarterly spotlights both investment and divestment approaches for addressing the social, moral or political impacts of business. Articles include:
"Short-Term Divestment vs. Long-Term Corporate Change" by Anne Stausboll, CalPERS
"Divestment is not the Answer to the Humanitarian Crisis in Darfur" by William C. Thompson, Jr., New York City Comptroller
"The Case for Divestment in Sudan" by Bennett Freeman, Calvert Group


"Exploring Options for Better Business Conduct and Investment Decisions in Conflict Zones" by Salil Tripathi and Canan Gündüz, International Alert
"Talisman in Sudan: Impacts of Divestment" by Reg Manhas, Talisman Energy Inc.

Other articles in this Compact Quarterly include: "Russia: The Evolving Corporate Responsibility Landscape"; a conversation with Jared Blumenfeld, Director of San Francisco's Department of Environment, on the pivotal role that cities play in tackling climate change; "MAS Holdings: Championing Women's Empowerment in the Apparel Sector"; and "Corporate Responsibility in South Africa: Where do we stand?"

Read this issue of the Compact Quarterly: www.enewsbuilder.net/globalcompact

For more information on the Global Compact, please visit: www.unglobalcompact.org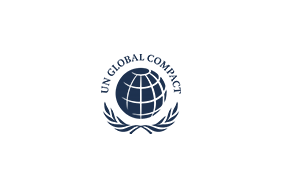 United Nations Global Compact
United Nations Global Compact
Launched in 2000, the UN Global Compact brings business together with UN agencies, labor, civil society and governments to advance ten universal principles in the areas of human rights, labor, environment and anti-corruption. Through the power of collective action, the Global Compact seeks to mainstream these ten principles in business activities around the world and to catalyze actions in support of broader UN goals. With over 4,100 participating companies from more than 100 countries, it is the world's largest voluntary corporate citizenship initiative. For more information, please visit www.unglobalcompact.org.
More from United Nations Global Compact