Published 03-20-03
Submitted by United Nations Global Compact
UNITED NATIONS - The U.N. Global Compact reports several recent achievements and new initiatives including:
ILO's Juan Somavia to Chair HIV/AIDS Dialogue Meeting
The Global Compact's dialogue meeting on 12-13 May in Geneva focusing on HIV/AIDS will be chaired by Juan Somavia, Director-General of the International Labour Office. One of the key objectives of the meeting will be to develop a strategy and campaign for Global Compact participants to promote workplace action within the framework of the ILO code. (The registration form can be accessed at U.N. Global Compact on the home page.)
Further developments related to HIV/AIDS: The World Bank Institute, in partnership with the ILO, the Wharton School of Business and the Global Compact, is organizing a three-week global E-conference from 21 April-9 May on the Role of Business in Fighting HIV/AIDS. Finally, to support company efforts in addressing HIV/AIDS, the Global Compact has created a special section on its website that contains a range of resources for companies on HIV/AIDS and the workplace. (See U.N. Global Compact under Learning/Priority Issues)
Global Compact Participants Implementing Supply Chain Initiatives

Reflecting a growing trend within the Global Compact initiative, Tweezerman, a leading manufacturer of personal-care products, announced that it plans to implement a new supplier agreement that mandates adherence to the nine principles of the Global Compact. Said CEO Dal LaMagna: "It's simple: if one of our suppliers does not agree to adhere to the nine universal principles of the Compact, they will no longer do business with Tweezerman." The Glen Cove, New York-based company has also incorporated the Global Compact's principles into its corporate policy, annual report and employee handbook. Tweezerman is one of a rising number of Global Compact participants that are actively incorporating the Global Compact principles into their supply chains. Other companies that have submitted related examples to the Global Compact Learning Forum are: Petro-Canada, William E. Connor & Associates, Bayer AG, Li & Fung (Trading) Ltd., Ericsson, Robert Stephen Holdings, OneNest, and Engineers India Limited. (See U.N. Global Compact)
Global Compact & World Bank Institute Cooperate on CSR
The World Bank Institute program on Corporate Social Responsibility and Sustainable Competitiveness is developing an online training module on the Global Compact as part of their web-based course series on CSR issues. The module will be developed in close cooperation with the Global Compact Office. The web-based course series is part of a program designed to introduce CSR in both theory and practice, and help participants acquire a basic knowledge of how CSR can provide a foundation for achieving sustainable development and corporate citizenship. The online course focuses on introducing the key elements of the policy and business environments that support CSR and outlines how these elements function as an integrated system. It is currently offered in English and is free of charge. All materials are available online, and the course takes approximately 6-8 hours to complete. (See U.N. Global Compact)


Global Compact & GRI Strengthen Cooperation

The Global Compact and the Global Reporting Initiative (GRI) announced a new agreement that will see shared outreach, pilot programs, performance models, and technical activities aimed at elevating corporate involvement in sustainable development. The agreement articulates the linkage between the Compact's nine human rights, labour, and environmental principles and GRI's emerging global standard for sustainability reporting. The goal of collaboration is to embed the Compact's principles into day-to-day business operations while measuring and reporting performance with the GRI framework. The new agreement strengthens collaboration first announced in December 2001, and builds on the new strategic approach of the Global
Compact. (U.N. Global Compact)
Global Compact to Launch in South Africa

On 24 April the Global Compact will be officially launched in South Africa. Organized by the African Institute of Corporate Citizenship, the Graduate School of Business of the University of Cape Town, and the University of Stellenbosch Business School in partnership with the Global Compact Office, the launch will be held at the University of South Africa, in Johannesburg, and include more than 200 top representatives from business, civil society and government.(See U.N. Global Compact)


President Chirac Meets With Business on Global Compact
French President Jacques Chirac met with leaders of French companies in Paris on 19 February to discuss the Global Compact. The business leaders shared with the President examples of good corporate practices and partnership projects. These examples included an initiative to fight malaria in Africa, access to water in urban areas, voluntary initiatives to advance environmental management as well as other corporate practices in support of the Global Compact. There was broad consensus among the participants that many of today's problems can only be solved through the collaborative efforts of governments, business and civil society. (See U.N. Global Compact)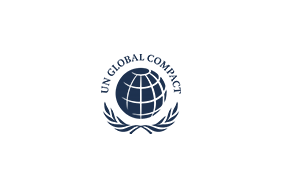 United Nations Global Compact
United Nations Global Compact
Launched in 2000, the UN Global Compact brings business together with UN agencies, labor, civil society and governments to advance ten universal principles in the areas of human rights, labor, environment and anti-corruption. Through the power of collective action, the Global Compact seeks to mainstream these ten principles in business activities around the world and to catalyze actions in support of broader UN goals. With over 4,100 participating companies from more than 100 countries, it is the world's largest voluntary corporate citizenship initiative. For more information, please visit www.unglobalcompact.org.
More from United Nations Global Compact