Published 02-19-08
Submitted by Keep America Beautiful
STAMFORD, CT - February 19, 2008 "" Six Keep America Beautiful (KAB) affiliates have been chosen from a nationwide field of nearly 50 entries for the 2008 Keep America Beautiful/Anheuser-Busch Environmental Grant Program. The KAB/Anheuser-Busch Environmental Grants awarded $50,000 in total to: I Love a Clean San Diego, Keep Houston Beautiful, Keep Irving (Texas) Beautiful, Keep the Midlands (Columbia, S.C.) Beautiful, Keep Pennsylvania Beautiful and Keep Volusia County (Fla.) Beautiful.
Anheuser-Busch is partnering with KAB for the third year of the grants program. For the first time, the 2008 KAB affiliate grant award winners are matched up with Anheuser-Busch's local wholesalers in a community improvement partnership program.
"The variety of KAB affiliate programs is demonstration of the wide array of improvement programs that our affiliates undertake in their communities," said Matt McKenna, president & CEO of KAB. "We're very pleased that our long-standing partner Anheuser-Busch has involved their local wholesalers to help our affiliates bring these impressive initiatives to fruition."
"We applaud our wholesalers for partnering with local Keep America Beautiful affiliates to make a difference in the communities in which they live and work," said Carol Clark, vice president, corporate social responsibility, Anheuser-Busch, Inc. "Anheuser Busch and our wholesalers have a longstanding commitment to protecting and preserving our environment."
The six KAB Environmental/Anheuser-Busch Grant Program recipients include:
I Love a Clean San Diego/A-B Sales of San Diego, Calif. "" Litter prevention and recycling at Pacific Beach during Fourth of July holiday.
Keep Houston Beautiful/Silver Eagle Distributing of Houston, Texas "" "On the Trail of Trash" trail restoration on National Trails Day on June 7.
Keep Irving Beautiful/Ben E. Keith Company of Dallas, Texas "" Aluminum can recycling by apartment complex tenants.
Keep the Midlands Beautiful/Budweiser of Columbia, S.C. "" "Waste Wise Events" recycling program.
Keep Pennsylvania Beautiful/Wilsbach Distributing of Harrisburg, Pa. "" Tree Well program for the South Allison Hill Neighborhood in Harrisburg, Pa.
Keep Volusia County Beautiful/Quality Brands of DeLand, Fla."" 12th Annual St. John's River Cleanup on June 7.

Anheuser-Busch also partners with KAB on a variety of other programs, which include the development of KAB Man (www.kabman.org), KAB's successful Web-based Public Service Advertising campaign oriented to young adults.

About Anheuser-Busch Companies, Inc.

Based in St. Louis, Anheuser-Busch is the leading American brewer, holding a 48.4 percent share of U.S. beer sales. The company brews the world's largest-selling beers, Budweiser and Bud Light. Anheuser-Busch also owns a 50 percent share in Grupo Modelo, Mexico's leading brewer, and a 27 percent share in China brewer Tsingtao, whose namesake beer brand is the country's best-selling premium beer. Anheuser-Busch ranked No. 1 overall and No. 1 in social responsibility among beverage companies in FORTUNE Magazine's Most Admired U.S. and Global Companies lists in 2007. Anheuser-Busch is one of the largest theme park operators in the United States, is a major manufacturer of aluminum cans and one of the world's largest recyclers of aluminum cans. For more information, visit www.ourpledge.com.

About Keep America Beautiful, Inc.

Keep America Beautiful, Inc., established in 1953, is the nation's largest volunteer-based community action and education organization. This national nonprofit organization forms public-private partnerships and programs that engage individuals in taking greater responsibility for improving their community environments. For additional information, visit www.kab.org.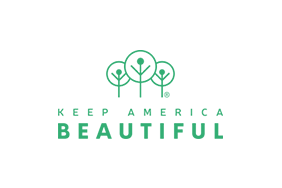 Keep America Beautiful
Keep America Beautiful
Keep America Beautiful is the nation's leading nonprofit that brings people together to build and sustain vibrant communities. With a powerful national network of community-based affiliates, we work with millions of volunteers who take action in their communities to transform public spaces into beautiful places. Through our programs and public-private partnerships, we engage individuals to take greater responsibility for improving their community's environment.
For more information, visit kab.org, follow us on Twitter, like us on Facebook, discover us on Pinterest, or view us on YouTube.
More from Keep America Beautiful