Published 11-28-07
Submitted by LUCITé€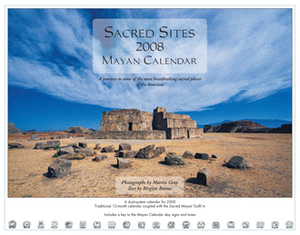 Sacred Sites 2008
NEW YORK CITY, NY - November 27, 2007 - In response to growing public fascination worldwide with the Mayan calendar and culture, CSR design & communications firm LUCITA has teamed up with acclaimed National Geographic photographer Martin Gray to produce the first dual-system Western-Mayan wall calendar for mainstream audiences: the Sacred Sites 2008 Mayan Calendar.
Filled with breathtaking images of sacred places throughout the Americas, Sacred Sites couples the traditional 12-month structure most of the world uses today with the sacred Mayan day signs and tones of the Tzolk'in, the personal calendar used by the Maya in their daily lives. In this way, a person can stay in touch with the evolving and changing energies of each day and apply them directly to his or her daily life.
This concept of aligning one's daily activities with a system of sacred energies or values is nothing new; in fact, it is our own modern industrial age that for the first time in human history has disassociated the spiritual or sacred aspect of timekeeping from everyday life. Today, we have just a handful of annual holidays that have become mere commercial shells of what a holiday-"holy day"-used to be.
The Maya believed that Time itself was sacred because it measured the progress and process of Creation, and that each day held its own unique energy, represented by the combination of a day sign and frequency, or tone. The 20 day or Sun signs carry a certain personality while the 13 tones carry a purpose or intention. Together, they generate cycles of 260 days (20x13) each that repeat continuously. The unique energy of each day stems from the mutual influence that the day signs and tones exercise upon each other.
"We can literally feel the groundswell of interest in the Mayan calendar," said Birgitte Rasine, CEO of LUCITA. "Every time we mention it, people stop and ask about it. They want to know how to use it, how to integrate it into their daily lives. They want to know about their Mayan birthdays and what they mean. They're no longer dismissing the Mayan calendar as a New Age invention. And I think this interest stems in large part from the general trend we see toward a more sustainable, holistic, and balanced lifestyle, on all levels: professional, financial, physical, personal and of course spiritual."
"There is a widespread socio-cultural phenomenon occurring which is the awakening and vitalization of a global eco-spiritual consciousness," said Martin Gray. "Among the wonderful aspects of this global awakening is the realization of the interdependency of all living things and the earth. Deriving from this realization is the understanding that each human-man or woman, white or black, western or eastern, rich or poor-is a child of one spirit, one energy."
This isn't LUCITA's first contact with the Mayan Calendar. In November 2006, in collaboration with Mayan calendar researcher and author Dr. Carl Johan Calleman, the company designed and produced the Mayan Calendar Portal, launched just weeks before Mel Gibson's controversial action film Apocalypto. The day sign and tone glyphs, the same used now in the Sacred Sites 2008 calendar, were meticulously researched using sources such as the books of noted anthropologist and archaeologists David Freidel and Linda Schele.
The Sacred Sites 2008 Mayan Calendar is produced responsibly: printed with soy inks on 100% recycled/50% post-consumer waste, processed chlorine-free paper, in a facility powered 100% by wind energy. In addition, a portion of the proceeds will benefit indigenous Mayan communities in Central America.
Note:
For more information or product details about the Sacred Sites 2008 Mayan Calendar, please visit market.lucita.net/product/calendar.
For more information about the Mayan Calendar Portal, please visit maya-portal.net.
About LUCITA
LUCITÀ is one of the top CSR visual communications companies in the U.S., providing high-end design, production and communications consultancy services to domestic and international business, non-profit and academic entities that strive to improve the world we live in. Clients include CSRwire, EABIS/EFMD, the CRO, ICLEI, the JDC, Central America Today and Pelago, among others. The company is based in Milford, Connecticut. For more information about LUCITA, please visit www.lucita.net.
About Martin Gray
Photographer and anthropologist Martin Gray has spent two decades studying and photographing more than 1,000 sacred sites of prehistoric, historic and contemporary cultures in 100 countries. His work has been featured in documentaries, newspapers, magazines, books and web sites around the globe; recent books include The Geography of Religion, published by National Geographic, and Sacred Earth, published by Barnes & Noble. For more information about Martin's work, please visit www.sacredsites.com.

LUCITé€