Published 08-06-09
Submitted by Smithfield Foods
/PRNewswire-FirstCall/ -- Smithfield Foods, Inc. (NYSE: SFD) announced today that it issued a new corporate social responsibility (CSR) report. The report is the seventh in a series of CSR and Environmental Annual Reports that the company has published beginning in 2001.
The 96-page report discusses Smithfield Foods' performance in environmental stewardship, animal welfare, food safety, community engagement, and employee well-being -- the CSR areas the company believes are most important to it and to its stakeholders. The content focuses primarily on calendar year 2007 but includes fiscal year 2008 financial information and discussion of some key developments that occurred in early 2008. Smithfield Foods' fiscal year runs from May through April. The report is available on the internet at http://www.smithfieldfoods.com/responsibility/reports.aspx.
"In the face of difficult economic times, we remain committed to demonstrating CSR leadership in our industry. While we are proud of what we have already accomplished, we recognize that our work is far from over. The bar for leadership continues to rise, and with it, the challenge of meeting our pledge to produce good food, responsibly," said C. Larry Pope, president and chief executive officer of Smithfield Foods. "Proactively addressing CSR issues has positioned us to respond to rising societal interest and will continue to advance our goal of becoming the most trusted, respected, and ethical food industry leader," he continued.
"We are pleased to share our corporate social responsibility progress in this report, which highlights our commitments, improvements, and goals. We believe we have taken significant steps over the past year and demonstrated our commitment to acting responsibly on important issues," added Dennis H. Treacy, vice president, environmental and corporate affairs.
With sales of $11 billion, Smithfield Foods is the leading processor and marketer of fresh pork and packaged meats in the United States, as well as the largest producer of hogs. For more information, visit http://www.smithfieldfoods.com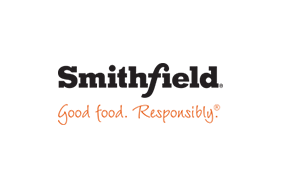 Smithfield Foods
Smithfield Foods
Smithfield Foods is a $15 billion global food company and the world's largest pork processor and hog producer. In the United States, the company is also the leader in numerous packaged meats categories with popular brands including Smithfield®, Eckrich®, Nathan's Famous®, Farmland®, Armour®, John Morrell®, Cook's®, Kretschmar®, Gwaltney®, Curly's®, Margherita®, Carando®, Healthy Ones®, Krakus®, Morliny® and Berlinki®. Smithfield Foods is committed to providing good food in a responsible way and maintains robust animal care, community involvement, employee safety, environmental and food safety and quality programs. For more information, visit www.smithfieldfoods.com
More from Smithfield Foods