Published 01-14-04
Submitted by Business Roundtable
WASHINGTON, DC - Continuing its efforts to build and sustain public confidence in business, the Business Roundtable today announced the creation of a first-of-its-kind business ethics center designed to renew and enhance the link between ethical behavior and business practices.
"This Institute is a bold investment that will bring together the best educators in the field of ethics, active business leaders and business school students to forge a new and lasting link between ethical behavior and business practices," said Franklin D. Raines, Co-Chairman of the Business Roundtable and Chairman and CEO of Fannie Mae. "By bringing together the teaching and practice of business ethics under one roof, the CEOs of the Business Roundtable are aiming to make a lasting contribution to business ethics and the way our companies are run."
The Business Roundtable Institute for Corporate Ethics, to be housed at the Darden Graduate School of Business Administration at the University of Virginia, is unique in its mission, its structure and its support from leading active CEOs. The Institute will conduct research, create a cutting-edge business ethics curriculum, lead executive seminars on business ethics and develop best practices in the area of corporate and business ethics. All Institute programs and resources will be open to business leaders.
"As the Chief Ethics Officers at our companies, we know setting and maintaining the highest ethical standards starts at the top," said Hank McKinnell, Chairman of the Business Roundtable and Chairman and CEO of Pfizer. "This effort will support business leaders to maintain a cutting-edge culture of ethical business practices within our organizations."
The distinctive mission of the Institute will be to draw upon research and the nexus between the business and academic worlds to provide practical, hands-on training to current and emerging business leaders. Academic Advisors will be drawn from the respected Darden Graduate School of Business Administration at the University of Virginia as well as from other leading business schools around the country, including Harvard, Wharton, Northwestern, Michigan, Notre Dame, Minnesota, Penn State, Texas and others. In addition, the Institute has the direct backing and participation of the 150 CEOs of the Business Roundtable, an association of chief executives of America's leading corporations.
"The Darden School is proud to house the Business Roundtable Institute for Corporate Ethics," said Darden Professor R. Edward Freeman. "We have assembled a number of the most distinguished professors in business ethics from leading business schools across the nation to form our Academic Advisors team, which will be focused solely on business ethics. The interaction with and direct access to the 150 Roundtable CEOs will provide a wealth of experience that we can use to develop executive curricula and best practices for use by businesses and business schools."
"The Institute will aim to fulfill the essential need to incorporate current ethics education within our corporations as well as in our system of business education," said Raines, who previously served as Chairman of the Roundtable's Corporate Governance Task Force.
The Business Roundtable's Institute for Corporate Ethics will be headed by an Executive Director, with a nine-member Advisory Council serving as the "Board of Directors," overseeing all activities. Members of the Advisory Council will include Hank McKinnell; Anne Mulcahy, Chairman and CEO of Xerox; Steve Odland, Chairman, President and CEO of AutoZone; John J. Castellani, President of the Business Roundtable; Thomas Dunfee of The Wharton School; Laura Nash of Harvard Business School; and William H. Gray, III, former Congressman and current President and CEO of the United Negro College Fund. Frank Raines and Professor Freeman will serve as the co-chairs of the Advisory Council.
The Institute will offer a series of executive-level training sessions for CEOs and any member of a corporate senior leadership team. Two sessions will take place in 2004, with the number of sessions expanding in 2005 and 2006. Institute training sessions will be open to any and all interested corporate executives and information about registration will be available through the Institute office and its official Web site, www.corporate-ethics.org. Additionally, the Institute will fund research in the first quarter of 2004 that will provide a strategic roadmap for subsequent curriculum design and research funding. Current MBA students will be involved in the design, construction and teaching of all seminars and research. The Institute will periodically host public events dealing with aspects of research or topical issues.
"Roundtable CEOs consistently have been out in front on issues of corporate ethics," said John Castellani. "Their commitment to this Institute will allow us to make an enduring contribution to the education and professional conduct of business leaders for years to come."
# # # #
The Business Roundtable (www.businessroundtable.org) is an association of chief executive officers of leading corporations with a combined workforce of more than 10 million employees in the United States and $3.7 trillion in revenues. The chief executives are committed to advocating public policies that foster vigorous economic growth and a dynamic global economy.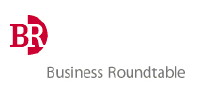 Business Roundtable
Business Roundtable
Business Roundtable is an association of chief executive officers of leading U.S. companies with more than $5 trillion in annual revenues and nearly 10 million employees. Member companies comprise nearly a third of the total value of the U.S. stock markets and pay nearly half of all corporate income taxes paid to the federal government. Annually, they return $133 billion in dividends to shareholders and the economy. Business Roundtable companies give more than $7 billion a year in combined charitable contributions, representing nearly 60 percent of total corporate giving. They are technology innovation leaders, with more than $70 billion in annual research and development spending é¢â'¬â€œ more than a third of the total private R&D spending in the U.S.
More from Business Roundtable