Published 10-22-08
Submitted by Guayaki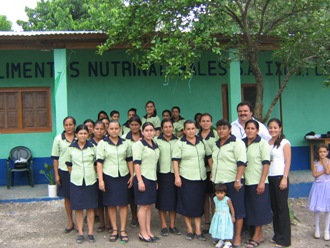 Alimentos Nutri Nutrales triumphed over an entrenched Central American social paradigm that has excluded women from export opportunities when they shipped their Maya Nut directly to Guayaki Sustainable Rainforest Products (www.guayaki.com) in California.
SEBASTOPOL, CA. - October 22, 2008 "" Ensuring that ingredients are sourced in an eco-friendly and socially responsible manner is of great importance to Guayaki Yerba Mate (www.guayaki.com), an award-winning maker of invigorating organic drinks. The well-being of the people that supply their ingredients is also of paramount concern. So, when Guayaki learned about the Equilibrium Fund and their mission to support women in the impoverished region of Central America where Maya Nut is sourced for Guayaki's Java Mate beverages, the company worked with the non-profit on a paradigm-shifting project to purchase Maya Nut directly from an inspiring and pioneering women's business in Ixlu Peten, Guatemala.
The Equilibrium Fund (www.TheEquilibriumFund.org) is a non-profit 501(c) 3 public charity with a mission to alleviate poverty, malnutrition and deforestation by teaching rural and indigenous women about the nutrition uses and processing of Maya Nut. In Guatemala, 49% of children under 5 years old are chronically malnourished due to the lack of access to high quality foods. Maya Nut is an excellent dietary source of protein, calcium, potassium, magnesium, zinc, iron, folate, fiber and antioxidant-rich vitamins A, B, C and E.
In addition to its goal to help alleviate poverty and malnutrition, the Equilibrium Fund shares Guayaki's passion for restoring and protecting rainforests. "By teaching women to harvest Maya Nut from the natural rainforest for food and income, we motivate them to conserve the rainforest and plant more trees for future harvests," says Erika Vohman, the Executive Director of the Equilibrium Fund. Since 2001, the communities trained by the Equilibrium Fund have planted more than 800,000 Maya Nut trees. "Sustainable Maya Nut harvesting within the rainforest is a robust, long-term economic alternative to the destructive land use practices which threaten the region, such as vast mono-crop plantations, clear cut logging and cattle grazing," adds Vohman.
Alimentos Nutri Nutrales, the business owned by the Ixlu women, recognizes that Maya Nut has the potential to be one of the most profitable non-timber forest products in the world. They employ more than 650 people (80% women) from the community. "By producing and selling Maya Nut, women earn a fair wage, often for the first time in their lives," says Vohman. While the efforts of the Equilibrium Fund are focused mainly on regional production and education, the organization realized a robust business opportunity to export the product directly to international food and drink makers. However, the deeply entrenched system of oppressive middlemen and lack of export knowledge and resources were intimidating barriers. "When Alimentos Nutri Nutrales approached companies that buy Maya Nut and requested that they explore importing it directly from them rather than the traditional system which depends on intermediaries who make major profits, Guayaki Yerba Mate was the only company to step up and accept the challenge to buy direct from rural women and they offered a very fair and competitive price," says Vohman.
The women of Alimentos Nutri Nutrales performed all of the complicated arrangements necessary to prepare a large shipment for export to Guayaki's warehouse in California, and in doing so they broke through many deeply rooted social barriers. "This is the first time that a women's group in Central America has conducted this type of direct export business, so it is a historic event that is sure to inspire more women in this region and beyond," says Vohman. "This has been an opportunity for them to prove that they can triumph over the entrenched Central America paradigm which has long excluded them from participating and benefiting from export opportunities," adds Vohman.
When Maya Nut is dried and roasted, it tastes like chocolate and coffee and can be used to make cereal, cookies and cakes. Guayaki features Maya Nut in its unique Java Mate beverages because it offers a boost of nutritious and imparts a rich, robust coffee-like flavor. Guayaki is celebrating its new supply relationship with Alimentos Nutri Nutrales by re-launching its unique line of Java Mate beverages, which includes 3 varieties: Dark Roast, Vanilla Nut and Mocha Maca. 50% of each blend is comprised of roasted Maya Nut and other herbs and spices, and the other 50% consists of Guayaki organic yerba mate. Java Mate is a naturally caffeinated coffee alternative that brews in any standard coffee maker, French press or espresso machine.It can also be enjoyed in a traditional yerba mate gourd.
Market Driven Restoration Business Model Supports the Rainforests and the People that Live There
Also known as Breadnut or Ramon Nut, Maya Nut was the staple food for ancient civilizations in MesoAmerica. Even though it sustained Mayan civilizations, people in Central America lost touch with Maya Nut traditions. This tropical rainforest tree in the fig family was once abundant in Central America and Mexico, but now it is endangered by logging and forest conversion for agriculture and biofuels. Guayaki's award-winning Market Driven Restoration business model directly links their customers' purchases to their partner farming communities in the rainforests of Central and South America. Guayaki's partners sustainably harvest organic yerba maté and Maya Nut in the rainforest, generating a renewable income stream which enables the local communities to improve their lives and restore their lands.
Organic Yerba Mate: A Nourishing, Green Source of Energy
Revered for centuries as the 'drink of the Gods,' yerba mate contains 24 vitamins and minerals, 15 amino acids, 11 polyphenols(powerful antioxidants) and saponins (phytochemicals that bolster the immune system). Of the six most common caffeine beverage stimulants (yerba mate, coffee, tea, cola, cacao and guarana), yerba mate is the only one balanced by powerful nutrition and a natural blend of stimulants. Guayaki's organic yerba maté offers caffeine comparable to coffee and energy drinks; however, the caffeine is balanced by mate's theobromine (the euphoriant in chocolate), another stimulant named theophylline, and B vitamins including pantothenic acid (which prevents over-stimulation of the nervous system). Yerba mate also contains magnesium, which has been proven to ease anxiety. Many caffeine-sensitive people that drink yerba mate gain vitality and clarity of mind, but don't experience the jitters, stomach discomfort and headaches that are common complaints among consumers of coffee and energy drinks.
Founded in 1997, Guayakí is the leading provider of organic, fairly-traded, rainforest-grown yerba mate in North America with products sold at thousands of natural foods stores, cafes and supermarkets. For more information about Guayaki and their invigorating products, please visit www.guayaki.com.

Guayaki