Published 06-08-07
Submitted by GreenBiz
OAKLAND, CA- June 8, 2007 "" Greener World Media, publisher of GreenBiz.com, ClimateBiz.com, GreenerBuildings.com, and GreenerComputing.com, announced today the first four sponsors of its exclusive, invitation-only "Green 16" sponsorship program. These sponsors include: General Motors, a charter sponsor and the transportation category sponsor; BP, the renewable energy category sponsor; Johnson Controls, the energy management and buildings category sponsor; and Green Mountain Energy, the climate category sponsor.
"We are thrilled to welcome these outstanding organizations to Greener World Media and look forward to a long and fruitful relationship. It's very gratifying to see such established companies understand the value of greening all aspects of their business in the interest of both the environment and their bottom line," said Pete May, publisher and president of Greener World Media. "We hope other leaders of industry will follow their example and make their 'greening' mission a priority."
"Green 16" companies will work closely with Greener World Media to identify opportunities to align their brands and messages across all Greener World Media properties, including web sites, newsletters, podcasts, microsites and other new initiatives. To be considered for sponsorship, a company must be a recognized leader in its sector and committed to communicating its sustainability strategies to the emerging world of professionals who see sustainable practices as points of competitive advantage. Fortune 500 companies are preferred sponsors but companies of all sizes may apply. Greener World Media's remaining categories available for sponsorships include: business services, business travel, computing, design, electronics, environmental services, financial services, insurance, interiors, logistics, materials, and office products. More information about the Green 16 can be found at: http://www.greenbiz.com/about/green16.cfm.
About Greener World Media:
Greener World Media Inc. is the first media company focused exclusively on the greening of mainstream business and technology. Centered around the award-winning GreenBiz.com, its products include GreenerBuildings.com, ClimateBiz.com and the weekly e-newsletter GreenBuzz.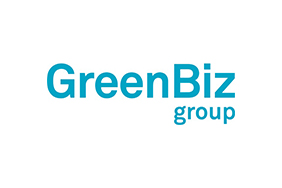 GreenBiz
GreenBiz
GreenBiz Group is a media and events company that advances the opportunities at the intersection of business, technology and sustainability. Through its website, three annual events (GreenBiz, VERGE, Circularity), peer-to-peer network and research, GreenBiz promotes the potential to drive transformation and accelerate progress — within companies, cites, industries and in the very nature of business.
More from GreenBiz