Published 11-17-04
Submitted by GreenBiz
WASHINGTON, D.C.- GreenerPrinter.com, an environmentally friendly printing service launched today, offers consumers the first online, certified "green" printer to ship products "climate-neutral" - having a zero net-impact on the earth's climate.
GreenerPrinter.com (www.GreenerPrinter.com) combines environmental responsibility with high-quality, cost-effective products, and is a partnership between GreenBiz.com, the premier online resource center on business, the environment and the bottom line, and Tulip Graphics, a full-service graphics production services company.
Through GreenerPrinter.com, consumers can obtain high-quality, cost-competitive printing services featuring real-time print quotes, online ordering and state-of-the-art recycled paper options. With a standard product turnaround of three days, organizations can align printing needs of any scope and size with environmental goals.
"GreenerPrinter.com provides access to environmentally responsible printing services that are convenient and affordable, no matter where the consumer is based," said Joel Makower, founder of GreenBiz.com. "Thanks to great suppliers, including New Leaf Paper and Climate Neutral Network, GreenerPrinter.com offers a unique combination of top-notch results with minimal impact on the environment, both in production and shipping."
While many companies offer options including recycled papers and environmentally friendly inks, the climate-neutral aspect of GreenPrinter.com sets this service apart. The climate impact of shipping finished print jobs is offset 100% through investments in WindBuilders and Green Tags, both of which reduce greenhouse gas emissions.
"GreenerPrinter.com demonstrates the power of partnerships in increasing the awareness of, and markets for, environmentally responsible products and services," said Kevin Coyle, president of the National Environmental Education and Training Foundation, which produces GreenBiz.com. "We feel the most profitable enterprises of the future will be those that embrace environmental forces in their business strategies."
With every print job, consumers can receive an Environmental Benefits Statement, detailing the environmental savings of printing as a result of exclusively using New Leaf Paper. On average, an order of 1,000 posters or 5,000 sell sheets can save approximately 1 tree, 68 pounds of solid waste, 309 gallons of water, and additional natural resources.
All purchases made through GreenerPrinter.com also result in a financial contribution that supports GreenBiz.com, part of the Green Business Network, and its educational mission to provide businesses with the tools to be environmentally responsible while also helping improve the bottom line.
GreenBiz.com is a project of the National Environmental Education and Training Foundation. A non- profit, non-partisan organization, GreenBiz.com is dedicated to helping businesses become more environmentally responsible while maintaining profitable business practices. Founded in 2000 GreenBiz.com's principal mission is to share environmental information with a diverse, business-focused audience. GreenBiz.com receives more than 250,000 visitors each month from small and large businesses, government agencies, non-profits, consultants and academics. For more information visit www.GreenBiz.com.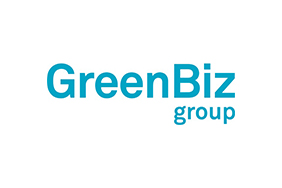 GreenBiz
GreenBiz
GreenBiz Group is a media and events company that advances the opportunities at the intersection of business, technology and sustainability. Through its website, three annual events (GreenBiz, VERGE, Circularity), peer-to-peer network and research, GreenBiz promotes the potential to drive transformation and accelerate progress — within companies, cites, industries and in the very nature of business.
More from GreenBiz