Published 12-05-08
Submitted by Business & Human Rights Resource Centre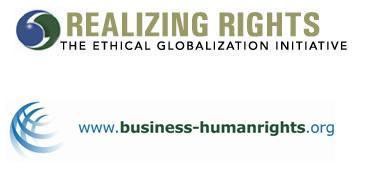 - December 4, 2008 - To mark the 60th anniversary of the Universal Declaration of Human Rights, Realizing Rights and the Business & Human Rights Resource Centre have been encouraging more companies to adopt human rights policies.
Mary Robinson, President of Realizing Rights, has written to the CEOs of companies on the Fortune Global 500 and from a number of emerging markets in recent months, to ask whether they have a public human rights policy statement and to encourage those that do not to adopt one. (Click here for the full text of the letter). Currently over 230 company policy statements appear on the running list on the Business & Human Rights Resource Centre website.
Pointing to the growing number of major corporations that have made this commitment, Mary Robinson noted, "I am encouraged to see more and more corporations taking a public stand on human rights. This is yet another sign that human rights are becoming part of the mainstream business agenda and that business leaders themselves are prepared to take on their appropriate responsibilities."
If your company has a human rights policy statement or adopts one in the future please contact Annabel Short (short@business-humanrights.org) so it can be added to the list.
Companies currently on the list* (as of 4 Dec 2008)
www.business-humanrights.org/Documents/Policies
Companies in bold have policies that refer to the Universal Declaration
ABB
Aberdeen AssetManagement
ABN Amro
ACS
Aegon
AGF
Abbott Laboratories
Akzo Nobel
Alcan
Alcatel-Lucent
Alcoa
Alliance Boots
Alstom
Amerada Hess
Anadolu Efes
Anglo American
Aramex
Areva
ArmorGroup
Associated British Foods
AstraZeneca
ASN Bank
Aviva
Barclays
Balfour Beatty
Banco Bradesco
Banco do Brasil
Barrick Gold
BASF
Bayer
BayernLB
BBVA
BG Group
BHP Billiton
Body Shop
Boeing
Bonnier Group
Bouygues
BP
Brambles
British Airways
British American Tobacco
BMW
BT
Cable & Wireless
Cadbury Schweppes
Cadbury
Carrefour
Casino
Cemex
Centrica
Chevron
Chubu
Cisco Systems
Citigroup
Co-operative Bank
Coca-Cola
Codelco
Colgate-Palmolive
Commercial International Bank
Commerzbank
Compass Group
ConocoPhillips
Continental
Credit Suisse
Cosmo Oil
DaimlerChrysler
Danone
De Beers
Dell
Deutsche Bahn
Deutsche Telekom
Diegeo
DLH
Dow Chemical
DuPont
E.ON
EADS
EDF
EMI
Encana
Endesa
ENI
Ericsson
Eroski
ExxonMobil
Ferrovial
Ford
Fortis
Freeport-McMoRan
Friends Provident
Fujifilm Holdings
Fujitsu
GDF
General Electric
General Motors
GlaxoSmithKline
Gold Fields
Goodyear
Group 4 Securicor
HBOS
Henkel
Hilton
Holcim
HP
HSBC
Hydro
ICI
Indian Oil
Intel
Ikea
Imperial Tobacco
ING
InterContinental Hotels
International Power
ISS
Japan Tobacco
JFE Holdings
Johnson Matthey
KBC Group
Kimberly-Clark
KPN
Lafarge
Lagardere
Levi Strauss
Linde Group
Lloyds TSB
Lonmin
L'Oreal
Lundin Petroleum
Man Group
Marks & Spencer
Marriott
Mazda Motor
Merck
Marubeni
McDonald's
Microsoft
Mitchells & Butlers
Mitsubishi
Mitsubishi Chemical Holdings
Mitsubishi Electric
Mitsui
Mizuho
Monsanto
Morgan Stanley
Motorola
National Grid
NEC
Neste Oil
Nestle
Newmont
Nexen
Nipon Express
Nippon Yusen
Nokia
Nomura HoldingsNordea
Norsk Hydro
Novartis
Novo Group
Novo Nordisk
Novozymes
O2
Occidental Petroleum
OMV
Pentland
Pepsico
Persimmon
PetroCanada
Petrobras
Pfizer
Philips
Posco
Premier Oil
PricewaterhouseCoopers
Procter & Gamble
Prudential
Rabobank
Reckitt Benckiser
Reebok
Repsol YPF
Rexam
Ricoh
Rio TintoRoche
SABMiller
Sanofi Aventis
Sara Lee
Sasol
SCA
Securitas
Seven & I Holdings
Sharp
Shell
Siemens
Signet
Skanska
Smiths Group
Societe Generale
Sodexo
Somo Japan Insurance
Sony
Standard Chartered
Stagecoach
Standard Life
Statoil
Stora Enso
Sumitomo Electric Industries
Sun Microsystems
Syngenta
Tata
Tasei
T&D Life
Taiseir
Talisman
Taylor Wimpey
Telecom Italia
Telefonica
Tesco
Timberland
Tokyo Electric Power
Tom's of Maine
Tomkins
Toshiba
Total
UBS
Unilever
United Utilities
Vodafone
Volvo
Westpac
Weyerhaeuser
Whitbread
Wolseley
WPP
Xeros
Xstrata
Yell
*Companies participating in the UN Global Compact (UNGC) commit to ten principles, including Principles 1 and 2 on human rights. On this list we do not include all UN Global Compact participants, only companies that have a separate commitment to human rights (for example within a company code of conduct or as a stand-alone human rights policy). Incorporating human rights into company policies is one of the recommendations in the UNGC document, "Help Mark the 60th Anniversary of the Universal Declaration of Human Rights."
The list does not include policy statements that refer/apply only to a company's suppliers or employees.

Business & Human Rights Resource Centre
Business & Human Rights Resource Centre
The Resource Centre is an independent non-profit that promotes greater awareness and informed debate about human rights issues relating to business. Our website is updated hourly with news and reports about companies' social and environmental impacts worldwide, including alleged abuses, positive steps, and company responses to concerns raised about their conduct. The site has sections on over 4000 companies. It also includes special resources such as all materials issued by the UN Special Representative on business & human rights; a list of companies with human rights policies; profiles of lawsuits against companies. Mary Robinson is Chair of our International Advisory Network. Visit the website for further details and to sign up for free Weekly Updates. See website for contact details of our New York office and team members in Hong Kong, India, South Africa, UK, Ukraine, USA
More from Business & Human Rights Resource Centre