Published 04-12-07
Submitted by Carbonfund.org
Singapore, April 10th, 2007 - Sound Initiatives, the organizers of the "Champions of the Earth Awards Ceremony and The Global Business Summit for the Environment 2007 (B4E)," in partnership with the United Nations Environment Program and the UN Global Compact, announced today that it has offset the total carbon emissions for both events with Carbonfund.org, the leading US carbon reduction and offset organization.
Sound Initiatives is taking action against climate change by teaming with Carbonfund.org to make the activities associated with the summit carbon neutral, by offsetting the venue operations and attendee travel. This has earned the B4E Summit the designation as a Carbonfreeâ"¢ certified event through Carbonfund.org.
The more than 600 attendees are estimated to produce over 289 metric tons of carbon emissions caused by air travel, ground transportation and the use of facilities in the hotel and city. While many business and environmental leaders are coming from around the world to participate in the event, at least one third of the summit's participants are based in Asia and will be traveling from within the region.
Carbonfund.org and Sound Initiatives will offset 50% of the B4E Summit's carbon dioxide emissions through the support of renewable energy projects including wind and solar power, with the other 50% being offset through reforestation projects located in Nepal.
This Asia-based effort will plant fruit trees in order to enhance the economic development of several communities, spur investment, jobs creation and trade among villages, while also resulting in the reduction of carbon dioxide emissions. The trees being planted include mango, papaya and about two dozen other species that are used in normal daily life. An important element of the project is to support the planting of trees that have a greater value for their annual output (fruit) than for the timber value that could be derived by felling the trees.
Said Tony Gourlay, Managing Director of Sound Initiatives: "These practical steps highlight Sound Initiatives' commitment to be an environmental leader in the MICE industry, which has an infamous reputation for wastage and unnecessary energy use."
"Considering the implications of climate change, carbon offsets through Carbonfund.org are a natural extension of the work Sound Initiatives does. This is a small price to pay for something that is so important. We plan to make this an ongoing effort for all our future meetings and conferences." "Climate change affects every one of us, we are all responsible for it and we all must be part of the solution," stated Carbonfund.org Executive Director Eric Carlson. "Making events Carbonfreeâ"¢ by supporting our transformation to a clean technology future is an important step and we applaud Sound Initiatives for its leadership."

About UNEP's "Champions of the Earth Awards Ceremony and The Global Business Summit for the Environment 2007"

On April 19-20 2007, UNEP and the United Nations Global Compact will co-host the inaugural "Global Business Summit for the Environment" (B4E) in Singapore. The Summit will seek to showcase visionary leadership in corporate environmental responsibility. In association with the B4E Summit, the UNEP will present its third annual, Champions of the Earth Awards Ceremony, which recognizes prominent and inspirational environmental leaders from each region of the world. Through leadership, vision and creativity, each Champion has made an impact at the policy level. The winners will be honored at a gala event hosted by UNEP, the Singapore Ministry of the Environment and Water Resources (MEWR) and the Singapore Tourism Board (STB), with the support of various sponsors and partners including Asia Pacific Resources International Holdings (APRIL).
About Sound Initiatives Pte Ltd
Sound Initiatives is a Singapore-based company delivering high-profile and high-value events for government and corporate clients in Asia. Sound Initiatives gathers the best people in their field to create some of the most inspiring, relevant and topical events in the region. These events feature today's leading global figures, business icons and influential thinkers who share valuable insights through enlightening presentations and thought-provoking discussions.
About Carbonfund.org
Carbonfund.org is the leading US carbon reduction and offset organization with global reaching programs. Carbonfund.org educates the world public about the dangers of climate change and makes it easy and affordable for individuals, businesses and organizations to reduce their climate impact.Carbonfund.org is reducing the threat of climate change by promoting cost-effective carbon reductions and supporting renewable energy, energy efficiency and reforestation projects globally that reduce and offset carbon dioxide emissions. Carbonfund.org works with over 100 corporate and non-profit partners including Dell Computers, Lancôme Cosmetics, National Wildlife Federation, Ovation Travel Group and Working Assets. Learn more at www.carbonfund.org.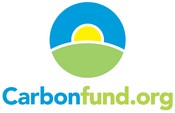 Carbonfund.org
Carbonfund.org
Carbonfund.org (www.carbonfund.org) reduces the threat of climate change by making it easy and affordable for any individual or business to reduce their carbon footprint and support climate-friendly projects. With its easy-to-use calculator, low offset cost per ton of CO2, and certified offset projects, Carbonfund.org is proving that anyone can reduce their impact on climate change easily and efficiently. Carbonfund.org is a nationally recognized 501(c)(3) nonprofit business, and a member of the EPA's Green Power Network, the Chicago Climate Exchange, and Ceres. Carbonfree and "Reduce what you can, offset what you can't" are trademarks of the Carbonfund.org Foundation.
More from Carbonfund.org