Published 04-22-09
Submitted by NativeEnergy
Impact of Greensburg Kansas Tornado
South Burlington, VT. - April 22, 2009 - Leading climate solutions provider NativeEnergy announced today the opportunity for businesses, organizations, and individuals everywhere to help build the Greensburg Wind Farm in Kansas. The wind farm will generate energy for the town and carbon emissions reductions that the company markets to individuals and businesses to balance out their global warming pollution.
On May 4, 2007 an EF-5 tornado leveled the town of Greensburg, Kansas, destroying 95% of the homes and leaving a path of devastation two miles wide. The community voted overwhelmingly to rebuild and to do so in environmentally responsible ways that would leave a legacy for future generations and serve as an example of a sustainable American community. This commitment has captured attention and support across the nation.
"We are very excited and honored to play a necessary role in helping build the Greensburg Wind Farm by engaging our clients. The rebuilding of the Greensburg community is an inspiring example of the new green economy," says Tom Boucher, President & CEO of NativeEnergy.
NativeEnergy's unique "Help Build" carbon funding model brings critical revenues to new renewable energy projects and other projects that reduce carbon dioxide (CO2), a potent greenhouse gas that contributes to global warming. Electricity generated by the wind farm will displace fossil-based energy and reduce CO2 pollution by hundreds of thousands of tons that otherwise would enter our atmosphere. Individuals and businesses can help build the Greensburg Wind Farm by offsetting their carbon footprints online at www.NativeEnergy.com/greensburg.
"We greatly appreciate NativeEnergy's role in helping Greensburg to be the ''reenest town in America', and we cannot think of a better partner to help engage people everywhere to participate in helping build this wind farm," says Steve Hewitt, Greensburg City Administrator.
Several of the company's clients, Greensburg Charter Supporters, made significant early offset purchases from the Greensburg project. Charter Supporters include: Ben & Jerry's, Clif Bar & Company, Green Mountain Coffee, and Stonyfield Farm. These Charter Supporters are joined by Clean Air "" Cool Planet, an environmental non-profit partner of NativeEnergy that is responsible for the retirement of carbon offsets from the project.
"These partners show time and time again their leadership in social and environmental responsibility, and we look forward to continuing our partnerships with them and with other responsible organizations helping to build a cleaner energy future," says Boucher.
NativeEnergy has, through the aggregated support of its clients, helped build 34 new projects that are tribal, farm and community-based clean energy projects like the Greensburg Wind Farm.
The Greensburg Wind Farm project will create significant economic and environmental benefits for the City as the community continues rebuilding on its path to be "the greenest town in America". Ten wind turbines will generate 12.5 MW of electricity, which is enough energy to power about 4,000 homes.
The City will receive the rights to the renewable energy credit (REC) benefits from about 1/3 of the wind project, making the town "wind powered." NativeEnergy will purchase the remaining REC output, converting the RECs to carbon offsets for its customers. Greensburg is already the first U.S. city to light all streets with LED lights, the first to have a LEED certified town hall, and a new Business Incubator Building, which hopes to achieve LEED Platinum status.
The wind farm, being developed by John Deere Renewables, LLC, will be located on farmland just southwest of the City. Several farm families will receive direct economic benefits from hosting the turbines.
The City had seen its school enrollment cut in half in recent decades, but now residents see new and compelling reasons for young people to remain, build their lives, and raise their families in this green community.

About NativeEnergy
NativeEnergy helps clients compete in a carbon-constrained world, through carbon management and energy efficiency consulting services and cost-effective climate solutions, including renewable energy credits (RECs) and carbon offsets. NativeEnergy helps its clients develop onsite renewable energy projects or help bring on line new Native American, family farmer and community-owned renewable energy projects. NativeEnergy offers third-party verified and certified RECs, and offsets from a variety of operating projects across America and internationally. Through its proven approach of bringing upfront payment to renewable projects for the estimated future carbon offsets, Native Energy enables its clients to help directly finance the construction of specific new wind farms and other renewable energy projects. NativeEnergy focuses on real, additional offsets that provide both an environmental and a social benefit. More information is available at www.nativeenergy.com.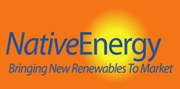 NativeEnergy
NativeEnergy
NativeEnergy is a climate solutions innovator and recognized leader in the US carbon market, offering services that reduce carbon emissions to fight, global warming. In the latest North American survey of top providers. NativeEnergy ranked #1. Since 2000, we have used our distinctive "help build" model to support the construction of new wind farms, other renewable generation and carbon reduction projects. NativeEnergy offers its customers carbon-solutions consulting services and carbon offsets and renewable energy credits (RECs).

By helping finance construction of Native American, family farm, and community-based renewable energy and carbon reduction projects, our customers help communities in need build sustainable economies. We also have significant Native American ownership, providing tribes the ability to share in the business value we are creating.

NativeEnergy a founding member of ICROA, the leading international organization of carbon offset providers.
More from NativeEnergy