Published 01-17-09
Submitted by NativeEnergy
Washington, D.C. - January 17, 2009 - Leading carbon offset provider, NativeEnergy, has been selected to serve as the sole provider to offset all of the estimated carbon emissions generated by the 2009 Green Inaugural Ball. This event celebrates the inauguration of Barack Obama and Joseph Biden and the opportunity to work with the new Administration and new Congress to grow the green economy that will advance clean and efficient energy, create new jobs, reduce global warming and protect America's natural heritage.
Chaired by Nobel Laureate and former U.S. Vice President Al Gore, the 2009 Green Inaugural Ball represents a diverse network of organizations, businesses and individuals committed to protecting the planet while stimulating the U.S. economy. Dedicated to leading by example, the Steering Committee sought NativeEnergy to provide high-quality offsets. Attendees can also offset their travel to and from the Green Ball by visiting: www.nativeenergy.com/greenball.
"We applaud the event's organizers for taking responsibility for offsetting the event's emissions," said Tom Boucher, NativeEnergy President & CEO. "We are absolutely thrilled to partner with so many organizations and individuals who share our vision of a new clean energy economy," Boucher adds.
NativeEnergy has been the sole carbon offset provider for a multitude of high-profile events, including the 2008 Democratic National Convention, LIVE EARTH - concerts for a climate in crisis, the Clinton Global Initiative Inaugural meeting, and the two United Nations Institutional Investors Summits on Climate Change. In addition, NativeEnergy works with many well-respected organizations aligned with the Green Inaugural Ball, such as National Wildlife Federation, Natural Resources Defense Council, The Alliance for Climate Protection, Ceres, Native Wind Powering America, Earth Day Network, 1Sky, and Green For All.
With many new renewable energy and greenhouse gas emissions reduction projects across the country, Native Energy is providing the event with high-quality offsets from a portfolio of its projects, including: The KILI Radio tribal-owned wind project on the Pine Ridge Indian Reservation in South Dakota, and the Mains Family Dairy Farm methane energy project in Pennsylvania. The 80-foot KILI wind turbine at the station's headquarters replaces grid-linked electricity (mostly coal) with renewable energy. The Mains Family Dairy project includes a new anaerobic digester, which generates methane/carbon emission reductions as well as electricity to power the farm's operations.
Additional projects in the Green Inaugural Ball's carbon offset portfolio include: a landfill gas project and a biomass conversion project. Attendees who offset their travel emissions via NativeEnergy's web site will help pay for the construction of the KILI tribal wind project and the Mains Family Farm project, by purchasing shares of their long-term carbon offsets output.

Comprehensive Carbon Footprint offset includes:
Attendee travel (air and ground) emissions "" typically the most significant source of event carbon pollution
Performing artists and VIP travel (air and ground) emissions
Vendor travel and shipping emissions
Staff travel, office, accommodations, and shipping emissions "" solar RECs for green electricity, carbon offsets for other emissions
Accommodations (attendee, performing artists, VIPs) "" solar RECs for green electricity, carbon offsets for other emissions
Venue "" electricity is being greened-up with certified renewable energy credits from a solar project; other venue emissions offset with high quality carbon offsets
Waste - related emissions (mostly from food waste off-gassing, some incineration, paper, cardboard)
The 2009 Green Inaugural Ball's Host Committee includes over 75 organizations representing the breadth and depth of the community supporting and building the new clean economy, including environmentalists, labor, business, youth, and civil justice groups. Learn more at www.greenball2009.org.

NativeEnergy leverages market demand for carbon offsets to bring online new Native American, family farmer and community-owned renewable energy projects. NativeEnergy offers third-party verified and certified renewable energy credits, and offsets from a variety of operating projects across America and internationally. Through its novel approach of bringing upfront payment to renewable projects for the estimated future carbon offsets, Native Energy enables its clients to help directly finance the construction of specific new wind farms and other renewable energy projects. Continuing to focus on real, additional offsets that provide both an environmental and a social benefit, more information is available at www.nativeenergy.com. NativeEnergy is a founding member and Co-Chair of the International Carbon Reduction and Offset Alliance. www.icroa.org.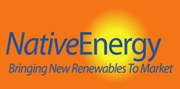 NativeEnergy
NativeEnergy
NativeEnergy is a climate solutions innovator and recognized leader in the US carbon market, offering services that reduce carbon emissions to fight, global warming. In the latest North American survey of top providers. NativeEnergy ranked #1. Since 2000, we have used our distinctive "help build" model to support the construction of new wind farms, other renewable generation and carbon reduction projects. NativeEnergy offers its customers carbon-solutions consulting services and carbon offsets and renewable energy credits (RECs).

By helping finance construction of Native American, family farm, and community-based renewable energy and carbon reduction projects, our customers help communities in need build sustainable economies. We also have significant Native American ownership, providing tribes the ability to share in the business value we are creating.

NativeEnergy a founding member of ICROA, the leading international organization of carbon offset providers.
More from NativeEnergy