Published 12-03-08
Submitted by NativeEnergy
South Burlington, VT - NativeEnergy, an international marketer of high quality carbon offsets and renewable energy credits (RECs), today announced its first energy efficiency project partnership, adding to its portfolio of effective climate crisis solutions. Working with Cascade Sierra Solutions (CSS), a non-profit organization dedicated to making ground freight transportation more energy efficient and sustainable, NativeEnergy continues its mission providing clients with high quality emissions reductions from new projects that have significant social value.
Cascade Sierra Solutions helps truckers to save fuel and reduce emissions from long haul, heavy-duty diesel trucks. NativeEnergy is supporting Cascade Sierra Solutions' objective to upgrade and/or replace 50,000 trucks by 2013.
"NativeEnergy and CSS recognize the significant opportunities - economic, environmental, and social - to increase vehicle efficiency as another step in effectively addressing the climate crisis," says Tom Boucher, NativeEnergy President & CEO. "NativeEnergy provides forward-stream offsets for the expected life of the trucks. These changes will significantly impact future air quality."
NativeEnergy is providing critical financial support to help CSS continue its mission. CSS provides services to assist truckers and fleets, including: technical advice, coordinating incentives, financing energy-saving retrofits and new clean trucks, equipment selection, monitoring, testing, certification, and reporting. By purchasing upfront the expected emissions reductions that will be generated, NativeEnergy and its clients are helping to finance and support smaller projects that face significant barriers to implementation without that up-front funding.
"NativeEnergy is helping CSS implement additional trucking improvements, making it easy for truckers to save money while providing access to environmental information," says Sharon Banks, CEO Cascade Sierra Solutions. "Because truck transportation provides a cost-effective means to transport freight but creates carbon pollution, all of us at CSS are dedicated to continuing our pursuit of alternative methods that improve our industry's impact on the planet."
Following a lengthy research process, CSS chose to partner with NativeEnergy because of the company's reputation and commitment to support new emissions reductions projects that not only meet stringent 'additionality' criteria but also create economic and social benefits. Additional details about this and other NativeEnergy projects can be found at: www.NativeEnergy.com/pages/our_carbon_projects/413.php.
Depending on the specific improvements installed, most trucks - traveling an average of 120,000 miles per year - will prevent between 12.8 and 56.5 tons of carbon dioxide (CO2) from being emitted. CSS has helped truckers save more than 2.5 Million gallons of fuel and reduced over 26,000 metric tons of CO2 from being released into the atmosphere.
In addition to CSS reducing carbon emissions, new and upgraded trucks added to their fleet produce less particulate matter and oxides of nitrogen, two components of air pollution that are linked to asthma, heart disease, and lung cancer. Better air quality means improved health for drivers and the communities they serve.
Cascade Sierra Solutions (CSS) is a non-profit organization formed in 2006 to expand the Everybody Wins lease program, dedicated to saving fuel and reducing emissions from heavy-duty diesel engines. CSS operates primarily in the States of Washington, Oregon and California with a focus on the Interstate 5 corridor. The trucks CSS serves come from and travel throughout the continental US. CSS is in the process of establishing outreach centers - strategically located with major truck stops. While the primary target of CSS outreach is the long-haul owner-operator, the centers provide education and incentives for fleets as well. More information is available at www.cascadesierrasolutions.org
NativeEnergy leverages market demand for carbon offsets to bring on line new Native American, family farmer and community-owned renewable energy projects, Native Energy offers third party verified and certified renewable energy credits and offsets from a variety of operating projects across America and internationally. Through its novel approach of bringing upfront payment to renewable projects for the estimated future carbon offsets, Native Energy enables its clients to help directly finance the construction of specific new wind farms and other renewable energy projects. NativeEnergy continues to focus on real, additional offsets that provide both an environmental and a social benefit, for both people and planet.
More information is available at www.nativeenergy.com.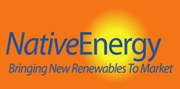 NativeEnergy
NativeEnergy
NativeEnergy is a climate solutions innovator and recognized leader in the US carbon market, offering services that reduce carbon emissions to fight, global warming. In the latest North American survey of top providers. NativeEnergy ranked #1. Since 2000, we have used our distinctive "help build" model to support the construction of new wind farms, other renewable generation and carbon reduction projects. NativeEnergy offers its customers carbon-solutions consulting services and carbon offsets and renewable energy credits (RECs).

By helping finance construction of Native American, family farm, and community-based renewable energy and carbon reduction projects, our customers help communities in need build sustainable economies. We also have significant Native American ownership, providing tribes the ability to share in the business value we are creating.

NativeEnergy a founding member of ICROA, the leading international organization of carbon offset providers.
More from NativeEnergy