Published 11-19-08
Submitted by NativeEnergy
S. BURLINGTON, VT - November 19, 2008 - Through a newly formed international carbon offset partnership, travelers in China can now take responsible action for the carbon emissions generated from travel and accommodations. By arranging travel plans online at Ctrip.com, China's leading consolidator of hotel accommodations and airline tickets, consumers now have an option to offset their travel activities with specific renewable energy projects, including the Qingdao Wind Project in China, which are being supported by leading U.S. carbon offset provider, NativeEnergy.

"We're very excited to enable our customers the ability to offset their carbon footprint," said CEO Min Fan. "This move is part of our drive to generate awareness for environmental issues, and this partnership is certainly a step in the right direction."
Ctrip's newly established partnership with NativeEnergy enhances the company's growing list of environmental initiatives. Travelers who book through Ctrip also earn points that can be redeemed to help conserve resources, plant trees, and decrease carbon emissions. Additionally, Ctrip has partnered with Shanghai Roots & Shoots and GECKO, two international organizations that are helping China meet its environmental challenges.
"As a leader in the international voluntary carbon market, NativeEnergy is very excited to partner with Ctrip," says Tom Boucher, NativeEnergy President & CEO. "The climate crisis is a critical issue with a global impact. And it is through international collaborations such as this that we can engage more people, work together, and develop effective solutions."
Ctrip.com International, Ltd. Ctrip aggregates information on hotels and flights and enable customers to make informed and cost-effective hotel and flight bookings. Ctrip targets primarily business and leisure travelers in China who do not travel in groups. These travelers form a traditionally under-served yet fast-growing segment of the China travel industry. Since its inception in 1999, Ctrip has experienced substantial growth and become one of the best-known travel brands in China.
NativeEnergyleverages market demand for carbon offsets to bring online new Native American, family farmer and community-owned renewable energy projects. Native Energy offers third-party verified and certified renewable energy credits, and offsets from a variety of operating projects across America and internationally. Through its novel approach of bringing upfront payment to renewable projects for the estimated future carbon offsets, NativeEnergy enables its clients to help directly finance the construction of specific new wind farms and other renewable energy projects. Continuing to focus on real, additional offsets that provide both an environmental and a social benefit, more information is available at www.nativeenergy.com.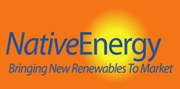 NativeEnergy
NativeEnergy
NativeEnergy is a climate solutions innovator and recognized leader in the US carbon market, offering services that reduce carbon emissions to fight, global warming. In the latest North American survey of top providers. NativeEnergy ranked #1. Since 2000, we have used our distinctive "help build" model to support the construction of new wind farms, other renewable generation and carbon reduction projects. NativeEnergy offers its customers carbon-solutions consulting services and carbon offsets and renewable energy credits (RECs).

By helping finance construction of Native American, family farm, and community-based renewable energy and carbon reduction projects, our customers help communities in need build sustainable economies. We also have significant Native American ownership, providing tribes the ability to share in the business value we are creating.

NativeEnergy a founding member of ICROA, the leading international organization of carbon offset providers.
More from NativeEnergy