Published 11-10-08
Submitted by NativeEnergy
SOUTH BURLINGTON , VT. - November 10, 2008 "" Leading carbon offset provider, NativeEnergy, has been ranked #1 in a new white paper published by three independent, sustainability focused organizations: Bainbridge Graduate Institute, Carbon Concierge, and Social Venture Network. As the top scoring retail offset provider, receiving a 93% overall rating, NativeEnergy is the 'most recommended" of the 14 providers evaluated.
The group's comprehensive process for evaluating carbon offset providers resulted in the development of the Carbon Offset Provider Evaluation Matrix (COPEM), which includes eight essential criteria for evaluating carbon offset providers. The report, which is available online, offers guidance to help businesses, institutions, communities, and individuals choose the offset provider that best meets their needs for high quality carbon offsets.
"NativeEnergy is thrilled to not only be recognized as the highest-ranked offset provider, but also to see another independent examination of the industry is now available to help businesses and individuals make an informed decision," says Tom Boucher, President & CEO of NativeEnergy. "We applaud the hard work and thoroughness evident in this study, which is needed to ensure transparency and authenticity in our dynamic industry."
Carbon offset providers were evaluated based on their performance in the following areas: Business and Project Transparency, Offset Quality, Project Location and Offset Traceability, Industry Leadership, Business Model and Program Services Ratio, 3rd Party Evaluation, Education, and Social Benefit.
The carbon market continues to grow quickly, and the number of organizations developing competing standards for quality is increasing just as fast. With such a variety of standards and qualifications, understanding what determines a legitimate carbon offset can be confusing. This report focuses on critical issues that help purchasers ensure that their offset provider is legitimate and that their offsets purchase actually helps reduce global warming emissions that would not be reduced in the absence of the offsets market.

NativeEnergy is also recognized as a leader in the voluntary carbon market in the two most widely cited studies, Clean Air-Cool Planet's report, A Consumer's Guide to Retail Carbon Offset Providers (December 2006), in which NativeEnergy was one of only three U.S. companies in the top tier, and Tufts Climate Initiative's report, Voluntary Offsets for Air Travel Emissions: Evaluations and Recommendations of Voluntary Offset Companies (April 2007), in which NativeEnergy was the only U.S. company recommended "without reservation".

NativeEnergy leverages market demand for carbon offsets to bring online new Native American, family farmer and community-owned renewable energy projects. Native Energy offers third-party verified and certified renewable energy credits, and offsets from a variety of operating projects across America and internationally. Through its novel approach of bringing upfront payment to renewable projects for the estimated future carbon offsets, NativeEnergy enables its clients to help directly finance the construction of specific new wind farms and other renewable energy projects. Continuing to focus on real, additional offsets that provide both an environmental and a social benefit, more information is available at www.nativeenergy.com.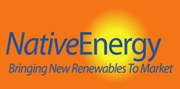 NativeEnergy
NativeEnergy
NativeEnergy is a climate solutions innovator and recognized leader in the US carbon market, offering services that reduce carbon emissions to fight, global warming. In the latest North American survey of top providers. NativeEnergy ranked #1. Since 2000, we have used our distinctive "help build" model to support the construction of new wind farms, other renewable generation and carbon reduction projects. NativeEnergy offers its customers carbon-solutions consulting services and carbon offsets and renewable energy credits (RECs).

By helping finance construction of Native American, family farm, and community-based renewable energy and carbon reduction projects, our customers help communities in need build sustainable economies. We also have significant Native American ownership, providing tribes the ability to share in the business value we are creating.

NativeEnergy a founding member of ICROA, the leading international organization of carbon offset providers.
More from NativeEnergy