Published 08-05-08
Submitted by NativeEnergy
SOUTH BURLINGTON, VT. - August 5, 2008 - NativeEnergy, a leading international marketer of high quality carbon offsets, announced today an innovative partnership with Method Products, Inc., a manufacturer of non-toxic, biodegradable cleaning and personal care products. Sharing the idea that business has the greatest opportunity to create solutions to the climate crisis, Method's partnership enables the company to mitigate its carbon footprint by directly supporting new renewable energy projects on American family farms.

Method is pioneering a carbon offset model with NativeEnergy by giving priority to projects that reduce carbon emissions in the company's supply chain. Together, NativeEnergy and Method are offering financial incentives for Method's third-party manufacturing partners to reduce their carbon intensity.
"NativeEnergy helps Method to build upon our sustainability portfolio, and we want to encourage our partners to do the same," says Adam Lowry, Method's chief greenskeeper and co-founder. "This allows us to catalyze positive environmental change outside our own operations."
NativeEnergy calculates and offsets the carbon emissions from Method's energy use activities, including domestic and international manufacturing facilities, staff commuting, and corporate travel for both 2008 and 2009. Method's offsets purchase will directly help build and support three of NativeEnergy's new family dairy farm methane energy projects. These truly additional anaerobic digester projects are: Brubaker Family Farm, Penn England Family Farm, and Hillcrest-Saylor Family Farm, all located in Pennsylvania.
"All of us at NativeEnergy are thrilled to partner with Method," says Tom Boucher, NativeEnergy President & CEO. "By purchasing high quality carbon offsets, Method is demonstrating its commitment to sustainability by contributing directly to projects that are dependent on the additional revenue from the carbon offsets. Method's leadership and progressive achievements will motivate others to take action for a cleaner energy future."
Both Method and NativeEnergy are successful innovators in their respective industries; NativeEnergy for developing its unique forward-stream "help build" model, and Method for jolting the consumer products industry by effectively coupling sustainability and style. This new partnership acknowledges both companies' dedication to supporting real, effective solutions to the climate crisis.
NativeEnergy supports Method's carbon reduction strategy, which includes encouraging its third-party manufacturers to pursue emissions reductions in their facilities. For efficiency initiatives that yield calculable emissions reductions in 2008, Method will provide financial incentives to its manufacturing facilities for implementing such energy efficiency improvements.
Method Products, Inc. Founded in 2000, Method Products, Inc. is headquartered in San Francisco, Calif. Today, Method is the leading innovator of premium healthy home care products. Method can be found in over 25,000 retail locations throughout the US, Canada, the U.K. and Australia. Major retailers include Target, Wegman's, Costco, Duane Reade, Safeway, Waitrose (UK), Shoppers Drug Mart (Canada) and Woolworths (Australia). Method is a privately held company backed by high net worth individuals and a private equity firm. For more information, please visit the company's Web site at www.methodhome.com.
NativeEnergy leverages market demand for carbon offsets to bring online new Native American, family farmer and community-owned renewable energy projects. Native Energy offers third-party verified and certified renewable energy credits, and offsets from a variety of operating projects across America and internationally. Through its novel approach of bringing upfront payment to renewable projects for the estimated future carbon offsets, NativeEnergy enables its clients to help directly finance the construction of specific new wind farms and other renewable energy projects. Continuing to focus on real, additional offsets that provide both an environmental and a social benefit, more information is available at www.nativeenergy.com.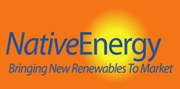 NativeEnergy
NativeEnergy
NativeEnergy is a climate solutions innovator and recognized leader in the US carbon market, offering services that reduce carbon emissions to fight, global warming. In the latest North American survey of top providers. NativeEnergy ranked #1. Since 2000, we have used our distinctive "help build" model to support the construction of new wind farms, other renewable generation and carbon reduction projects. NativeEnergy offers its customers carbon-solutions consulting services and carbon offsets and renewable energy credits (RECs).

By helping finance construction of Native American, family farm, and community-based renewable energy and carbon reduction projects, our customers help communities in need build sustainable economies. We also have significant Native American ownership, providing tribes the ability to share in the business value we are creating.

NativeEnergy a founding member of ICROA, the leading international organization of carbon offset providers.
More from NativeEnergy