Published 01-18-08
Submitted by Amberjac Projects Limited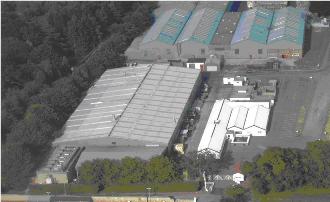 GRANTHAM, UK - January 18, 2008 - Amberjac Projects Ltd, a United Kingdom company, have selected Autocraft Industries UK, a subsidiary of Aftermarket Technology Corp (NASDAQ:ATAC), as their manufacturing partner for volume production of large format Lithium-Ion battery systems for the Automotive sector.
Due to high demand for the Amberjac/EnergyCS developed fully integrated Plug In Prius battery systems and OEM demand for integrated battery solutions for Electric Vehicles, Hybrid Electric Vehicles and Plug in Hybrid Electric Vehicles Amberjac needed to create an alliance with a contract manufacturer already familiar with the automotive sector that can assemble systems to exacting standards and whom is also ISO9000 compliant.
Autocraft's Grantham facility has the manufacturing infrastructure and capacity to enable Amberjac to be the first battery systems supplier, globally, to produce Lithium Ion systems in significant volume.
Amberjac Projects Ltd, in conjunction with its technology partnership with EnergyCS of California, has built a reputation for developing and delivering custom turn key battery solutions for a number of key players in the automotive industry and has already launched its own product, the plug in hybrid conversion for the Toyota Prius, which is gaining traction within the aftermarket fitment sector with numerous clients undertaking fleets trials.
The target volume of systems to be produced in 2008 is 500 units with headroom capacity for 1000 systems, ramp up is expected to continue through 2009 as additional clients complete testing and look for series production, it is also expected that additional production capacity will be made available in continental Europe and the United States to provide local supply solutions in those territories.
"The environmentally friendly vehicle market is accelerating at a fast pace globally but very few companies have the capability to develop effective battery systems, even fewer have the ability to produce in volume", said Simon Sheldon, Managing Director of Amberjac Projects. He also said "This is a very exciting development in our business plan, we have chosen the right partner with the right volume assembly experience, global presence with internationally recognised quality control accreditations. We have positioned ourselves to be able to supply the right product in the right volumes with the right quality. This really is an international effort including our technology partners EnergyCS of California."
About Aftermarket Technology Corp
ATC headquarters are in Downers Grove, Illinois. The company provides outsourced engineering solutions and supply chain logistics services to OEM light and medium/heavy duty vehicle aftermarket and consumer electronics industries. Autocraft Industries UK is a subsidiary.
About Amberjac Projects Ltd
Amberjac Projects Ltd is a UK based development company designing and integrating large format battery solutions for the environmentally friendly vehicle market in conjunction with its technology partners EnergyCS of California. Amberjac Projects has already launched a series of advanced prototype plug in Prius conversions in use around Europe and Iceland and will be the first company to fully commercially produce Plug in Hybrid battery systems in volume.

Amberjac Projects Limited
Amberjac Projects Limited
Amberjac Projects, a UK company, are specialists in large format battery integrated systems for EV, HEV and PHEv applications and also UPS, standby power, telecoms and military applications. In particular we concentrate on cutting edge Lithium solutions, bringing you a completely independent view of Lithium battery solutions for a wide range of applications. In addition we offer battery management solutions, chargers, test facilities and consultancy to help you through the battery minefield. Our range of NiMH cells offer a solution for those applications where price sensitivity is a major concern and weight size constraints are not problematic.
More from Amberjac Projects Limited