Published 07-05-05
Submitted by Koch Industries
WICHITA, Kan.--(BUSINESS WIRE)--July 5, 2005--Koch Industries, Inc. has released its 2005 Environmental, Health and Safety Progress Report, which outlines how Koch companies strive to fulfill a strong commitment to workplace safety, resource conservation and environmental stewardship.
In addition to showcasing the safety and environmental recognition received by Koch companies in 11 U.S. states and five other countries, the recently released report includes information on industry-leading performance achieved by these companies.
"Koch companies have more than doubled their employment and significantly expanded their business interests since 2003," said Hannah Valmont, Koch Industries' director of environment, health and safety. "During this time of rapid change and global growth, Koch companies have worked to integrate a culture of environmental, health and safety excellence into their operations, while striving to continuously improve performance at new and old sites. Our employees have worked hard to meet the challenge of becoming their communities'
operator of choice."
Other report highlights concerning Koch companies include the following:
Koch subsidiary Flint Hills Resources reducing refinery flare time by 88 percent since 1997;
Three new facilities earning Voluntary Protection Program Star Status from the U.S. Occupational Safety and Health Administration; one site earned re-certification;
Environmental recognition from organizations such as the Singapore Chemical Industry Council, Natural Resources Canada Office of Energy Efficiency, the U.S. Environmental Protection Agency, Wildlife Habitat Council, the Georgia Water and Pollution Control Association and the Minnesota Environmental Initiative, among others;
Initiation of a cooperative agreement with EPA to develop a policy to reduce emissions caused by periods of startup, shutdown and malfunction at refineries; and
Results of an extensive, volunteer land- and water-based approach to cleaning up the Anacostia and Potomac rivers near Washington, D.C., that was founded by Koch Industries, Inc.

The report, which can be downloaded or ordered online at www.kochehs.com, also illustrates employees' commitment to implementing Koch companies' policies and principles into daily operations. Koch companies concentrate on achieving what they call 10,000 percent compliance, which is 100 percent compliance, 100 percent of the time.

Koch Industries, Inc., based in Wichita, Kan., owns a diverse group of companies engaged in trading, investment and operations. These companies have a presence in about 50 countries and employ nearly 30,000 people in core industries such as trading, petroleum, chemicals, energy, fibers and intermediates, minerals, fertilizers, pulp and paper, chemical technology equipment, ranching, securities and finance, as well as in other ventures and investments. More information is available at www.kochind.com.

Copyright Business Wire 2005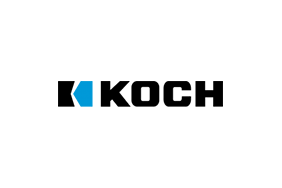 Koch Industries
Koch Industries
Creating value. Improving life.
From life's basics to tomorrow's technological breakthroughs, it's our job to create and innovate a wide spectrum of products and services that make life better – and to do so responsibly while consuming fewer resources. Below are 16 of the ways we do exactly that.
Responsibility is our highest priority.
For us, creating value goes far beyond economic performance. It means doing the right thing. In the right way. Always. For our customers. For our employees. For our communities. For our environment.
Five steps we take.
Every day, we work to create more value, using fewer resources than the day before. We do it by managing our resources in a way that benefits our customers, employees, partners, community members and society with a philosophy of mutual benefit. With more than 300 manufacturing sites across the United States, we're one of America's largest manufacturers. To stay in business for the long term, we must constantly improve and innovate – both in the products we make and how we make them.
Reducing Waste
Saving Energy
Recycling Resources
Preventing Pollution
Community Partnerships
Ways we work to be responsible.
In our view, the role of business in society is to create products and services people want and need, but to do so responsibly. This means finding ways to use fewer resources, operating safely, protecting the environment and always acting ethically.
Safe Operations
Organizational Efforts
Environmental Performance
More from Koch Industries