Published 04-28-04
Submitted by Koch Industries
WASHINGTON - The Capital River Relief project -- a month-long effort to clean and restore two rivers in the nation's capital -- marks its end after drawing support and participation from Congress, local government leaders, reality-TV celebrities, local athletes, conservation groups and hundreds of volunteers.
The effort, which began April 1 at the Old Town Alexandria docks, draws to a close this week as Chad Pregracke and his Living Lands & Waters crew separate recyclable material from the mounds of trash they removed from the banks of the Potomac and Anacostia rivers. Pregracke, his crew and volunteers cleared 50 tons of debris, completely filling a 140-foot-long barge with tires, plastic bottles, candy wrappers and other garbage.
"We couldn't have done any of this without the unified efforts of local conservation groups, government officials, sponsors and volunteers," Pregracke said. "It was nice to come to DC and feel so much support. There are people here who really care about the rivers and they will continue to work to improve conditions so everyone can enjoy them."
This unprecedented cleanup was organized by Pregracke, founder of Living Lands & Waters; Doug Siglin, director of the Chesapeake Bay Foundation's Anacostia River Initiative; and founding sponsor, Koch Industries, Inc.
"Four weeks ago, the banks of the Potomac and the Anacostia -- just 2,000 yards from the Capitol Dome -- were filthy with trash," said Doug Siglin, who chairs the project's advisory committee. "Capital River Relief brought together supporters from both sides of the aisle, and everyone in between, to clean them up."
In between volunteer cleanup events, Pregracke took a short break from his river routine to meet with fellow Illinois native and Speaker of the House, Dennis Hastert (R-IL), who congratulated Chad for his vision and hard work.
"Whether it's the Fox River in Illinois or the Potomac River in Washington -- it's important we keep our rivers clean," Speaker Hastert said. "Families can't enjoy a nice day outdoors next to a river that is polluted and unhealthy. Chad should be commended for his leadership."
In 25 days, Pregracke, his crew and volunteers filled more than 3,000 bags with trash, and gathered 896 tires, 25 fifty-five gallon barrels, 12 shopping carts, seven refrigerators, six messages in bottles, three water heaters and one mannequin hand.
Capital River Relief, themed "Team Up to Clean Up," was a partnership of environmental groups, community and government organizations, businesses and individuals who joined together to improve the Potomac and Anacostia rivers and watersheds. The project consisted of 12 major cleanup events to remove trash and draw attention to other pollution issues that affect the health and beauty of capital-area rivers -- and rivers everywhere.
Don Clay, managing director of environmental and regulatory affairs for Koch Industries, commented on the efforts of the crew and many volunteers who participated throughout the month during rain and shine. "Chad's model is evidence that a person with a good idea can spark and sustain innovation, promote unity of purpose and achieve spectacular results, all voluntarily. The energy and initiative shown by all involved was inspiring."
Project volunteers included Rep. Todd Tiahrt (R-Kan.), Survivor winners Ethan Zohn and Jenna Morasca, and representatives from businesses, universities, churches, local sports teams, environmental groups, the U.S. Coast Guard and the Washington Redskins' cheerleaders.
"We are fortunate here to have two wonderful, nationally significant rivers that can unite us, giving places to cooperate across our ideological, racial, social, religious, and all the other lines," Siglin said. "If we can keep the spirit of Capital River Relief alive, we can work together and succeed together to eliminate the trash, bacteria, chemicals and nitrogen that are keeping our national rivers from being clean, healthy and inviting assets for everyone who lives in or visits the Washington area."
About Koch Industries, Inc.
Koch Industries, Inc., based in Wichita, Kan., owns a diverse group of companies that are engaged in trading, investment and operations around the world. More information is available at www.kochind.com.
Capital River Relief Partners
Alexandria Seaport Foundation, Alice Ferguson Foundation, American Waterways Operators, Anacostia Watershed Society, Chesapeake Bay Foundation, DC Department of Parks and Recreation, Interstate Commission on the Potomac River Basin, Earth Conservation Corps, Living Lands & Waters, Potomac Conservancy, and Potomac Riverkeeper.
Capital River Relief Sponsors
Koch Industries, Inc. (founding sponsor); Alcoa; American Honda Motor Co., Inc.; American Waterways Operators; Anacostia River Business Coalition; Arnold & Porter LLP; Blank Rome; Cargill; Caterpillar; Grafik Marketing Communications; Hotel Helix; Hunton & Williams; Lafarge North America, Inc.; McDonough Marine Service Corp.; Mimi's American Bistro; Moran Towing Corporation; National Fish and Wildlife Foundation; National Park Service; O'Doul's; Pepco; South Capitol Street Heliport; Spirit Cruises; Steuart Investment; US Army Corps of Engineers and Whole Foods Market.
High Resolution Images
Available at http://www.kochind.com/riverrelief.asp
Editors' Notes
For media materials or to schedule interviews with Chad Pregracke, please contact Burke Olsen at 202-414-0773 or bolsen@susandavis.com. Find more information at www.capitalriverrelief.org.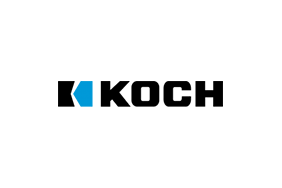 Koch Industries
Koch Industries
Creating value. Improving life.
From life's basics to tomorrow's technological breakthroughs, it's our job to create and innovate a wide spectrum of products and services that make life better – and to do so responsibly while consuming fewer resources. Below are 16 of the ways we do exactly that.
Responsibility is our highest priority.
For us, creating value goes far beyond economic performance. It means doing the right thing. In the right way. Always. For our customers. For our employees. For our communities. For our environment.
Five steps we take.
Every day, we work to create more value, using fewer resources than the day before. We do it by managing our resources in a way that benefits our customers, employees, partners, community members and society with a philosophy of mutual benefit. With more than 300 manufacturing sites across the United States, we're one of America's largest manufacturers. To stay in business for the long term, we must constantly improve and innovate – both in the products we make and how we make them.
Reducing Waste
Saving Energy
Recycling Resources
Preventing Pollution
Community Partnerships
Ways we work to be responsible.
In our view, the role of business in society is to create products and services people want and need, but to do so responsibly. This means finding ways to use fewer resources, operating safely, protecting the environment and always acting ethically.
Safe Operations
Organizational Efforts
Environmental Performance
More from Koch Industries