Published 11-23-07
Submitted by alonovo.com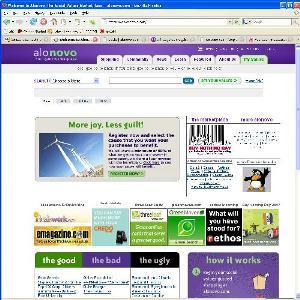 alonovo.com, Corporate Behavioral Ratings and Ecommerce Portal
SCOTTSDALE, AZ "" November 23, 2007 - alonovo.com(tm) announced that it will be officially participating in "Buy Nothing Day" on November 23, 2007. The day after the U.S. Thanksgiving holiday is traditionally marked by crowded malls and begins a period of retail sales that reaches its peak by the third week in December.
The growing alonovo.com community is part of an evolutionary initiative between business and society. While the informed marketforce demand (consumers, institutional procurement) is growing and estabilishing affinity for products and services from companies that are treating their workers and stakeholders fairly and progressing to embrace a triple bottom line (people, planet and profit), an informed marketforce demand also recognizes the role of hyperconsumerism.
"Our alonovo.com community" according to CEO George Polisner "naturally gives more thought to the buying frenzy that begins with the traditional day after Thanksgiving. We all like to give and receive holiday gifts. However the alonovo.com community also considers how such gifts are made. What resources are consumed in the manufacturing process? Is labor treated fairly? Is the company operating in an ethical manner?" On Friday November 23, the alonovo.com portal will display "Buy Nothing Day" banners with links to the Adbusters campaign.
In the words of the Buy Nothing Day promoters at Adbusters.org: "For 24 hours, millions of people around the world do not participate -- in the doomsday economy, the marketing mind-games, and the frantic consumer-binge that's become our culture. We pause. We make a small choice not to shop. We shrink our footprint and gain some calm. Together we say: enough is enough. And we help build this movement to rethink our unsustainable course."
alonovo.com(tm)provides an intelligent, informed online shopping experience for consumers. By directly integrating trusted Corporate Social Behavior (CSB) ratings from KLD Research & Analytics, Inc. with a large, price-competitive array of products into a visually compelling and simple user experience, alonovo.com encourages consumer spending based upon better Corporate Behavioral ratings. alonovo.com's mission is to catalyze a constructive relationship between an informed marketforce demand and the business supply chain. This accelerates the "race to the top" among businesses that are working to balance people, planet and profit by moving SR directly into the profit equation.
alonovo.com(tm)shares revenue with organizations such as the American Red Cross, Habitat for Humanity, Doctors Without Borders, Global Exchange, Stand for Children, UNICEF, the Breast Cancer Fund, United for a Fair Economy, Volunteer Match, the National Military Family Association, Oxfam America and many others.

alonovo.com
alonovo.com
We are fostering cooperation in the market between supply and demand by introducing Corporate Social Responsibility as a competitive demand factor. This will cause the free market to naturally balance people, planet and profit within the supply chain. We accomplish our mission by providing a socio-values driven shopping portal to catalyze an informed marketforce demand. We also include Social Responsibility news aggregation, a community information exchange, subject matter expert blogging and SR-related community education. Our vision embodies a fair, growing economy that does not conflict with all living beings' rights to clean air, fresh water and living their lives with dignity and opportunity.
More from alonovo.com