Published 08-29-07
Submitted by Conflict Securities Advisory Group, Inc.
KANSAS CITY, MO - August 29, 2007 - Missouri State Treasurer, Sarah Steelman, announced today the first time a "terror-free" investment product will be offered through a state college savings plan ("529" plan). The product, an actively managed international equity investment vehicle, provides Missouri college savings participants and investors across the country the opportunity to ensure that their portfolios exclude companies with ties to countries that support terrorism. UMB Investment Advisors, the investment division for UMB Asset Management, will manage the investment portfolio.
The product was developed in response to a growing demand for "terror-free" investment options.
This was recently captured in a survey in which more than 85% of respondents to a national poll by the firm Luntz, Maslansky said they want to invest "terror-free." The UMB product offering represents the first time such a "terror-free" portfolio has been productized and available for use by institutional and individual investors.
"I'm excited to announce that every person in this country can now make sure their investments are terror-free," said Steelman. "The strength of our country has always been in giving the power to the people and today I am thrilled to make such an important way available to everyone who wants to save for their children's future. Moreover, I am especially proud that one of Missouri's leading companies - UMB - has stepped to the forefront in providing "terror-free" options to Missourians and all Americans."
Treasurer Steelman initiated the charge to make terror-free investing possible on the state and national level by establishing the first terror-free policy for a public fund, the Missouri Investment Trust (MIT). The State partnered with Conflict Securities Advisory Group (CSAG) to identify and screen publicly-traded companies that have direct ties to Iran, Syria, Sudan and North Korea, as established by the Missouri Investment Trust.
The Missouri 529 plan is not restricted to residents of the State. According to Steelman, the Missouri 529 plan is open to anyone wanting to invest. To date, the Missouri 529 college savings plan is the only one of its kind that has the distinction of offering participants terror-free options.
"We have seen the movement toward terror-free investing develop substantial momentum over the past few years as people increasingly choose to invest in a security-minded manner that reflects their views on corporate decisions to partner with countries that support terrorism," said Roger Robinson, president and chief executive officer, CSAG. "Treasurer Steelman recognized this public demand by establishing the appropriate infrastructure for public funds and actively engaging reputable companies in order to forge groundbreaking partnerships such as that with UMB that enable, for the first time, all Americans to have a choice when it comes to "terror-free" investment options on state college savings plans."
With this new line of products being offered by UMB, investors can easily put their assets into a portfolio that is certified terror-free by experts at CSAG. The product line establishes domestic and international separate accounts, screened by CSAG, comprised of companies that do not have business ties to terrorist nations. Entities such as public pension systems, union retirement funds, universities, foundations and other institutional investors now have a "terror-free" product that is readily available. UMB also has the ability to customize other investment offerings to meet specific "terror-free" criteria or policies.
"We are proud to offer the choice to invest in a socially-responsible manner that also supports the beliefs of American citizens," said Peter deSilva, president and chief operating officer of UMB Financial Corporation. "Just as many investors choose to place their investments in environmentally-supportive funds, this presents yet another way we are able to meet the unique needs of investors and allow choices in how their dollars are invested."
About UMB:
UMB Financial Corporation (NASDAQ: UMBF) is a multi-bank holding company headquartered in Kansas City, Mo., offering complete banking, asset management, health spending solutions and related financial services to both individual and business customers nationwide. Its banking subsidiaries own and operate 134 banking centers throughout Missouri, Illinois, Colorado, Kansas, Oklahoma, Nebraska and Arizona. Subsidiaries of the holding company and the lead bank, UMB Bank, n.a., include an investment services group based in Milwaukee, Wisconsin, a trust management company in South Dakota, and single-purpose companies that deal with brokerage services and insurance. Products offered through UMB Investment Advisors are not insured by the FDIC or any other government agency; not a deposit or other obligation of, or guaranteed by, UMB Bank; subject to investment risks, including the possible loss of the principal invested.
Conflict Securities Advisory Group, Inc.
Conflict Securities Advisory Group (CSAG), an independent research provider based in Washington DC, has the longest track record of any firm in the marketplace for providing detailed information on the business ties of publicly traded companies in terrorist states. The firm has worked with numerous states, foundations and asset managers on terror-free investing and their research currently underpins the nation's first "terror free" public fund and first "terror-free" mutual fund. Other CSAG clients include the SEC, New York City Comptroller William Thompson and the Treasurers of Missouri and Arizona. For information on CSAG visit www.conflictsecurities.com. For more information on terror-free investing, visit www.terrrorfreeinvesting.com.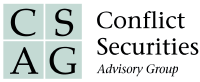 Conflict Securities Advisory Group, Inc.
Conflict Securities Advisory Group, Inc.
CSAG is a Washington, D.C.-based impartial research provider that maintains the world's only comprehensive list of U.S. and foreign publicly traded companies with business ties to U.S State Department-designated terrorist-sponsoring states including Iran, Libya, Syria, Sudan and North Korea.
More from Conflict Securities Advisory Group, Inc.