Published 11-29-07
Submitted by Taproot Foundation
SEATTLE, November 29 /PRNewswire/ -- Taproot Foundation has awarded an additional five service grants to King County nonprofits. Recipients include Chinese Information and Service Center, Climate Solutions, ECOSS (Environmental Coalition of South Seattle), Kids Co., and Senior Services.
Since Taproot Foundation's initial grant round in Seattle in March 2007, approximately $600,000 worth of pro bono services has been awarded to fifteen Seattle area nonprofit organizations. By the end of 2009, Taproot Foundation expects to have awarded 100 grants with a total value of $4 million in professional services. The organization's official kick-off took place in early November at a launch party for current volunteers, nonprofit grantees, and local funders.
Propelling Taproot Foundation forward is a recent gift of $200,000 from the Bill & Melinda Gates Foundation -- the third largest gift in Taproot's history.
"This grant from the Bill & Melinda Gates Foundation is an incredible vote of confidence for the Taproot Foundation," said Matthew O'Grady, Vice President, National Expansion, Taproot Foundation. "With it, we'll be able to help 20 Puget Sound nonprofits to more effectively pursue their missions -- and in turn, these nonprofits will strengthen the Puget Sound community."
Awarded over three years (2008 - 2010) the grant includes $100,000 to sponsor 20 Service Grants, which will be awarded to Puget Sound nonprofits in the fields of social services and education. This initial investment of $100,000 from the Gates Foundation will in turn provide an estimated $800,000 in capacity-building services for the nonprofit recipients. The grant also includes $100,000 in general operating support for the Taproot Foundation.
"Nonprofits have the greatest potential for addressing our society's most challenging social and environmental problems, but often lack the operational resources to be effective," said O'Grady. "The Taproot Foundation exists to close this gap and ensure all nonprofits have the infrastructure they need to thrive."
Every year, hundreds of nonprofit organizations rely on the Taproot Foundation's award winning Service Grant program to provide millions of dollars worth of pro bono marketing, HR and IT consulting services that better equip them to tackle our society's toughest challenges. Taproot partners with corporations, universities, and trade associations to infuse the pro bono ethic into every business profession -- increasing the resources available to the nonprofit sector. By 2020, Taproot strives to have all business professionals consider pro bono work an integrated and esteemed part of their careers.
About Taproot Foundation
Taproot Foundation was started in 2001 by Aaron Hurst and strengthens nonprofits by engaging business professionals in service. Service Grants are awarded to nonprofits in the areas of marketing, IT, and human resources and professionals in these for-profit sectors donate about 100 hours of time over the course of a 5-6 month project. Taproot serves organizations in the environment, health, social services, and education sectors. In addition to the Seattle office, the Foundation is also serving nonprofits in Boston, Chicago, New York, and San Francisco.
Taproot Foundation is actively recruiting business professionals in the Seattle area. If you're interested in volunteering your time to a local nonprofit, please visit http://www.taprootfoundation.org or call (206) 790-7668 for more information.
About the Bill & Melinda Gates Foundation:
Guided by the belief that every life has equal value, the Bill & Melinda Gates Foundation works to help all people lead healthy, productive lives. In developing countries, it focuses on improving people's health and giving them the chance to lift themselves out of hunger and extreme poverty. In the United States, it seeks to ensure that all people-especially those with the fewest resources-have access to the opportunities they need to succeed in school and life. Based in Seattle, the foundation is led by CEO Patty Stonesifer and co-chair William H. Gates Sr., under the direction of Bill and Melinda Gates and Warren Buffett.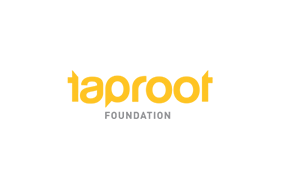 Taproot Foundation
Taproot Foundation
The Taproot Foundation is the provider of pro bono services to the nonprofit sector. It works to engage the country's millions of business professionals in pro bono service, building the infrastructure of organizations we rely on to strengthen and support our communities. Their pro bono model leverages the best practices of leading professional services companies to deliver reliable and quality marketing, human resources and technology services using corporate employees. Since 2002, the Taproot Foundation has recruited over 3,500 business professionals to awarded over $12 million in pro bono services to nonprofits in New York, Chicago and the San Francisco Bay Area.
More from Taproot Foundation