Published 09-07-08
Submitted by Rebuilding Together, Inc.
WASHINGTON, DC -- (MARKET WIRE) -- September 7, 2008 -- Rebuilding Together Affiliates and the Rebuilding Together CapacityCorps will be in New Orleans, September 7 though the 13, for orientation of 44 new AmeriCorps members who will serve in 24 Rebuilding Together affiliates from around the country. Rebuilding Together received a $500,000 AmeriCorps grant from the Corporation for National and Community Service to support these full time AmeriCorps members.
"This orientation week is effectively the official launch of Rebuilding Together CapacityCorps," said Gary A. Officer, President and CEO of Rebuilding Together. "These new members will serve our Affiliate Network in 15 different states and is the start of much needed capacity building to help our affiliates serve their communities."
24 Rebuilding Together affiliates from across the nation will be in New Orleans to learn capacity building strategies and the CapacityCorps members will participate in a rebuilding project to get hands-on experience with Rebuilding Together's core mission.
This inaugural class of the Rebuilding Together CapacityCorps will serve for one year. Participating Rebuilding Together affiliates include:
Twin Cities
Montgomery County
Central Ohio
New Orleans
Summit County
San Francisco
South Sound
Baton Rouge
Sacramento
Valley of the Sun
St. Louis
Boston
Silicon Valley
Peninsula
Bergen County
Baltimore
Orange County
Atlanta
Greater Des Moines
San Angelo
Dayton
Hartford
Aurora
Calcasieu
"The AmeriCorps members will learn community engagement strategies to recruit what we expect to be as many as 12,000 additional volunteers. They will also learn proactive citizenship skills to foster a lifetime of community leadership," said Jessica Lowe, Director of National Service Programs for Rebuilding Together.
Rebuilding Together is the nation's leading nonprofit working to preserve affordable homeownership and revitalize communities by providing free home rehabilitation and critical repairs to those in need. The work of Rebuilding Together is executed through an Affiliate Network of more than 200 using thousands of volunteer hours each year.

About Rebuilding Together:

Rebuilding Together is the nation's largest nonprofit organization working to preserve affordable homeownership and revitalize neighborhoods by providing home repair and renovation services free of charge to those in need. Through the support of corporate sponsors, local businesses and the hands-on work of over 200,000 volunteers, Rebuilding Together renovates and repairs nearly 10,000 homes and nonprofit facilities annually with a market value of nearly $100 million.
In addition to its core home repair work, Rebuilding Together renovates community centers and conducts home modification and repair programs that focus on elder home safety, energy efficiency, veterans housing, and disaster recovery and reconstruction. Rebuilding Together has over 200 affiliates and recently celebrated the completion of its 100,000th project.

About AmeriCorps:

AmeriCorps is a national service program that engages 75,000 Americans of all ages and backgrounds in service to meet critical needs in education, the environment, public safety, homeland security, and other human needs. AmeriCorps works through existing organizations and helps them reach more people and better achieve their mission. In 2007, the nation's AmeriCorps members recruited 1.7 million community volunteers to serve alongside them in some 4,100 nonprofit, faith-based and community organizations across the country.
AmeriCorps members typically remain actively engaged in their communities once their service is complete. AmeriCorps alumni can not only continue to be counted on as volunteers but they also run nonprofit organizations, marshal community resources to solve local problems, and go into public service careers.
After completing a full term of service, AmeriCorps members are eligible to receive the Segal AmeriCorps Education Award of $4,725 that they can use to pay for college, pay off student loans or cover future tuition costs. Interested individuals can learn about available opportunities and apply by visiting www.AmeriCorps.gov.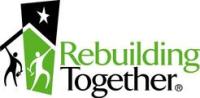 Rebuilding Together, Inc.
Rebuilding Together, Inc.
Rebuilding Together is the nation's largest non-profit organization whose mission is to preserve and revitalize houses and communities to assure that low-income homeowners, particularly those who are elderly and disabled, live in warmth, safety and independence. Through 2005 Rebuilding Together has rehabilitated over 96,120 houses, utilizing 2.5 million volunteers for a market value of $905 million.
More from Rebuilding Together, Inc.