Published 06-25-08
Submitted by Rebuilding Together, Inc.
NEW ORLEANS, LA -- (MARKET WIRE) -- 06/25/08 --
WHO: HouseSmarts and Rebuilding Together New Orleans
WHEN & WHERE: June 21-27; syndicated on stations across the country
WHAT: HouseSmarts, a nationally syndicated magazine-format home improvement show hosted by Lou Manfredini, will be featuring Rebuilding Together New Orleans (RTNO) in a special "On the Road" episode to be shown across the country June 21st-27th. The episode will focus on the progress the city is making as it rebuilds, specifically highlighting the work RTNO is performing on the home of Ms. Ethal Mae Lenaris, a resident of the historic St. Roch neighborhood for more than 36 years.
Rebuilding Together New Orleans is a non-profit organization dedicated to rebuilding the homes of low-income, elderly and disabled residents. By utilizing volunteer labor and corporate donations, RTNO is able to complete its rebuilding projects at no cost to the homeowner. Since Katrina, RTNO has been able to return 100 families back into their homes with another 30 rebuilding projects currently in progress.
Check your local listings for airtimes: www.housesmartstv.com.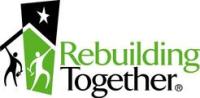 Rebuilding Together, Inc.
Rebuilding Together, Inc.
Rebuilding Together is the nation's largest non-profit organization whose mission is to preserve and revitalize houses and communities to assure that low-income homeowners, particularly those who are elderly and disabled, live in warmth, safety and independence. Through 2005 Rebuilding Together has rehabilitated over 96,120 houses, utilizing 2.5 million volunteers for a market value of $905 million.
More from Rebuilding Together, Inc.