Published 06-13-08
Submitted by Rebuilding Together, Inc.
DES PLAINES, IL and WASHINGTON, DC -- (MARKET WIRE) -- 06/13/08 -- Rebuilding Together, the nation's lead nonprofit working to preserve affordable homeownership, and the National Association of the Remodeling Industry (NARI), the only national association dedicated exclusively to the remodeling industry, have forged an alliance.The partnership will allow both groups to better serve low-income homeowners in urban, suburban and rural areas especially the elderly and disabled. Partnership elements will include local Rebuilding Together affiliate outreach and collaboration with NARI chapters, referral and information sharing, and strategic alignment with other industry organizations.
"The NARI partnership is a fantastic benefit for Rebuilding Together affiliates. We are delighted to have forged this important alliance with NARI and their remodeling members given the severity of our nation's on-going housing crisis," said Gary A. Officer, President and CEO of Rebuilding Together.
Celebrating their 20th anniversary, Rebuilding Together has accomplished more than 100,000 home renovations for that in need, through the work of their nearly 225 affiliates nationwide. To date more than 3 million volunteers have committed their time to Rebuilding Together helping to deliver more than $1 billion in market value work to nearly 2000 communities.
"NARI members, comprised of remodeling companies nationwide along with national suppliers and manufacturers, are highly skilled and committed to the highest standards. NARI members voluntarily subscribe to a strict Code of Ethics and Standards of Practice, which NARI rigorously enforces. An alliance with Rebuilding Together is consistent with and complements NARI's mission and core values," said Mary Busey Harris, Executive Vice President of NARI.
NARI's core purpose is to advance and promote the remodeling industry's professionalism, product and vital public purpose.NARI's core values encompass professionalism and dedication to high standards.Today, NARI has nearly 60 chapters representing 7500 companies nationwide.
To learn more about Rebuilding Together visit www.RebuildingTogether.org or to learn more about NARI visit www.NARI.org.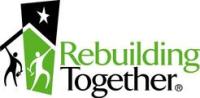 Rebuilding Together, Inc.
Rebuilding Together, Inc.
Rebuilding Together is the nation's largest non-profit organization whose mission is to preserve and revitalize houses and communities to assure that low-income homeowners, particularly those who are elderly and disabled, live in warmth, safety and independence. Through 2005 Rebuilding Together has rehabilitated over 96,120 houses, utilizing 2.5 million volunteers for a market value of $905 million.
More from Rebuilding Together, Inc.