Published 04-18-07
Submitted by Engage for Good
April 18, 2007 - Maximizing the impact of cause marketing alliances will be the focus of the May 17th Cause Marketing Forum conference at the Crowne Plaza Times Square in New York.
The business and nonprofit pros behind some of America's most outstanding campaigns will be among the two-dozen presenters at this confab on doing well by doing good. Among the nearly two dozen speakers, attendees will hear from:

(RED) President Tamsin Smith on the story behind the high-profile launch of (PRODUCT) RED and its plans for the future
Whirlpool Corporation VP, Marketing & Communications Jeff Davidoff on the appliance maker's multifaceted strategy for "doing well by doing good."
First Book President Kyle Zimmer on the best practices of entrepreneurial nonprofits
Newman's Own Marketing VP Mike Havard on the company's "common good" ethic
"We've attracted the most respected and dynamic cause marketers to share their key success factors," said David Hessekiel, president and founder of Cause Marketing Forum Inc.. "The conference "" and our pre- and post-conference workshops "" make this an enriching program for CMF veterans and newcomers alike."

May 16th pre-conference workshops "Cause Marketing 101 for Business" and "Cause Marketing 101 for Nonprofits" will provide first-class training in general strategy and tactics while "The Cause Marketing Legal Workshop" covers critical tax and regulatory issues. Advanced workshops on May18th: "The CM Process: A Master Class" and "Robin Hood Marketing".

New this year is a specialized post-conference gathering on running more successful athletic fundraising events. "The 1st Annual Run-Walk-Ride Fundraising Conference on May 18 will expose key issues and best practices in the $1 billion plus world of sweating for a cause," Hessekiel explained.

Conference and workshop details are available at www.causemarketingforum.com or by calling (914) 921-3914.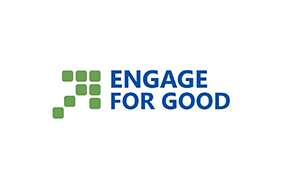 Engage for Good
Engage for Good
Engage for Good (formerly the Cause Marketing Forum) helps business and nonprofit executives succeed together by providing access to actionable information, valuable contacts and recognition for outstanding work through conferences, distance learning, online resources and customized services.
More from Engage for Good