Published 09-18-06
Submitted by GreenMoney Journal
(Santa Fe, NM) The Award-Winning GreenMoney Journal has its Fall 2006 "Socially Responsible Investing (SRI): Gaining Momentum" issue, now online at- http://www.greenmoney.com
In the issue, which begins our 15th year in print, you'll find a variety of perspectives on the SRI industry including an exclusive interview with First Affirmative Financial Network CEO, George Gay.
Also you'll find articles by long-time SRI leader Tim Smith who writes about the recent proxy/shareholder resolution season; Tim Freundlich provides an update on fast-growing community investing; and, we look at some international SRI mutual funds as well as at the new SRI 401(K) product, Social(K). Anne Firth Murray, founder of the Global Fund for Women, writes about her new book, "Paradigm Found: Leading and Managing for Positive Change."
Our next SRI issue (Spring 2007) will include articles on Community Investing and SRI mutual funds performance, an interview with the new CEO of the Social Investment Forum, as well as SRI Reports from Europe and Canada.
Make sure you receive that issue, as well as our Winter "Organic Foods and Natural Products," by taking advantage of our Special 15th Anniversary subscription offer. Subscribe for just $15 and you get it by call (800) 849-8751 or go to- http://www.greenmoney.com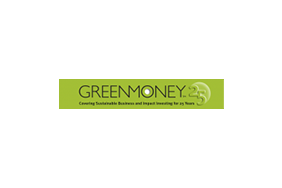 GreenMoney Journal
GreenMoney Journal
About GreenMoney Journal 
GreenMoney Journal is an award-winning eJournal and website that focuses on sustainable investing and business. GreenMoney Journal was founded by Cliff Feigenbaum in 1992 and today he serves as Publisher and Managing Editor of this very trusted brand. Cliff is also the co-author of "Investing With Your Values" (Bloomberg Press, NYC). In 2017 Mr. Feigenbaum he was chosen as the co-winner of the "SRI Service Award" by his peers at The SRI Conference. In 2021, He won the "Media Innovator Award" from Corporate Vision and most recently in early 2022, Mr. Feigenbaum was named one of the Top 100 DEI Leaders for 2021 by Mogul.
More from GreenMoney Journal