Published 03-31-06
Submitted by GreenMoney Journal
Santa Fe, NM - The award-winning GreenMoney Journal has its Spring 2006 "Socially Responsible Investing (SRI): Growth and Impact" issue, now online at www.greenmoney.com
In the issue, which continues our 14th year in print, you'll find a variety of perspectives on the SRI industry including the new SRI Trends Report from the Social Investment Forum which reports $2.3 trillion in SRI assets.
We begin with the Trends Report and an exclusive interview with SRI leader Amy Domini, as well as a look at how Shorebank Pacific's new EcoCash accounts lead to fuel savings and cleaner air in the Pacific Northwest. Also see the profile on the More Than Money organization, and plenty of SRI industry news, including the Calvert Foundation's "Social Capitalist" award for 2006 from Fast Company magazine.
You'll also find more unique articles, including an overview of her new "Megatrends 2010" book by author Patricia Aburdene. We commend her for identifying SRI as a MegaTrend and also appreciate her mentioning GreenMoney Journal. Online too is Marc Lane, author of "Profitable Socially Responsible Investing: An Institutional Investors Guide," as well as a thought-provoking study on the "Future of SRI" done by Coro Strandberg.
In the next SRI issue (Fall 2006) we'll cover the latest in Community Investing, Shareholder Resolutions and Advocacy, International SRI mutual funds, an interview with George Gay of FAFN as well as SRI resources and fall events.
GreenMoney Journal also our special 2-subscriptions-for-the-price-of-1 offer. For more information call (800) 849-8751 or go to- www.greenmoney.com
Green Money is a Registered Trademark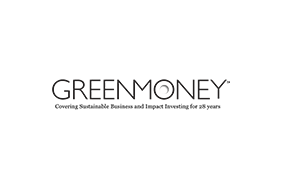 GreenMoney Journal