Published 10-03-08
Submitted by Pearson Foundation
NEW YORK, Oct. 3 /PRNewswire/ -- Children across the country made history yesterday participating in the third annual Jumpstart's Read for the Record(R) Campaign. An early morning reading with NBC's TODAY Show co-host Matt Lauer featured a special White House reading with First Lady Laura Bush. The TODAY Show also featured Jumpstart Honorary Spokesperson LL Cool J, Jesse McCartney, Greg Kinnear, Maria from Sesame Street, and Mary-Louise Parker. Children's author and National Ambassador for Young People's Literature, Jon Scieszka, helped kicked off the day as thousands of events took place across the country with hundreds of thousands of children reading the story of Corduroy.
(Photo: http://www.newscom.com/cgi-bin/prnh/20081003/NY37012 )
The 2008 Campaign raised more than $1.5 million for Jumpstart's early education programs in low-income communities, while drawing national attention to the country's early education crisis. It is still possible to support early education by texting the word READ to 90999 to donate $5 to Jumpstart. With entries still being tabulated, Jumpstart's Read for the Record Campaign has broken the world record for the largest shared reading experience with more than 300,000 readers registering at www.readfortherecord.org!

Readers of all ages participated in Campaign activities in schools and libraries, at colleges and universities, on playgrounds, and in malls, offices and homes across the country, including reading events hosted by Jumpstart in Atlanta, Boston, Chicago, Los Angeles, New York, San Francisco and Washington, DC. Celebrations in hundreds of cities across the country were supported by the Pearson Foundation, the Campaign's sponsor and founding partner. Throughout the day, children and adults from all corners of the nation were joined by mayors, school superintendents and principals, and other dignitaries including Los Angeles Mayor Antonio Villaraigosa, Philadelphia Mayor Michael Nutter, Boston Mayor Thomas Menino, Schools Superintendent of New Orleans Paul Vallas, Chicago Public School CEO Arne Duncan, as well as celebrities including singer/songwriter/actress JoJo in Boston; Gabrielle Union, Shaun Robinson of Access Hollywood and Lo Bosworth (The Hills) in Los Angeles; R&B Star Mario in Washington DC and MC Hammer in San Francisco.
The Campaign created the world's largest shared reading experience as participants read this year's official Campaign book, the children's classic, Corduroy, written by Don Freeman and published by Penguin Young Readers Group. Along with today's record-breaking shared reading experience, more than 200,000 copies of Corduroy were donated to children in low-income communities.
Each year, one third of America's children arrive at their first day of school developmentally behind their peers and without the skills necessary to succeed. Jumpstart's Read for the Record Campaign brings national attention to this critical learning gap.
The publication of the Campaign's official book was underwritten by the Pearson Foundation, ensuring that 100% of the proceeds would directly benefit Jumpstart's work with at-risk children. Additionally, each book purchased online was matched with a donation from the Pearson Foundation to support Jumpstart's early education programs for children in low-income communities across the nation.
Jumpstart President James Cleveland noted the importance of the joint efforts made by the Campaign's sponsors. "Working together is critical to our common goal of eliminating the early education gap that exists between income levels. Today's first graders from low-income communities have one-fourth the vocabulary of their mid-income peers, immediately putting them at an unnecessary disadvantage," said Cleveland. "This is a serious matter as first grade is one of the best predictors of performance in later grades. By giving children the tools they need, we can help lower their likelihood to repeat grades, drop out of school, and even engage in criminal activity."
Pearson Foundation President, Mark Nieker, added, "Research shows that the ability to read is a key factor in a child's success in school and that the strongest indicator of future reading ability is the number of books children have at home. Statistics tell us that children in low-income communities have from no books at all to just three at home, versus 50 books in the households of their middle and high-income peers. Pearson recognizes the importance of Jumpstart's Read for the Record in donating books to children who need them most and focusing a national spotlight on sobering statistics like these."
During the 2006 and 2007 Campaigns, more than 400,000 people registered for Jumpstart's Read for the Record Campaign and raised more than $2,000,000 to support Jumpstart's mission. In addition, Jumpstart and Pearson were recognized for their collaboration with a 2006 Cause Marketing Halo Award and with Boston Business Journal's 2008 Corporate Philanthropy Award for Education Partner of the Year.
Jumpstart's longstanding relationships with its national multi-year partners, American Eagle Outfitters, Pearson and Sodexo, are key components of its ongoing efforts to help at-risk children develop their language, literacy, and social skills in preparation for kindergarten. Further involvement from Jumpstart's 2008 Campaign Sponsors Hanna Andersson, Hyatt Hotels & Resorts, LeapFrog Enterprises Inc., NBC, Penguin Young Readers Group and Sirius XM Satellite Radio ensures the success of Jumpstart's Read for the Record. Support of the Campaign is just one of many ways in which these businesses make Jumpstart's work possible. Jumpstart looks forward to its partners' continued support next year when Jumpstart's Read for the Record will take place on October 8, 2009.
Corporate involvement highlights include:
Pearson has underwritten all publishing costs, making it possible for Jumpstart to receive 100% of the proceeds raised through the sale of the custom edition books. In addition, employees volunteered to organize and run hundreds of events across the country. The Pearson Foundation also donated more than 200,000 copies of this year's official campaign book to pre-school children and teachers across the country.
American Eagle Outfitters sent store associates across the United States and Canada to read Corduroy to thousands of children. They also hosted a large event at their corporate headquarters in Pittsburgh and have provided the official campaign T-shirt.


Sodexo scheduled a reading event at their corporate headquarters in Montgomery County, MD and employees around the country created reading events to help break the record.
Hanna Andersson sold Corduroy, the official Campaign book in stores, in their catalog and online in addition to organizing several reading events with public libraries in Portland, Oregon.
Hyatt Hotels & Resorts including Park Hyatt, Grand Hyatt, Hyatt Regency, Hyatt Place and Hyatt Summerfield Suites properties created reading events across the country and donated 3,000 books to children in the Chicago metropolitan area.
LeapFrog Enterprises Inc. donated thousands of Corduroy books to children in low-income communities, and employees personally delivered books to schools in Oakland, California.
Penguin Young Readers Group published the special edition copy of Corduroy and promoted the Campaign nationally.
Sirius XM Satellite Radio personalities and celebrities created taped readings of Corduroy and posted them on XM's website (www.xmradio.com) so families could read along on October 2.
About Jumpstart
Jumpstart is a national early education organization that works toward the day every child in America enters school prepared to succeed. Through extraordinary attention in yearlong one-to-one relationships, Jumpstart inspires children to learn, adults to teach, families to get involved, and communities to progress together. Headquartered in Boston, Jumpstart pairs 4,000 trained adults one-to-one with preschool children in need of assistance. During the 2008-2009 program year, Jumpstart is serving 15,000 children across 20 states, in partnership with 300 early learning centers and nearly 74 universities and colleges throughout the country.
Jumpstart's national sponsors include American Eagle Outfitters, AmeriCorps, Pearson, Sodexo and Starbucks. Jumpstart is the recipient of the Fast Company/Monitor Social Capitalist Award (2004, 2005, 2006, 2007 and 2008) and the Committee to Encourage Corporate Philanthropy's Directors Award. For more information, visit the Jumpstart Web site at www.jstart.org.
About the Pearson Foundation

The Pearson Foundation extends Pearson's commitment to education by partnering with leading nonprofit, civic, and business organizations to provide financial, organizational, and publishing assistance across the globe. The Foundation aims to make a difference by sponsoring innovative educational programs and extending its educational expertise to help in classrooms and in local communities. More information on the Pearson Foundation can be found at www.pearsonfoundation.org.
About the Pearson Foundation and Jumpstart
Jumpstart's Read for the Record Campaign is just one component of the Pearson Jumpstart partnership. Jumpstart and the Pearson Foundation share a passion for education and inspiring people to reach their full potential. These shared goals and values led Jumpstart and the Pearson Foundation to create the Pearson Teacher Fellowship in 2001. Each year, the Pearson Teacher Fellowship provides the opportunity for a select group of achievement-oriented college graduates to enter the early education field by becoming preschool teachers in Head Start and other early learning centers serving at-risk children. The Fellowship provides these talented individuals a stipend, intensive training, assistance earning teaching certification, and additional support and resources during the first two years of their teaching careers. In 2006, Pearson and its businesses The Financial Times Group, The Penguin Group, and Pearson Education became the Sponsor and Founding Partner of Jumpstart's Read for the Record, which to date has raised over $2.2 million for Jumpstart's work to help preschoolers from low-income communities with their language and literacy skills. For more information, go to http://www.pearsonfoundation.org.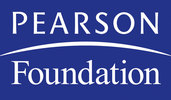 Pearson Foundation
Pearson Foundation
Pearson (NYSE: PSO) is the global leader in educational publishing, assessment, information and services, helping people of all ages to learn at their own pace, in their own way. For students preK-12, Pearson provides effective and innovative curriculum products in all available media, educational assessment and measurement for students and teachers, student information systems, and teacher professional development and certification programs. Our respected brands include Scott Foresman, Prentice Hall, SuccessMaker, Waterford, AGS, PowerSchool, Chancery SMS, SASI, Pearson Inform, Teachervision.com and many others. Our comprehensive offerings help inform targeted instruction and intervention so that success is within reach of every student. Pearson's other primary businesses include the Financial Times Group and the Penguin Group.
More from Pearson Foundation