Published 10-02-08
Submitted by Pearson Foundation
BRONX, N.Y., Oct. 2 /PRNewswire/ -- The Pearson Foundation announced today that Fordham University has joined the Digital Arts Alliance, the consortium that promotes digital arts K-12 education through fully funded and staffed programs delivered directly to schools and community centers nationwide. The Pearson Foundation is the founding partner in the Digital Arts Alliance, and part of Pearson, the international education and informative company.
As part of the Digital Arts Alliance, Fordham University will present the First Bronx Technology Collaborative Annual Conference on October 4, 2008 at the Rose Hill Campus in the McGinley Center. It is the latest in a series of initiatives jointly undertaken by Fordham University's RETC-Center for Professional Development and the Pearson Foundation to celebrate and showcase the success of various technology initiatives in the Bronx. The conference keynote speaker is New York City Council Member Gale Brewer, a strong advocate for technology access.
In addition, the Pearson Foundation and other Digital Arts Alliance partners will support the new 21st Century Learning Center at Fordham University, recently established through a grant from New York State. Working with Fordham, the Digital Arts Alliance will provide digital storytelling workshops for New York's teachers and students.
"This new conference will present an opportunity to initiate, develop and sustain partnerships among public and non-public schools, community-based organizations, government programs, corporations and higher education," said Steven D'Agustino, director of Fordham's RETC-Center for Professional Development. "It will be an important resource and gathering place for educators, students and their families for many years to come, as will the recently funded 21st Century Learning Center in the Bronx."
Mark Nieker, president of the Pearson Foundation, added, "In the Digital Arts Alliance, we strive to join with leaders in every aspect of education, media and technology to support students, document examples of successful teaching practices, and foster the development of confident school leaders. Working together with Fordham University through the Bronx Technology Collaborative Annual Conference and their 21st Century Learning Center, we can support teachers and students of New York." We welcome Fordham University to the Digital Arts Alliance partnership."
The First Bronx Technology Collaborative Annual Conference will also feature academic enrichment programs offered by the University including the Robotics Program of the Computer Science Department, and programs from The Bilingual School Psychology Support Center and Office of Community Service and STEP/C- STEP (The Science & Technology Entry Program.) STEP at Fordham University is an exciting and rigorous academic enrichment program designed to help prepare junior high and high school students for licensed professions and scientific, technical and health-related careers. STEP also seeks to increase the representation of historically underrepresented populations and economically disadvantaged individuals in these fields. To find out more about the conference, visit http://www.retc.fordham.edu/btc.
About Fordham University
Founded in 1841, Fordham is the Jesuit University of New York, offering exceptional education distinguished by the Jesuit tradition to approximately 14,700 students in its four undergraduate colleges and its six graduate and professional schools. It has residential campuses in the Bronx and Manhattan, a campus in Westchester, and the Louis Calder Center Biological Field Station in Armonk, N.Y.
About The Digital Arts Alliance
Each year, the Digital Arts Alliance makes it possible for more than 15,000 students and their teachers to experience firsthand how laptop computers, video production equipment, and the latest mobile-phone technologies are changing the ways young people can organize, present, and share information and issues that matter to them. Alliance members believe that using technologies to enhance personal expression creates an expanded kind of literacy, often referred to as 21st Century literacy, which people - especially young people - already use in their everyday lives.
About the Pearson Foundation
The Pearson Foundation extends Pearson's (NYSE: PSO) commitment to education by partnering with leading nonprofit, civic, and business organizations to provide financial, organizational, and publishing assistance across the globe. The Foundation aims to make a difference by sponsoring innovative educational programs and extending its educational expertise to help in classrooms and in local communities. More information on the Pearson Foundation can be found at www.pearsonfoundation.org.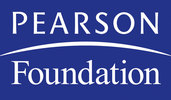 Pearson Foundation
Pearson Foundation
Pearson (NYSE: PSO) is the global leader in educational publishing, assessment, information and services, helping people of all ages to learn at their own pace, in their own way. For students preK-12, Pearson provides effective and innovative curriculum products in all available media, educational assessment and measurement for students and teachers, student information systems, and teacher professional development and certification programs. Our respected brands include Scott Foresman, Prentice Hall, SuccessMaker, Waterford, AGS, PowerSchool, Chancery SMS, SASI, Pearson Inform, Teachervision.com and many others. Our comprehensive offerings help inform targeted instruction and intervention so that success is within reach of every student. Pearson's other primary businesses include the Financial Times Group and the Penguin Group.
More from Pearson Foundation